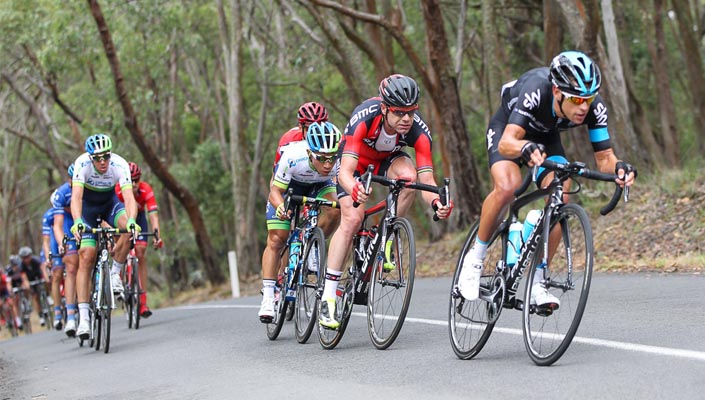 Caleb Ewan's mission for 2015, as laid out by his Orica GreenEdge team management, was to notch up five wins for the year: a pretty tall order for a 20-year-old in his first Pro season. By the afternoon of January 11th he already had three of those wins, plus two second placings. The wins, a trifecta in the first three stages of the iconic Bay Criterium series in and around Geelong (Victoria, Australia), were spectacular displays of raw power coupled with rare racing savvy, and attracted attention around the cycling world.
But the pair of silver medals at the Australian National Road Championships in Ballarat in the criterium and the road race have confirmed that he has genuinely arrived in the big league. Ewan electrified cycling fans last year when he took out the Under-23 criterium/road race double and, after his stunning form in the Bay Crit series in 2015, those in the know began whispering that it was possible - just possible - that the boy wonder could snatch the double title again, this time against the big guys.
At the start line of Sunday's road race Ewan was predictably demure, insisting that his duties were as a domestique rather than a marquee sprinter.
"I'm here today purely in a support role. Sometimes it's hard to explain to the general public; they think you're a fast rider, one who's getting plenty of attention at the moment, so you're expected to win every race you ride. That's just not realistic. I'm 20 years old, I'm stepping up in distance and intensity from the junior ranks to the ProTour, and I'm here to support my GreenEdge team mates."
Then he prophetically adds: "But if it comes down to a sprint finish I can usually manuoeuvre myself into a good position, so who knows?"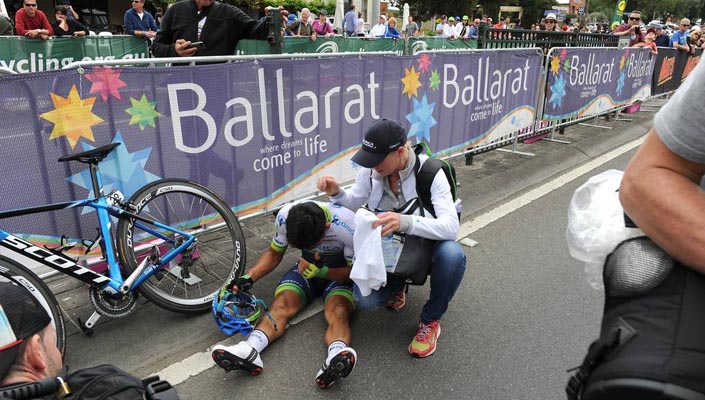 Big day for a young man after finishing second in the Australian Nationals 2015.
Fast forward to the final lap, where Ewan found himself in a breakaway group of seven with a 90-second gap on the field and only seven km to the finish line. Having expertly covered every break and hunted down each solo attack, often single-handedly, logic dictated that he would settle in, find a wheel to follow, and roll the dice in a sprint finish. Instead, inexplicably, he launched a brazen attack of his own, tearing up Mt. Buninyong and putting a gap of 200m into the field. A coordinated effort by five of the remaining six survivors (GreenEdge compatriot Michael Hepburn had pulled some heroic turns at the front in support of Ewan and would clearly be no help) managed to reel him back in.
In a thrilling sprint to the line, Ewan found himself shoulder to shoulder with IAM Cycling's Heinrich Haussler, a Tour de France stage winner and ProTour veteran at 30. Haussler's experience and tenacity paid off to give him arguably the biggest win of his career, but he was full of praise for the silver medalist a decade his junior.
"Caleb was probably the strongest guy out there today," he said, "but who knows how much all those attacks took out of his legs? He worked incredibly hard - maybe too hard - and he's definitely a star, now and for the future."
Predictably enough, Ewan saw things slightly differently.
"Of course I'm disappointed" he said philosophically only minutes after the medal presentation.
"Maybe I did too much out there, maybe I got outsmarted in the sprint - or maybe I wouldn't have been there at all at the finish if I hadn't ridden as aggressively as I did."
He is a rare mixture in a young rider - charismatic, aggressive, humble, thoughtful, and clever. On the bike he has proved he is not just lightning in a bottle with sublime bike skills - he can sprint, he can ride off the front, he can hold a wheel like a 15-year ProTour veteran, and he can climb.
Rightfully proud of what he's accomplished so far, he's looking forward to the future and perhaps fulfilling his vast potential and the predictions of cycling experts worldwide.
Q&A
---
Do you absorb the history and culture of places you race from or to, or are they just start and finish locations?
(laughing) They're pretty much start and finish places. Last year [when] we went to Rome and raced the Grand Prix Liberazione, we didn't even see the Colosseum. You see the hotel. You see the start of the race, the finish of the race. People think it's like a holiday where you get to see all this touristy stuff, but you don't.
When you're not on the road, what do you do with your spare time?
I don't do uni or anything like that. But I always find something to do - I do emails or small things. Also, in Europe everything is later. You train at 10am and come home at 3pm or 4pm. By the time you've gone to the shops and got some dinner and all that sort of stuff the day is over. It's not like you're sitting around all day twiddling your thumbs.
You've spent time with Cadel Evans. Has he passed on some advice to you, or have you learned something from him?
He gave me advice when I was choosing a team, like if you went to a really big team they might not have as much time for you, whereas if you went to a smaller team they will focus on you. But if I went to BMC with him, their team is pretty much 100 per cent focused on winning the Tour de France and I don't really see myself being able to fit into that because I'm not there to win the Tour. I may just develop into a sprinter. Orica-GreenEDGE was a pretty obvious choice because they don't have a GC [general classification] rider for the Tour and they have been pretty much working on lead-out trains and that kind of stuff, so it's really a perfect team for me. And obviously being Australian it's really good.
Did Cadel understand why you went to Orica-GreenEDGE and not BMC?
Yeah, definitely. It was good because he was never biased, saying, 'Come to BMC. This is the best team.' He really understood where I needed to go and what I needed. He was really good with that.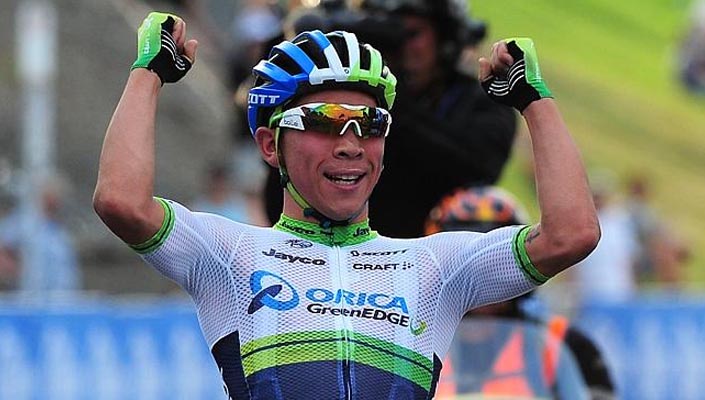 A winning look we expect to see from Caleb a lot more
Stats
---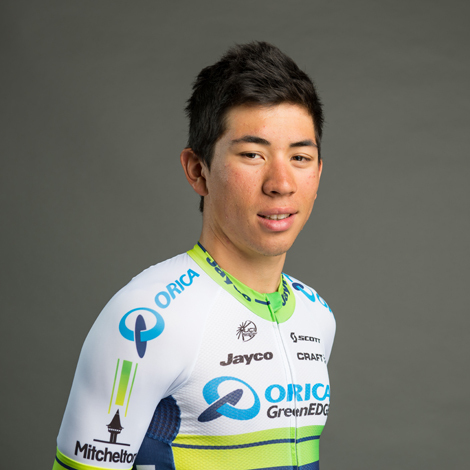 Date of Birth: 11th July 1994 (20)
Nationality: Australian
Place of birth: Sydney, New South Wales, Australia
Turned Pro: 2014 (October)
Joined ORICA-GreenEDGE: 2014 (October)
Twitter: @CalebEwan
2015
1st Overall Mitchelton Wines Bay Classic -1st Stages 1, 2 & 3
2nd National Criterium Championships
2nd National Road Race Championships
2014
2nd Tour of Beijing - Stage 1
7th Tour of Beijing - Points Classification
9th Tour of Beijing - Stage 5
19th Tour of Beijing - Youth Classification
Other results
1st 2014 National Championships Australia Under 23 - Road Race
1st 2014 Tour de l'Avenir - Stage 2
1st 2013 Tour de l'Avenir - Stage 2
1st 2013 Tour de l'Avenir - Stage 1
2nd 2014 UCI Road Cycling World Championship Under 23 - Road Race
4th 2013 UCI Road Cycling World Championship Under 23 - Road Race
12th 2014 Commonwealth Games - Road Race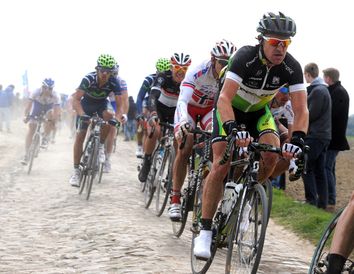 For a typical cycling fan the Paris-Roubaix needs little introduction. The "Queen of the Classics" is fought out every year on the rough and cobbled roads of northern France; the same roads that Napoleon used to cross this landscape many centuries earlier. In fact it would probably be...
READ MORE