A dominant force in the 80's, a leader of the peloton and a man few would mess with. A patron.
Sometimes it seems difficult to find a bunch ride that fits with your idea of what cycling should be: riding and sharing the work, socializing, chewing the fat, challenging yourself and each other - these are all commendable practices, but often it can also go wrong and you wonder why am I bothering to do this at all?
I have been involved in many different rides and find myself regularly discouraged by attitudes that creep in from egos that think the strongest rider is the leader. Look what happened in the pro ranks with L.A: The strongest rider, not the most respected, becomes boss and everyone loses. There are many important skills associated with bunch riding like fitness, bike handling and awareness but probably the most important is respecting each other and the part everyone plays in maintaining a coherent group. Bunch riding is about working together for a common goal, right?
How many bunches have you been in where there is one rider who is super strong and feels the need to display that strength and blow everyone away. Yes, there are groups designed specifically for that purpose, but when these attitudes infiltrate EVERY bunch there begins to be a problem.
The Patron or Leader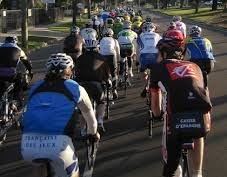 The most important figure in any bunch is the patron. This is the rider who has been on a bike longer than you've been wiping your own bum. Perhaps the legs aren't what they once were and he's a bit crusty (or grumpy), but the depth of knowledge and experience may be profound. This is the figurehead of the bunch that shouts commands for a "pace line but keep it under 40" or "narrow road, keep it tight single file only" and woe betide anyone who steps out of line.
Some riders find it difficult to be bossed around by such a figure but I firmly believe it is these patrons who maintain the cohesion and keep egos in check in the average bunch ride. It is often the patron that is the only rider with the courage to take charge and speak out.
I recently joined a bunch called "the fast group" as I was looking for some like-minded riders who wanted a semi-serious workout and a bit of a chin wag. On the way back an ego with strong legs got on the front and decimated the group. The patron yelling to form up and ride fast tempo to no avail, he was dropped early on and the guys on the front mashed the pedals all the way home. A well organized bunch dribbled into the cafe in twos and threes all shattered. "If he (the patron) can't keep up he should join the slow group" was a muttered word. This attitude got me really angry!
The disrespect was astonishing. Every rider in the fast group was certainly fit and strong enough to be there. The "slow group" was really a beginner social ride that popped along at a pleasant 25km/h - far too slow and casual for a serious rider. But just because you struggle to maintain 40km/h for 25km means you have to ride with the recreational cyclists? Crazy!
Ironically enough it was the strict, rule abiding, crusty old patron who welcomed me to the group and spent time riding alongside me, probably checking out my form, but I was flattered anyway and made to feel very welcome.
DO'S
Respect the patron or bunch leader
Identify your abilities and choose a bunch that matches
Be clear with yourself what you're looking for in a bunch (good workout, socializing, skills, serious training)
Don't be afraid to tell someone to "pull their head in" if they are letting there ego get the better of themselves and the bunch
If it's the wrong bunch look further. Most cities will have multiple riding options - don't be afraid to explore your options.
DON'TS
If it feels "wrong" it probably is
Ignore instructions from the group leader or patron
Attack every time you hit the front
Carry on in anyway which destroys group cohesion
Give your ego powered legs free reign to do whatever they want just because they can.
Bunch riding in its essence is about riding in a cohesive group, and the resulting benefits (hence its name). Blasting off the front is all about you with little regard for other riders. I recognize that this is the purpose of some "groups" out there which is why I say choose your bunch to match your requirements.
When you find the right mix remember respect the leader or patron, follow directions and get the most out of your bunch riding experience.