I first met Dan while working together in a bike shop in 2009. We immediately hooked up and attempted to ride each other's legs off regularly on Saturday afternoons after the shop closed for the day.
We raced together a couple of times before he moved to the cycling mecca of Melbourne. Dan now works in a bike shop and rides and races his mountain bike a lot!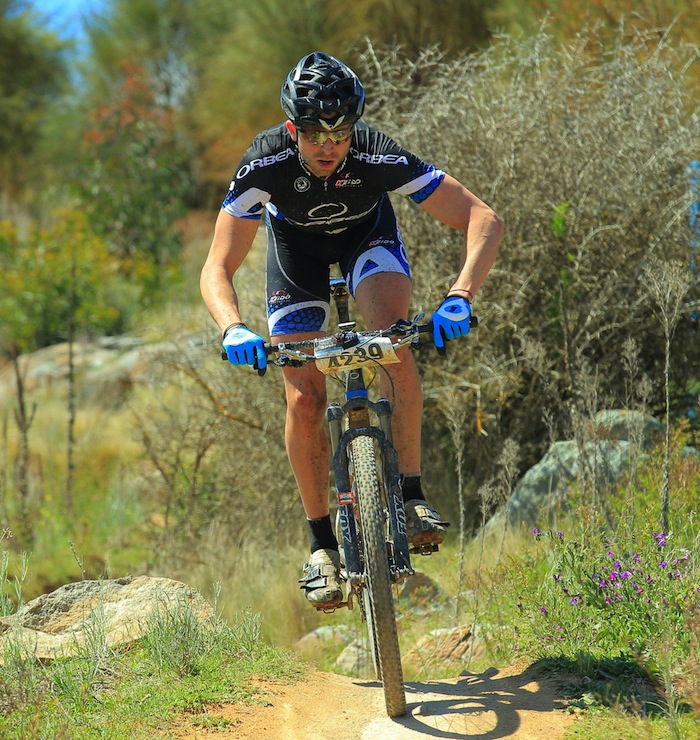 What team do you ride for? Any other sponsors?
I ride for Orbea Australia. They provide me with bikes, plenty of lycra and helmets. Schwalbe supply me with rubber and Exposure Lights keep my night laps as fast as my day. SRAM help me with my running gear, as well as bars and seatpost.
Which events/formats do you ride? Any preference?
Short course is my style. I'm not good at pacing myself. My racing style, as others have described it, is "in the hurt box". Sometimes I find another box inside the hurt box and jump in!
When did you first become involved in 24hr, enduro or XC racing?
I started racing bikes pretty late. My first ever race was in 2007 at the Scott 24 hour at Mt. Stromlo, Canberra, Australia. (At its peak the Scott 24 attracted over 3,000 riders and is currently the largest 24 hour race of its type in the world. ed.) I trained for a whole 6 months prior. I got past a lot of fast guys. This became the driving force to get better so I wouldn't be passed again.
Briefly describe your 2012 season
2012 wasn't my best. I moved from Melbourne to the Gold Coast where the race scene isn't as frequent. I managed to fracture my forearm during a training ride. I found some form in time for the Mont 24 hour, where we won the mixed 4 category and placed top 5 overall. The only teams above us were teams of 6.
Not long after the Mont I had another crash, I went over the bars and landed with my right knee squarely on a rock. The swelling was almost instant. Luckily there was no major damage, but I couldn't ride for almost 2 months. When I could ride, it was a real fight to get some fitness for the 2012 Scott 24 hour. Orbea Racing's Scott 24 was almost clinical. We created a small lead on the first day. As night fell our lap times only decreased by about a minute. When the sun rose again we had more than a lap on second. Once again we were the first team of 4 in the overall standings.
Favorite memory of racing?
My best memory was from the Kona Dirty Weekend in the hills outside of Adelaide. The course kept looping in and out of the start/finish area so you got to see your team mates and they got to see you. We were so close to lapping our closest competition by two laps. They came through transition about a minute in front of me. I took off with everything I had left. I was determined to leave myself completely spent. I passed him before the 3km (1.8 mile) point and by the 5km (3.1 mile) mark I had 2 minutes on him. By the end of the 32 minute lap I had 7 minutes. It didn't even feel hard, it was fun!
In your opinion what is the best new kit, component or bike for 2012-2013?
SRAM XX1. I like things simple on my bikes. The more moving parts you can remove from your bike, the less things can go wrong.
Describe a typical week in your training. Do you train on the dirt or road? How many hours or distance per week?
I live on the mountain bike; it's the bike I'm going to race on so I want my legs to be familiar with pushing it everywhere I go. I try to get my long ride in at the start of the week - it's the hardest one to find time for so I like to get it out of the way. The rest of my week is pretty high intensity. Hill repeats, threshold work, off road ride or two and some sprint work. As far as hours go, 12-14 works best for me. I know riders who complete twice that amount, but for me, high intensity and recovery is the important thing. 
How about diet? How do you fuel a long enduro?
In the lead up to a long weekend racing I'll start having 2 dinners at the start of the week. I'll have the normal stir fry, salad and fish etc. then I'll make myself pasta. I'll also double my magnesium supplement (The king of minerals, it increases muscle efficiency and reduces potential to cramp. ed). Over years of trial and error I know how much magnesium I can handle without adverse effects. (In powdered form magnesium is a bowel irritant...take care! ed)
Describe your current enduro or short track XC setup.
I'm currently riding an Orbea Alma 29er and a new 2013 Orbea Occam 29er dual suspension (first one in the country!)
Bars: Truvativ Carbon flat bar, cut down to 680mm
Grips: ESI racer's edge
Stem: 3T 100mm negative 17 degree (on the dually). Easton EA70 negative 20 degree (Alma hardtail)
Seatpost: Truvativ Carbon 400mm, run almost to the limit.
Saddle: Selle Italia SLR Ti
Shocks: Rock Shox Reba with remote Xloc (Alma Hardtail) Fox Float Kashima CTD (Dually)
Drivetrain: SRAM X0 1x10, 39 tooth up front.
Brakes: Shimano XTR Trail. You can't get a better brake, trust me. (I agree. ed.)
Wheels: Stans Crest for training, Stans Podium Gold for racing.
Tyres: Schwalbe Racing Ralph 2.1 90% of the time. Schwalbe Rocket Ron if wet. Nobby Nic if really wet!
I run my brake levers and shifters on the loose side. When you crash they move instead of smash!
Any suggestions for someone wanting to be involved in mountain bike racing?
Train for your weaknesses! If you're not a good climber train in the hills. If you suck when things get technical go practice your skills. Working on elements that you fear will give you more confidence.