It doesn't seem that long ago that 9 speed became 10 speed...and then late last year SRAM announced the new XX1 11-speed groupset. Now in 2013, the technology trickle down effect has started with the new, more affordable X01.

What Is It? The speed of a drivetrain refers to the amount of cogs available on the rear cassette. This can be confusing for beginners because, until recently, most drivetrains comprised of a 9 or 10 speed cassette with 2 or 3 chainring sprockets up front as well; on paper this results in up to 30 different gear combinations!
The SRAM X01 and XX1 11-speed drivetrain has a rear cassette with 11 cogs and is matched to a single chainring, hence 1x11.
ADVANTAGES
By ditching up to two chainrings, front derailleur, shifter and cables, you end up saving quite a lot of weight. It also tidies things up.
It results in a straight chainline to the cassette. A problem with triple chainrings in particular is that the angled chain line can lead to rubbing, bad shifting and the drivetrain just seems a bit rough. The single chainring is smoother in operation in all gears and more durable over the longer term.
By removing redundant moving parts you simplify the gear mechanics. As said above, it tidies up the bike, but it also simplifies gearing and is more reliable.
Who benefits?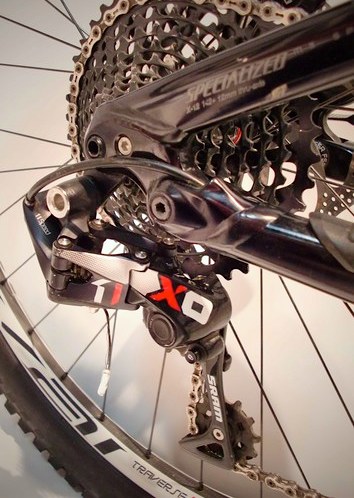 SRAM have said that this isn't a replacement for the 2x10 or 3x10 drivetrain. Obviously, by removing the big and little chainring you are taking away gearing options that a single ring isn't going to be able to replace. If you need very low gears (for instance a 22t chainring and a 34-36t cassette cog) to get up really steep hills, this may not be your thing.
This would really appeal to XC riders who want to strip their bike down to reduce weight and increase reliability and simplicity. There is a healthy range of chainring sizes available so you can alter your gear ratios in accordance to the trails or your own strength and fitness.
Freeride and downhillers have been using single chainring setups for years. This SRAM 1x11 probably has minimal advantages for these riders because coping with a 42 tooth cassette requires a lot of chain and hence chain-slap when in a high gear descending at speed.
It may be useful for a freerider or all-mountain rider wanting to ride to the trail head, but really the greatest advantages are for the trail and cross-country crowd.
How does it ride?
I was lucky enough to test out the SRAM X01 at Interbike in September. My first impression was "Wow that's a big cassette!" I was very happy with the general performance. It shifted smoothly and cleanly even though the bike I rode had obviously seen some action! I was never left looking for a gear which speaks for the massive 10-42 tooth spread on the cassette.
I loved the simplicity of the single chainring and the smoothness of its operation but, to be honest, I have already set up my bike as 1x10 so I may be a little biased.
With the appropriate size chainring you can get a healthy range of gears (28-30-32-34-36-38 for XX1 and 30-32-34-36-38 for X01), although it won't quite match a double for options. The other down side is that you may have issues retrofitting this setup on your existing bike. This isn't a problem when buying new, which is what I would recommend.
As always, check your local bike shop for a bike running the 1x11 groupset and take on for a test ride!