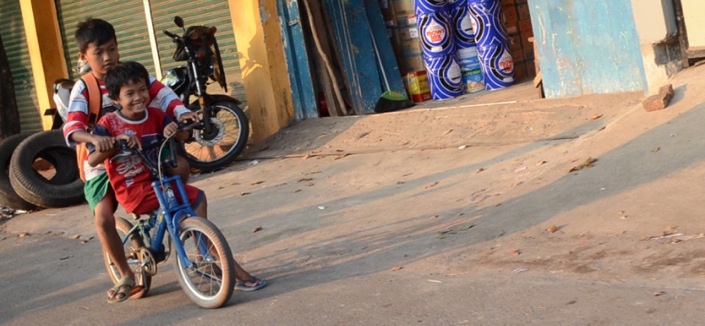 Photo: Abdul Rahman
Here at BikeRoar we all agree that kids should learn how to ride a bike. A main reason being that cycling is simply the best kind of exercise we know – and definitely the best you can do in skin tight clothes (sorry, ballet fans).
There are almost too many good arguments for getting kids to ride bikes to count. Here we've listed ten of our best reasons why children should get out on a bike.
---
1. Starting early is best
Starting cycling at a young age helps build muscle memory, which can be described as a type of movement that the muscles become familiar with over time. This also applies to cycling, and you might have experienced how things you learnt at a young age tend to stay with you better throughout your life.
2. Leads to better style
Learning to ride a bicyle as a kid also helps them build a better technique on the bike, meaning that it will be safer for them when riding the roads later on in life. There are various arguments flying around regarding what is best when it comes to learning to ride with or without training wheels, but at the end of the day, the important thing is to get your children learning the way that they're most comfortable with.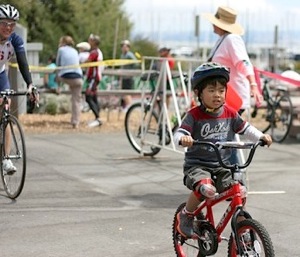 Photo: Richard Masoner
3. Builds confidence
If you have children, you've most likely noticed how they don't worry about falling off. The short and blunt explanation is that kids are a bit like goldfish when it comes to falling – they usually forget about it in seconds. This is a good thing when it comes to learning how to cycle. Learning young breeds a level of confidence on two wheels, which will be much harder to get if they start learning later in life, and confident cyclists are generally more safe on the roads.
4. Learning about traffic
One of the best ways of getting your kids on the road is by investing in a trailer bike. From a safe position tied to the back of your bike, they have the perfect vantage point for learning what to do and what not to do in traffic - lessons that will stand them in good stead, and not only on their bikes.
5. Shows them it doesn't have to be dangerous
According to a recent study in the UK, only 1% of children aged 5-10 and 3% of children aged 11-15 cycle to school, even though the average distance travelled is just three miles. One of the things that many parents worry about is whether their young ones have the experience needed to ride their bikes to school. Put simply, the answer will be yes, unless you live in heavily trafficked areas – especially if they start riding on the street outside your house and perhaps ride to and from school in a group with other kids from your local area.
6. It makes for good family times
Let's face it – you love cycling, and if your kids learn to cycle, you can share that with them. It means you can take the family out on a good, fun enjoyable trip through nature. Plus, it's great that you can share an interest with your children, which is also great fun.
7. Good exercise
When kids cycle, they exercise. Scientific surveys suggest that children under five should be physically active for at least 180 minutes (three hours) a day, and children aged 5 to 18 should do at least 60 minutes of aerobic activity every day. Cycling is a great way of achieving part of these goals.
8. Leads to happier children
Why else should children exercise? Well, surveys and science shows that kids who exercise regularly reap a bunch of rewards that include: Better self-worth, they become more sociable and independent, they are better at concentrating, they have a higher stress threshold and they learn better. So cycling = better mental, social and physical health.
9. They stay healthy
The benefits to their health last longer than childhood. Research shows that people who are active as children are much less likely to suffer from various diseases later in life.
10. A better world
Cycling is better for the environment and the planet than driving around in cars. So, in their own little way, your children are doing their bit for a better, healthier world by cycling.
---
These are just ten good reasons - and we haven't even talked about the facts that cycling is a cheaper form of transport, that your children are more mobile, or that some of our own best memories are from riding our bikes around when we were young.
If you have other reasons that children should cycle, please share them with us and the other readers in the comments below.