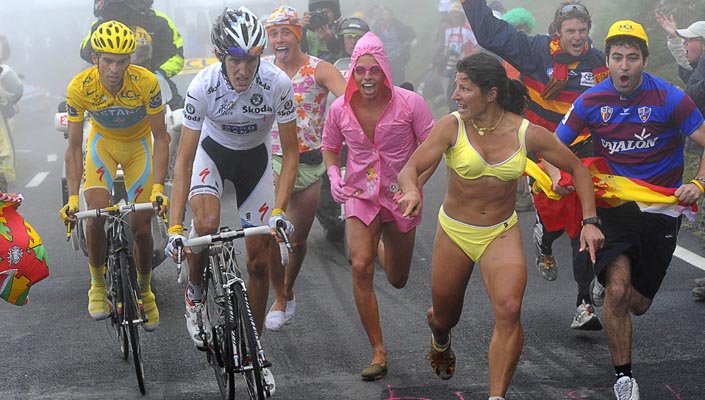 Some of the spectator action at the Tour. See what you're missing?
Are you a time-zone unfortunate, Le Tour armchair cycling nut, primed and ready with three weeks of snacks and drinks for a marathon grand tour viewing spectacular? Ever wondered what it's really like to be there in person, hearing the thud of bodies hit the tarmac in a mass pile up, or watch waifer thin skeletons fly up a ten percent gradient climb from hell?
Take it from us, you don't know what you're missing if you've never seen it in person. So, after viewing another Tour de France from afar, wrapping up in spectacular fashion on the Champs-Élysées – you may find yourself wondering "what's it like to actually be there?"
Here are 10 of my favorite things about being at the Tour de France in person
---
1. Time of day
---
Australian fans will especially understand this one. We become so accustomed to getting up in the middle of the night to the watch the Le Tour while it's on, it's easy to forget that the actual race takes place at gentlemen's hours... which you are easily able to fit into your schedule even after a big night at the pub.
2. Atmosphere
---
Particularly in the smaller towns, or better yet - the guest towns, like those in Northern Ireland in 2014 - the locals go absolutely NUTS for it. Same for York in 2014. Millions of people came out to celebrate the race being in town and this was just the beginning of a nationwide celebration.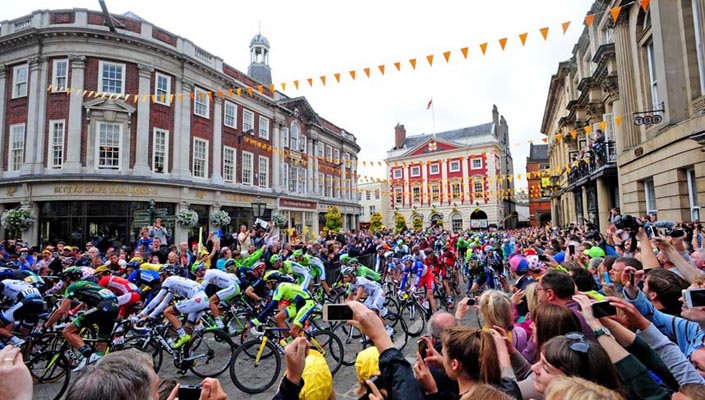 Tour de France celebration in York
3. Perception
---
Much like when you're watching rugby or basketball on the TV, there are some things you just can't appreciate unless you're there to see them in person. In basketball, they don't look as tall because they're ALL tall. In rugby, they don't look as big because they're ALL big. Watching cycling in person, two things will strike you. First, how thin they are. I mean, seriously. Like, really small. Second, how FAST they are - particularly going uphill. Unless you have seen how fast these guys climb, you can't truly appreciate it.
4. Favorites
---
Being there, understanding that these guys are real people trying to win, you feel a much deeper bond with your favorites. In fact, being there in person may cause you to even change your favorite rider or team!
5. Weirdos
---
You've seen them on TV and countless viral videos (like this one). Big events like these bring weirdos out in droves. The costume weirdos. The drunk weirdos. The themed weirdos. You are surrounded by them and they just make the day more fun. Think 7s rugby or a one day cricket international - except way better because there are bikes.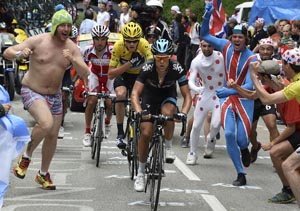 Sadly, there are some who forget they're in the middle of the world's premier sporting event and get careless, or worse yet, take their fervor, positive or negative, too far.
In the careless realm are examples like the fan musette that crashed Lance Armstrong on Luz Ardiden in 2003 and 2018's crush of fans and smoke that crashed Vincenzo Nibali up Alpe d'Huez, causing him to pull from the race.
Then there are the people who are just mean and bad, like the guy who spat on Chris Froome (also up 2018's Alpe d'Huez), and worse, the ones who threw urine on a maligned Froome in 2017. It's not surprising that the rider's sometimes strike back, all prompting the race organizer's to put out a video of their own reminding fans to #RespectTheRace.
6. Comparison
---
Often, one of the best things about being there is being able to ride the same routes as the pros - sometimes only hours beforehand. Go on; check out that 9% hill! Try your luck on that switchback descent or throw down some watts on that flat section. It just makes watching the pros all the more impressive. See point 3.
7. Attitude toward cyclist
---
It's like a three week vacation from the usual cyclist aggression! Everyone seems to just accept that they're not getting anywhere very fast... and if you wear the right kit (and have the figure for it), you might even trick some locals into thinking your famous...
8. Seeing them off duty
---
Seeing your favorites (see point 4) flying on their bikes is one thing, but one of the benefits of being there in person is seeing them interact with fans and chilling out! You get that giddy feeling of seeing a celebrity, and the majority of them are happy to sign autographs and have a chat. Marcel Kittel having a coffee or Richie Porte going for a casual stroll? Awesome.
A little cycling fan enjoys Peter Sagan's big heart at The Tour. SHARE if you think more athletes should be so nice. #awww #cycling #tdf2015 #PeterSagan #lovethefans #autograph #souvenir Peter Sagan Tinkoff Saxo Le Tour de France [via Peter Sagan Cz/Sk (Fan Page)]

Posted by Bike Roar on Saturday, July 18, 2015
Peter Sagan shows a small fan big love
9. Enthusiasm for cycling
---
You'll never have so much success having conversations about bikes with strangers. What saddle do you have? What gearing did you use for that hill? What kind of power meter do you have? It's great to branch outside of your regular cycling circle and maybe even learn a thing or two!
10. Spills, crashes, and near misses
---
When these guys hit the asphalt, they REALLY hit hard. In line with point 3, you have no idea how fast these guys are going until you're there. You also have such a greater appreciation for the fact that while the sport is exciting, these guys are risking life and limb to wear that leader's jersey. Once you see them get up and know they're ok, the crashes will be one of your most vivid memories, particularly if you get a good view...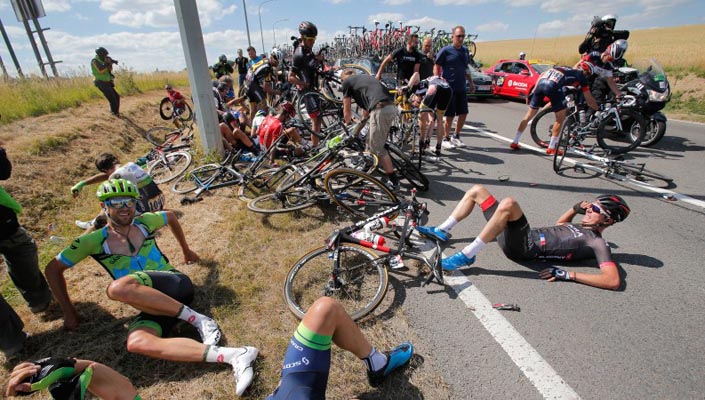 Now is the time to plan for the next one. Prime the grandparents to take the kids, book a flight and head to Europe for a three week holiday, spectator bliss, and cycling adventure!

Editor's Note: This article was originally published Friday, Jul 31, 2015, and has been revised for content, images, editing, and accuracy.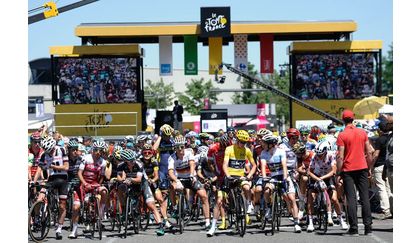 Le Tour is cycling's grandest spectacle, but not the longest, or tallest, or cleanest. Explore some hidden facts behind the bike race's glamorous façade...
READ MORE