Charismatic triple World Champion Peter Sagan (Bora-Hansgrohe) has the entire cycling world at his feet. Internationally beloved, his humor, his antics, his aggressive riding, and his trademark one-handed wheelstands have made him a crowd favorite at every race he graces with his presence.
As a rider he is an intriguing case study: his absolute top speed doesn't quite match that of Marcel Kittel (Katusha-Alpecin) or Andre Greipel (Lotto-Soudal), but he can hold maximum speed for far longer than anyone else in the peloton. Despite his strong physique he can climb very well, can time trial strongly over short distances, and can launch devastating solo attacks on the peloton that often stick. In addition, he seems to be something of a cycling savant; he knows which breakaways will succeed, knows when to attack and when to wait, and has an uncanny knack of avoiding crashes. On a pancake-flat stage custom-made for the pure sprinters with 6-man lead-out trains, he might not win, and the same can be said for an hors-category mountaintop finish. But for everything in between, Peter Sagan is the man.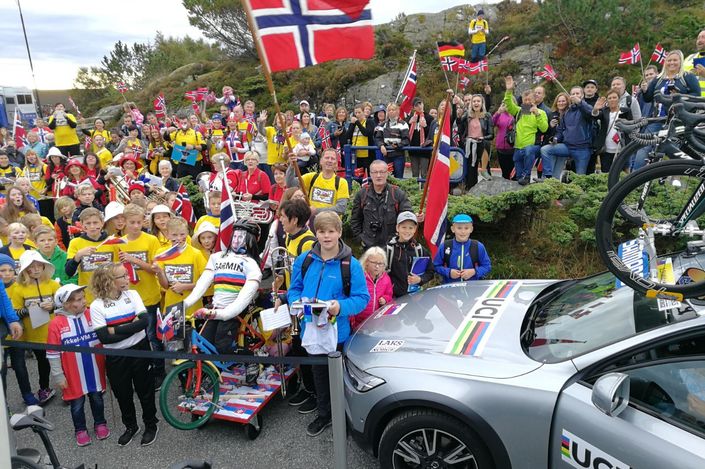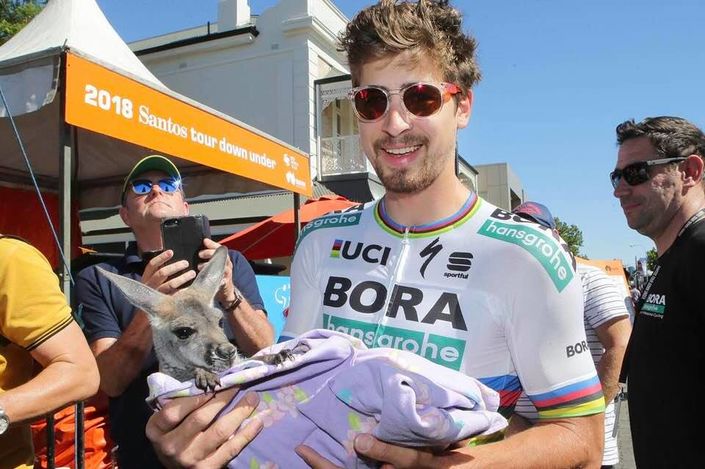 Sagan fans mass at 2017 World Championships in Bergen; Peter poses with a baby kangaroo at Tour Down Under 2018.
images: @PetoSagan | Twitter; Marcus Speed | BikeRoar
BikeRoar managed to catch up with the enigmatic superstar for a chat at the 2018 Tour Down Under, where he won the prologue People's Choice Stage and then backed up to also take out the win on Stage 4.
BikeRoar: Peter, let's get straight to it. You're a triple World Champion and a five-time Tour de France green jersey winner: what does 2018 hold in store for you?
Peter Sagan: I never look too far ahead. I'll have fun going up against Cav and Kittel (Mark Cavendish of Team Dimension Data and Marcel Kittel of Katusha-Alpecin) at the Tour of California in May. That is my main focus.
BR: And the Tour de France? It seems you have unfinished business there after last year. (Sagan was disqualified after Stage 4 last year when officials decided he was at fault when Cavendish was sent crashing into the barriers in the final 75 meters).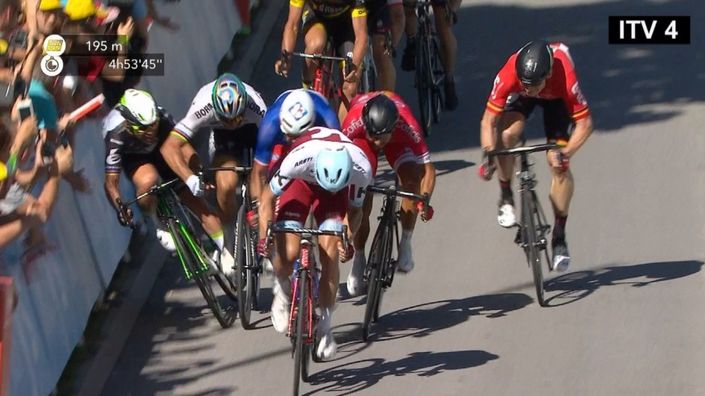 Sagan was cleared only months after his disqualification for an elbow to Mark Cavendish in the 2017 Tour de France
PS: I do. I said it before – nothing except a natural disaster will keep me from winning the green jersey this year.
BR: For the uninitiated, the green jersey is awarded on a points system and is also known as the sprinters' jersey. We wanted to talk about sprinting; regardless of which race, what do you consider to be your best sprint effort last year?
PS: My win in Stage 5 of the Tour de Suisse. It was a long sprint after a day of riding into headwinds, and my team worked very hard for me all day. The last few kilometers were very technical, which I like. I won by a couple of bike lengths and was very satisfied.
Here's Sagan's data for the final 350 meters:
Duration: 18 seconds
Average Speed: 70.6 KM/H
Maximum Speed: 76.2 KM/H
Average Power: 1220 Watts
Average Power, Final 5 seconds: 1417 Watts
Sagan takes stage 5 of the 2017 Tour de Suisse
BR: Obviously you spend a lot of time on the bike, but how much sprint-specific training do you do?
PS: Depends what you mean. I spend lots of time in the gym. I work on my strength, I work a lot on my core to keep the bike steady. I stretch a lot to stay flexible and to avoid injury. And then, on the bike... I train for sprint(ing) sometimes at the beginning and the end of long rides. I might do 5 times 12 seconds sprinting with 2 minutes rest time between sprints near the start of the ride, and 5 times 8 seconds when the ride is nearly over. It is hard to go at 100%, but that's what I do.
BR: During a race when you're at top speed, say in the final 200 metres, what are you concentrating on? What's going through your mind?
PS: Finding position is most important. You need confidence in your ability – to find the right position, and your ability to defend it. You need to hold your line and not let anyone else have it. I say to myself, "I worked to get this spot, and nobody else can push in here and take it." What I never think about is crashing... if you start to worry about crashing you miss your chances. You just have to go.
BR: What is the most common mistake that amateur sprinters make?
PS: It's always the same. They go too early. They don't have the patience to wait for their moment, so they go early and they explode. They might be the fastest sprinter in their local race, but all the other guys have to do is wait until they go "pop!" and then blast past them.
BR: What advice would you give an up-and-coming young sprinter?
PS: Many things. First, train hard. Work on your bike skills.
Sagan is famous for his ability to handle his bike. His remarkable cornering, descending and navigation through the hazards of the peloton are already legendary, and have helped him save valuable seconds and more importantly, avoid major injury.
See for yourself in these videos:
BR: What else?
PS: Practice sprinting at 100%. There is a big difference between 99% and 100% - when you are doing sprint training, or racing, give it everything you have and don't make excuses if it doesn't work. Just keep training and have some fun. And then, when you get famous, do what I do and pretend your English is not so good so people stop bothering you. My English is perfect but I say crazy things with my Slovak accent to confuse people and it just adds to my mystique. It's a lot of fun...
BR: Hmmmmm, OK. Back to sprinting for a moment. How important is body positioning and aerodynamics when you're going at top speed?
PS: Very important. The key is to move the bike underneath you, but not move your body. I'll say it again – move your bike from side to side to generate extra power, but your body should stay still. All your energy should go into each pedal stroke, not be wasted by rocking from side to side. So if you were to look from the front, the head and shoulders should be perfectly stable. Getting aero is difficult. Cavendish does a great job – he is so low his face is nearly touching his front wheel! You need to get low and flat, but of course you have to be able to see in front of you, so it's no good getting so low that you are staring at the road in front of your wheel instead of watching the race unfold around you.
BR: Peter Sagan, it's been an absolute pleasure. All the best for the 2018 season and beyond.
PS: Thanks. I have to go now anyway.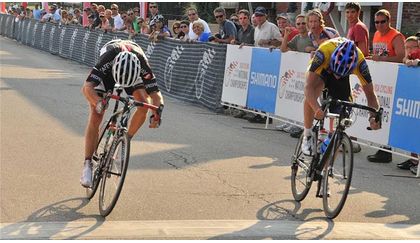 Most sprinting success comes from timing, experience, and lots of trial and error, but there are a few simple things you can do to speed up the learning curve...
READ MORE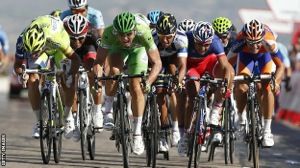 Try these simple road bike training tips to increase strength, speed and acceleration. With a little work perhaps one day you could beat Mario!
READ MORE