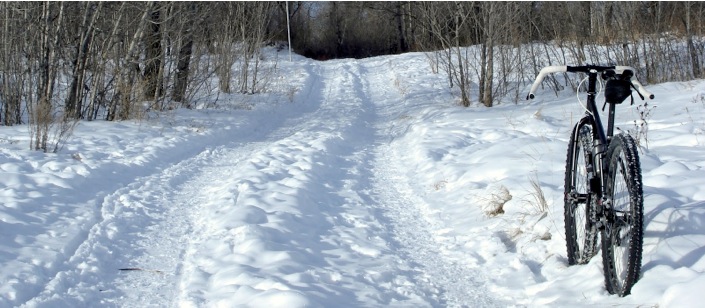 Fancy a bike ride in the snow?
When it's cold and wet, it can be difficult to get out on the bike. Here are seven ways to motivate you for your next winter ride.
---
1. Ride with friends
It's much easier to ride in the dark and cold when you know someone else will be suffering with you. Make a plan to ride with friends and schedule at least one regular weekday ride that'll keep you fit through the winter months. Give your cold-weather workout a name such as "Monday's Misery Multi-miler" or "Tuesday's Toe-Freeze Adventure" to motivate others to join the fun (or pain).
---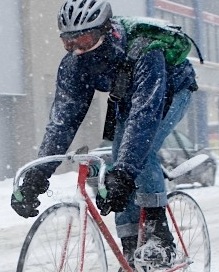 Make every ride an adventure
2. Explore new routes
Ride different roads or trails that you've never taken before. Search out new terrain and learn about places you've not yet seen. The new rides will seem like adventures.
---
3. Record your ride stats
Post your ride on Strava, Endomondo or Map My Ride. After all, you biked in the cold, dark hours, so you've earned those bragging rights. These apps track your miles and help you reach your goals. You could use your smart phone, but why not spoil yourself with a GPS cycle computer like this Garmin Edge 510.
---
4. Pimp your bike
Attach a headlight to your handlebars such as the Light and Motion Urban 500, which has enough lumens for you to see everything ahead. Be sure to put a rear red blinking light to your saddle and a few multi-colored Nite Ize mini spoke lights to your wheels. If it's wet out, put on mudflaps or fenders. You'll be safer riding in the dark (and look cool too!).
---
5. Wear the right gear
It's important to keep your head, hands and feet warm. Once your extremities become cold, the ride will be rough. You want to wear clothing that performs well, but is lightweight; you don't want to feel or look like the Abominable Snowman. Wear a light thermal jacket, some cold-weather gloves, such as Gore Alp gloves, ear covers, toe covers, leg warmers and other layers that you can shed as you get warm. Tuck hand warmers in your gloves to keep your digits toasty. Use a neck gator to keep the cold air out of your lungs.
---
6. Run fatter tires
If possible, put 25mm tires on your road bike (just make sure they fit through the front fork). Run them at lower than normal pressure to help you avoid slipping on wet or icy roads. Line your tires with Zefal strips to decrease your chance of getting flats.
---
7. Stop for coffee
The body burns more calories when it is trying to stay warm. So even on days when you're pedaling lightly, you may be pretty hungry at the end of your ride. Before heading home, reward yourself with a stop at the local coffee shop for a hot chocolate and something delicious. Refuel enough to get home to take a hot shower.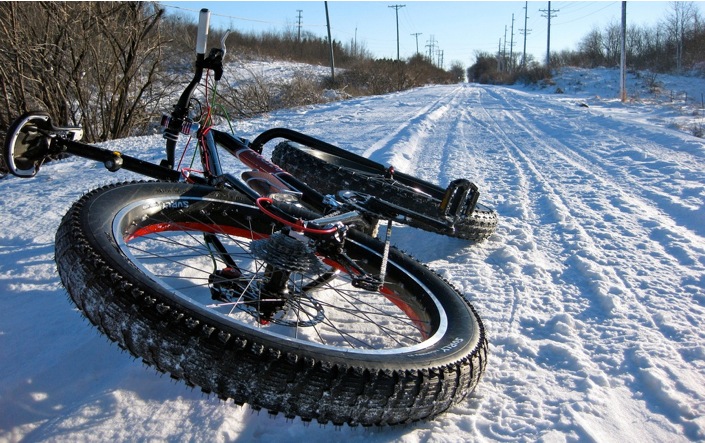 Finally I've added a number 8. When the weather gets really cold and the road is a foot deep in snow the only solution is to buy what every cyclist worth his salt wants: a Fat bike!