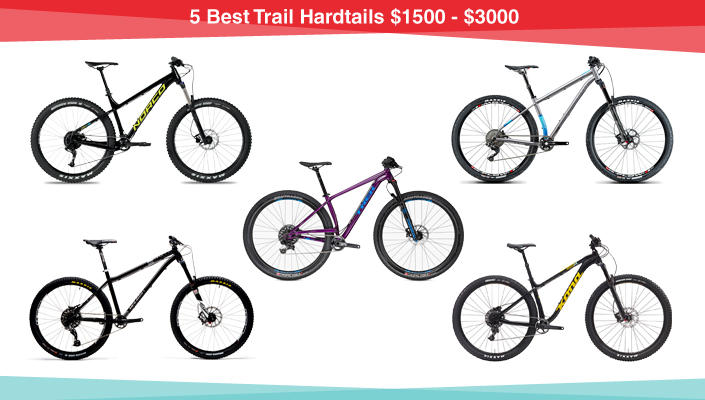 We think these 5 trail hardtail MTBs are the best you can get in the price range.
We know what you're thinking - $3k on a trail hardtail? But as we covered in a recent article, there are plenty of reasons to consider buying a trail hardtail. With prices of full suspension mountain bikes skyrocketing and the improvements in hardtail technology, there is no better time than now for the average consumer to jump on a new hardtail.
Here are our five picks for the best trail hardtails between $1500 and $3000 USD:
---
In recent years it seems that Trek can do no wrong; their bikes are always top performers and easily some of the best looking bikes on the market. The Stache is no different. By far the best looking bike on this list, the Stache comes in both aluminum and carbon at the higher end. It has a multitude of build levels that start as cheap as $1579 and go up to $4k+.
What we love about the Stache, aside from the paint and design, is its ability to interchange different size wheels. Trek's patented Stranglehold dropout makes it possible to run 29+, 27.5+, and regular 29" wheels. This versatility really adds to the value of the bike no matter what trim level you purchase it in. The Stache also uses Boost 148 hub spacing, making the wheels stiff and solid. This bike looks great, rides great and is extremely versatile.
Pros:
Price
Interchangeable wheel sizes
Cons:
Manitou fork
No dropper post
---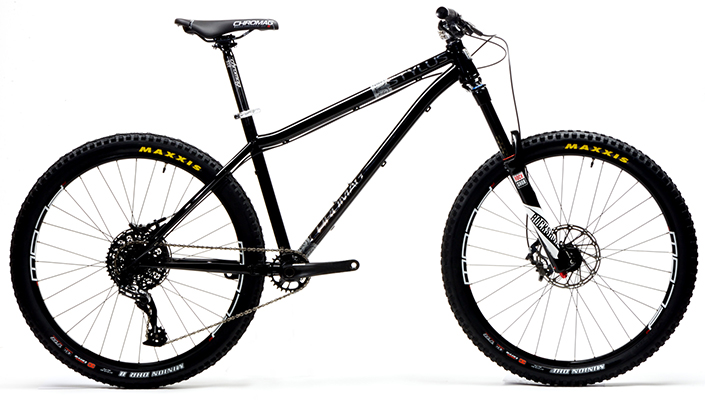 Chromag is one of those brands that managed to grow from a backroom production to a highly sought after aftermarket company. The popularity of their handlebars and seats in the mountain bike world is almost unmatched. For those who've ridden one, their hardtail frames are just as good as their bars or saddles. The Stylus has been the hardtail of choice for those living in the rugged coastal mountains of British Columbia who aren't too shy to pedal to the top of Whistler Mountain, then ride Goat's Gully back down.
With a 66.5-degree head tube angle and a 73-degree seat tube it's easy to see why the Stylus is so much fun to ride. Chromag built the Stylus to handle a fork from 120mm-160mm, DH weight tires with clearance up to 2.7", and it has proprietary ISCG chain guide mounts. All this really makes you wonder - what actually is this bike for? Well it's for every kind of rugged riding you can put it through.
Pros:
Indestructible
Good for aggressive riders
Cons:
Expensive
Might be too slack for average riders
---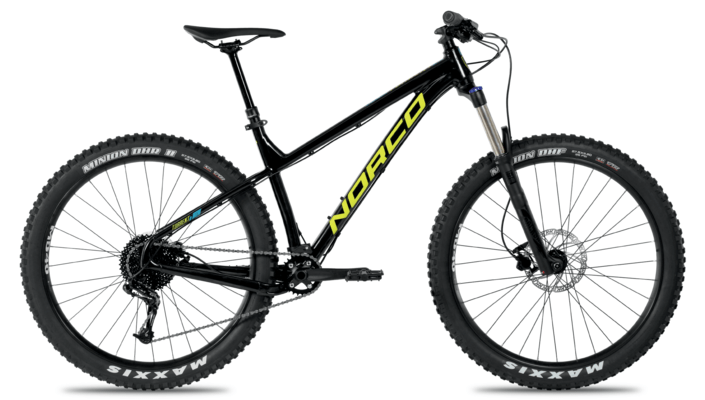 Norco is another brand that has hit their stride in recent years with a multitude of well performing bikes that look fantastic. The Torrent comes in two trim levels, the 7.2 at $1649 USD and the 7.1 at $2499 USD; both feature dropper posts and PLUS sized tires. The Torrent features the same head tube angle as the Chromag Stylus, but utilizes PLUS tires and is available for a fraction of the price.
The Torrent 7.2 comes stock with a 140mm Sektor Silver RL fork and SRAM GX 1x10 drivetrain, making this bike usable on most terrain. The 7.1 comes stacked with SRAM NX and a rad DVO fork. This bike is a great choice for those who want something stable and sturdy without breaking the bank. The Torrent is a great choice for those who tend to be a little rough on their bikes.
Cons:
Might be too aggressive for some
Sektor fork (on 7.2)

Check out the Comparison
4 of the best trail hardtails from Trek, Chromag, Norco, and Niner

---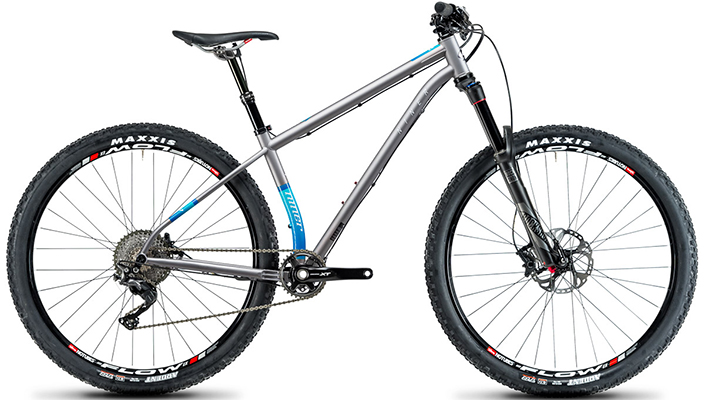 Colorado based Niner Bikes have a sole dedication to the one wheel size they believe in: the 29er. The ROS 9 looks sleek with incredible attention to detail on the 4130 steel frame and features a beautiful dropout that allows for the use of a Maxle (RockShox's version of a thru-axle system) and an alloy derailleur hanger. The frame can be built with internal dropper post routing, and all the cable routing clamps can be removed for a sleek single speed look. The 68-degree head tube angle makes this bike a strong climber, but with the superior construction you have no fear in pushing it to its limits on the downs.
Niner uses its proprietary Bio-Centric II BB system, allowing for adjustments to BB positioning affecting geometry attributes: BB height, seat tube angle, and chainstay length. These adjustments make the Niner ROS 9 one of the most versatile hardtail frames available. Niner lists a fully equipped bike for $3800, but we listed this as frame only for $900 because we strongly suspect your local bike shop can help you get the frame and put together a solid, complete build for $3k.
Pros:
Attention to detail
Adjustability
Cons:
Price
Lack of build options
BikeRoar Editor's Pick
---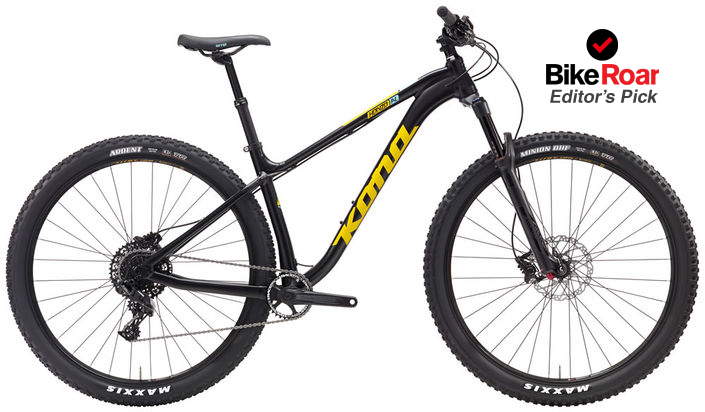 The Honzo may not have been the first modern aggressive trail hardtail, but it was the first to appeal to the mass market back in 2012. The Honzo features a 68-degree head tube angle, 415 mm chainstay length, 29" wheels, and a 75-degree seat tube angle, making it a very capable descender. The Honzo has similar geometry to Kona's Process 111, making it a sure fire winner in the fun geometry department.
One thing that sets the Honzo apart from similar bikes is choice. When the Honzo was introduced it came in bike-nerd approved CroMoly steel only. Now it's available in CroMoly, 6061 aluminum, titanium and carbon fiber, with multiple build spec options. The Honzo is also available in 29" or 27.5+ (for those PLUS guys), and has frame only options as well. Prices start sub $2k, and there are four options below the $3k USD mark. For those who want more, there are also three more Honzo models above the $3k mark, and a titanium Honzo frame for $2275 USD, which can be built up as primo as you like.
The Honzo is dedicated 1x with no mounts for a front derailleur and has proper internal dropper routing. The Ti and CroMoly frame only options feature a sliding rear dropout, making them perfect for single speeding. With a multitude of build levels to suit any budget, and perfect geometry for maximum fun, the Kona Honzo is BikeRoar's Editor's Pick for trail hardtails.
Cons:
Entry level is heavy
No dropper until $3k

Check out the Comparison
4 of the best trail hardtails from Chromag, Norco, Niner, and Kona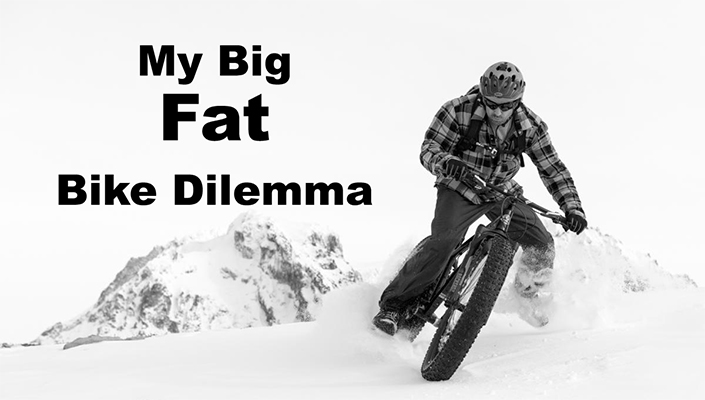 Shopping for a fatbike but the different specs and geometry has you confused?
BikeRoar
has you covered with our breakdown of fatbike specs and...
READ MORE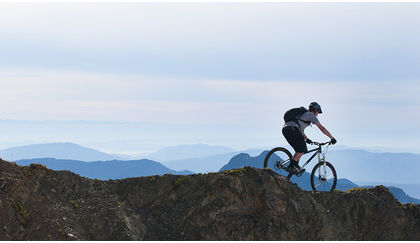 Want a new full suspension carbon fiber trail bike but the prices sent your head spinning?
BikeRoar
brings you some solid advice on why you should buy...
READ MORE