Bikes » Road » Sport/Performance »
Specialized Allez DSW SL Sprint Comp (2017)

Sprint to the front with Specialized's new street fighter
Pros
- Frame modelled after top-of-the-line carbon bikes offers terrific aerodynamics
- New two-ring drivetrain geared great for climbers
- Won't break the bank
Cons
- Alloy cockpit a little hefty
Review
Specialized is ushering in a new era of aluminum road bikes using its innovative Smartweld™ technology. A cursory glance is all that is needed to quickly disseminate that the new Allez Sprint is not something to be scoffed at on the start line.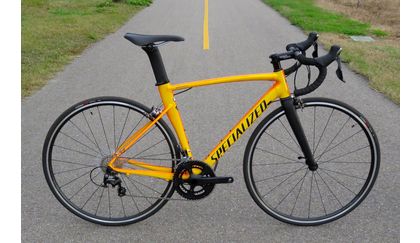 With a Venge-like silhouette and a Tarmac-esque ride, this rendition of the Allez seems to have less in common with its rather traditionally designed alloy brother, the Allez E-series, and more like its pricier, race-bred, carbon-fed cousins.

But frame material and design are not the only factors that separate this street fighter from the pack. Introduced in December 2015, the first models featured only SRAM X1 series groupsets. The bikes were manufactured without a front derailleur mount, making it one of the few single-ring race bikes we've encountered in recent years. A satin black Allez DSW Sprint X1 Comp was delivered to Bayou Bicycles and assembled by ace mechanic Josh Baer for BikeRoar review. First impressions were so surprisingly spectacular, that this reviewer opted to buy it on the spot.

Originally trialled on the sub-sea level roads of New Orleans, the X1 offered immediate acceleration and a smooth ride, and gives criterium junkies 11 reasons (speeds) to ditch a two-ring crankset and make the switch to alloy. But for anyone living north of I-10, the limitations of a 1x11 might become a factor – hence the creation of the 'X2'.

The all-new Allez DSW SL Sprint Comp for 2017 packs all the punch of its predecessor with one major bonus – a front derailleur featuring a dual-ring setup.

Here is BikeRoar's first take on the Allez Sprint.

Frame and Fork

As mentioned above, the Allez Sprint takes its styling cues from the high-octane Venge, the Specialized speed weapon which has darted reigning road race world champion Peter Sagan to two straight rainbow jerseys.

Utilizing Specialized E5 premium aluminum with D'Aluisio Smartweld™ (DSW) Sprint Technology, hydroformed tubing, tapered head tube, and an oversized bottom bracket, this bike looks fast stripped and sitting still.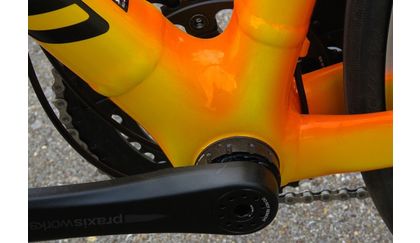 Gone is the puny bottom bracket of its alloy brethren. This rocket packs a load underneath and can handle extreme wattage in the closing 500 meters to the finish under the most punishing pins (legs). DSW creates a near-seamless and uniform weld to create a stronger bond and more responsive frame.

Aerodynamics also plays a vital role in the design of the Allez Sprint. With the downtube positioned just behind the front wheel and coupled with low-slung seat stays and a seatpost swiped from the Venge, the Allez Sprint was shown to have a 1.3-metre advantage in the final 200m of a sprint over the E-series during factory wind tunnel testing.

Aside from the FACT carbon seatpost, the Allez Sprint also comes equipped with a S-Works FACT full carbon front fork, which offers a size-specific taper.

The Kit

While a 1x11 is more than adequate for those sprinters strictly sticking to New Orleans terrain, those all-rounders looking for something to combat climbs in more mountainous topography may opt for the new two-ring option.

The Allez DSW SL Sprint Comp is fitted with an 11-speed Shimano 105 drivetrain – minus the chain (KMC X11) – and features a standard 52/36T front combo ring set mounted on Praxis Alba 2D cranks and attached to a Praxis bottom bracket.

The bike also features a pair of matching 105 shift levers, which also serve as brake pulls for a set of front and rear Axis 2.0 calipers straddling a set of 24mm Specialized Turbo Pro tires, which are firmly mounted on an Axis Elite wheelset.

The cockpit is comprised of a set of factory-branded shallow drop, alloy handlebars (125mm drop, 70mm short-reach) and wrapped in S-Wrap bar tape.

The Ride

The Allez Sprint is both compliant and stiff. Not even the pitted roads of the 'Big Easy' could spoil the comfort and performance of this thoroughbred. Fitted atop the carbon seatpost is a Body Geometry Toupé Sport saddle, which provides above-average support for a stock issue seat.

After having already been fitted by Body Geometry fit specialist Robert Driskell, who is world renowned for "making faster riders faster" and who owns a limited 'Specialized Edition' X1 ($3,750) himself, this reviewer was "one with the bike" with an efficiency and comfort factor registering off the chart.

The original Allez DSW Sprint X1 Comp with SRAM Rival ($2,000) had been retrofitted with a Specialized Aerofly carbon handlebar ($300), a Specialized Power Comp saddle ($100) and a Zipp 202 Firecrest® carbon clincher wheelset (front: $950, rear: $1,150), giving it a sub 7.5kg (16.5lbs) overall weight, along with better rolling resistance, aerodynamics and comfort.

However, the factory-equipped DSW SL Sprint Comp ($1,700) offers a very similar riding experience without breaking the bank. In fact, the DSW SL Sprint Expert with 11-speed Shimano Ultegra ($2,000) would top anyone's list of best mid-range bikes, while the 10-speed Shimano Tiagra-equipped version provides plenty of bang for the buck at just $1,450.

The Allez Sprint at any spec is stable and responsive, with a firm undercarriage and superior wheel to road contact – no slip sliding or twitchiness here.

But don't just take it from BikeRoar, when 'The Guru' sums up the Allez Sprint best.

"It's inexpensive, light and offers vital fitability," said Driskell. "Simply put, it's a bad-ass bike!"

BikeRoar concurs. See SPECIFICATIONS →

- Review and photos by Aaron S. Lee. Originally published here.


Details
The 2017 Specialized Allez DSW SL Sprint Comp is a mid-range road bike. The finely tuned aluminum frame, benefitting from the design of the top-end Tarmac, is paired with a FACT carbon fiber fork, delivering a fast, responsive ride. Kit is solid: componentry includes Specialized's own cockpit, AXIS wheels and brakes, and Shimano's stalwart performance road group, 105, for the drivetrain. Tires are Turbo Pro, smooth-rolling and tough. This is a racer; geometry is aggressive and comfort is traded for speed. A very good road bike.

See our in-depth review →

See Manufacturer's Description


Quick Specifications
| | |
| --- | --- |
| Name: | Allez DSW SL Sprint Comp |
| Brand: | Specialized |
| MSRP: | $1,700.00 |
| Year: | 2017 |
View Full Specifications