Accessories » Lighting » Combos/Systems »
Knog Blinder Road Twin Pack
Bright, functional, durable, and they look good.
Pros
* Front light comes with handlebar or head mount
* Sturdy, durable
* Rechargeable
Cons
* High beam mode saps the battery life
* Several modes can be confusing
* Not cheap
Review
Let's face it, you need bike lights for safety and visibility, and every few years you need to upgrade your lights just like you do your mobile phone. You start to crave a light that is brighter, easier to mount, and has a quicker charge time and a longer burn time than your old set.

Over a three-month period, we tested out two front/rear light combos from Knog... READ THE FULL REVIEW →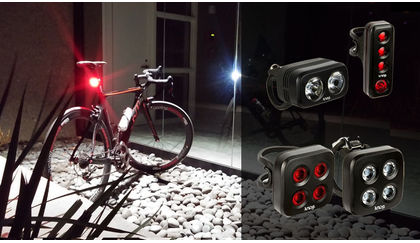 Details
The 2016 Knog Blinder Road Twin Pack is a light set. Very flexible, the dual-lamp headlight offers a number of choices, from a long-life, high-visibility flashing mode, optimal for daytime running in traffic, to a bright steady mode more than adequate for unlit side streets. The taillight also offers modes of varying brightness with choices for all conditions. Both lights mount easily with the included flexible straps, able to hold securely to round and aero bars and posts. Lightweight, waterproof, and USB rechargeable.
A very good light set, on or off the road.
See Manufacturer's Description


Quick Specifications
| | |
| --- | --- |
| Name: | Blinder Road Twin Pack |
| Brand: | Knog |
| MSRP: | $134.95 |
View Full Specifications