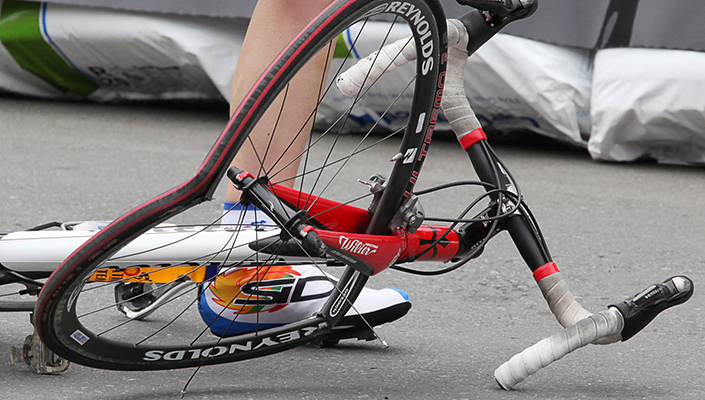 Broken bike stuff sucks! Good thing a warranty is there to make it better (when it applies)!
The bicycle industry offers a wide variety of warranty coverages that differ from brand to brand and part to part. Considering the aggressive nature of bike riding and how fragile lighter, expensive parts can be, typical bike industry warranties can seem pretty generous. However, you should still ask some questions regarding the warranty and take into consideration the coverage for every purchase you make. Whether you buy in a store or online, warranty details may not be obvious or fully disclosed, so ask your salesperson or check a manufacturer's website.
Here are some things to consider about a warranty and making a claim:
What is a warranty?
---
A warranty is a guarantee from a manufacturer or brand that their product will stand up for the intended use over a period of time. During this time, the company takes responsibility for repairing or replacing a faulty product, as necessary. A warranty is typically available to the original purchaser with proof of purchase - usually a receipt. If you don't have a receipt, it's an uphill battle to get a claim started, so keep your receipt in a safe place.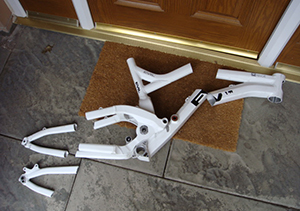 Evil Bikes had a bad production run, but their good warranty kept customers happy.
image: trailscotland.co.uk
Each brand defines its warranties and handles claims differently. Most define warranties distinctly, establishing what is and isn't covered in black and white and in terms of legal obligation. What's different is how brands approach their claims, with some sticking to the sharp eligibility distinctions and others flexibly working in a little bit of grey where they help a customer out depending on circumstances.
Brands like SRAM might have one of the best warranties in the business. I have seen them help sort out my customers with almost all of their warranty issues. It is up to the manufacturer to decide if they will bend the rules to keep that customer on their product and offer them over the top customer service.
Retailers can often get caught in the middle of warranty issues. Some brands require customers to process warranty claims through the retailer and some brands deal with customers directly. In the case of the retailer, yes, they sold the product to you and they should be aware of the warranty programs supplied, but those warranties are honored by the manufacturing brands, not by the retailer, unless otherwise stated. This results in retailers working hard to help and satisfy their customers with warranty claims, but not being in full control of the process or ultimate outcome.
Local Shop vs. Online
---
I prefer to buy my products locally, especially products that may require service or warranty coverage. I can go into an establishment and talk to someone face to face and work together to get things sorted out. Depending on my relationship and history with that store, there will be some kind of temporary or loaner piece of equipment I can use to keep me in operation. Buying online can be more of a hassle when warranty comes into play. In the bike industry, there are a number of online stores that aren't actually authorized to sell some products. Brands often exclude from warranty any products not purchased from an authorized seller, which could leave a buyer without warranty coverage and an expensive bill of their own for repairs or replacement. I find myself buying small, hard to find things online, but make my purchases for the more important things in person at a reputable store.
What is covered by warranty?
---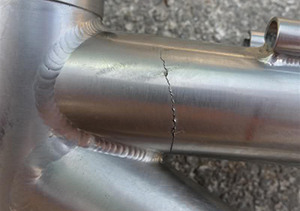 Cracks in an otherwise un-abused frame are often a warranty issue.
image: roadbikereview.com
Manufacturers know what their products are capable of and they've done extensive product testing to establish stress levels and failure points on their goods. This being said, there can be a run in production that gets less attention than it needs and could fail prematurely. At the manufacturing level, during packing and assembling, it may be easy to forget to put a spring here or a clip there. Mistakes happen, and when they do it gives brands a chance to show how well they stand up to honor their warranties and take care of their customers.
Wear points like tires, brake pads, suspension seals, bearings, and cables are usually never considered under warranty. These pieces normally wear / wear out as part of their use and fall under "wear and tear excluded." If normal wear and tear parts are having issues within the first couple months of owning your bike, you might just need an upgrade for your style of riding.
"Rider abuse" is often invoked by a company to describe a product that is within its warranty period, but will not be covered due to the nature of the damage. Forgetting that your bike is on your roof rack as you pull into the garage is depressing, it probably did some damage, and it is going to be a personal expense. Component/bike rack/bike brands should not be held responsible for their product failing in these circumstances.
JRA is an acronym for "just riding along", a popular description used by many a cyclist whose bike mysteriously seemed to break on its own. Bike shop mechanics and sales staff have seen it all, and while there may be a few elusive catastrophes that are legit, professional bike techs usually have a reasonable answer for what happened and therefore what is covered by a warranty. Returning to your local bike shop 40 minutes after buying a new tube and a set of metal tire levers, it may be hard to convince them that the tube had a pinch flat in it before you took it out of the box. This sounds ridiculous, but I've had this complaint first hand. "Honesty is the best policy" applies greatly to getting warranty service. Life happens and people are usually more receptive to helping others when the real story is told.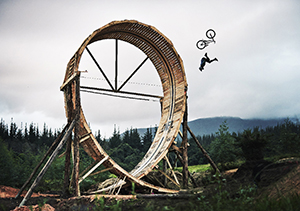 Crashes like this are not covered by warranty.
image: the-rise.com
Crash replacement is an additional benefit companies offer alongside their warranties. Understanding some products may get damaged or break, especialy from crashes, a brand may offer a significant discount towards the purchase of a replacement product. Here's a perfect example: let's say you just bought a brand new Giro Montaro MIPS helmet that costs a pretty penny, and on your first ride you accidentally play a game of bike rider lawn darts - you crash and destroy the helmet. Thankfully the helmet saved your melon, but it's not a manufacturer's defect, yet Giro offers a crash replacement program giving you up to 50% off a new Giro helmet purchase. It's a great customer service gesture mixed with sales that says, "Thanks for buying Giro - and we want to keep you on our brand."
Some high-end brands offer generous terms or lifetime warranty periods as part of their high-end costs. I spoke with a representative from British Columbia brand 7Mesh, builders of high quality riding gear and apparel for extreme conditions. 7Mesh products have repair and replacement costs built into their price tags. Most of the time, 7Mesh can repair a product, but they'll replace it if they can't. To quote their warranty guarantee, "7Mesh products are guaranteed against defects in materials and workmanship for a period of one year from the date of purchase. We will repair or replace the product at our discretion. Every effort will be made to repair items where possible. Proof of purchase is required upon request." Repairing a high end piece of technical clothing like 7Mesh isn't cheap, so it's nice to see them considering this when working out their pricing, undoubtedly making consumers happier in the long run.
How to claim a warranty
---
Making a warranty claim starts by establishing ownership and proof of purchase. Some products come with often-ignored registration cards, but you really should fill them out and mail them in, or go online to the manufacturer's website, to register your product. Then, when it comes time to claim a warranty, you'll have your receipt (you did save it, right?) and the registration as an additional proof of purchase.
Next, review the manufacturer's warranty information from your product's warranty card or the info on the manufacturer's website. Get a good understanding of what is covered and proceed accordingly.
If you're sure you have a warranty issue, or even if you're not sure something is covered under warranty, but think it could be, start with contacting the manufacturer. The brand is the ruling judge on any warranty case for their product and will direct you on how to proceed. If a warranty isn't handled directly by the brand, they will point you towards the place where you made your purchase.
Your local bike shop is there to help with warranty issues.
image: sbccycles.com
If you are directed to where you bought the item and it's a local bike shop, it's usually as easy as bringing in the defective product with purchase receipt. The rest should be gravy.
Warranties are often handled by a distibutor if you are not in the home country of a brand. Again, reach out to the brand first, as you're likely to get faster service directly than if you have to work through your local bike shop and their distributor.
Be prepared to tell the story of what happened and to share digital photographs. Some brands want to understand what went wrong - as part of improving their products in the future and also as part of the the claims vetting process.
Give it a little time and follow up as necessary. Warranty claims processes aren't always the fastest. Sometimes a product needs to be returned to the manufacturer and inspected before repair or replacement is made. Try to get a clear understanding of how the process should work and the timing, then be both patient and persistent accordingly.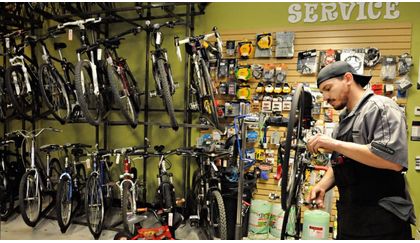 Ever find yourself in a time pinch with your broken bike? If you need quick turn arounds you may want to read this
BikeRoar
brings you our tips on how you can get faster service at...
READ MORE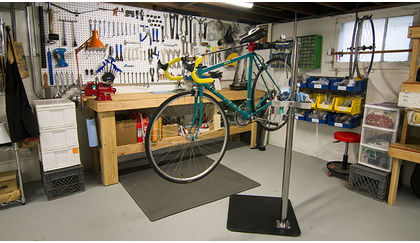 If minor repair bills are starting to sting, try setting up your own workshop!
BikeRoar
gives you some tips on how setting up a home workshop can save you...
READ MORE