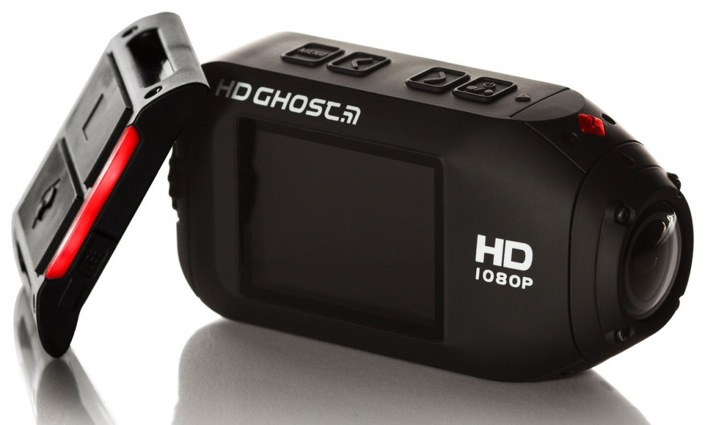 When I found out I was to review a Drift HD Ghost Camera I was sceptical about how good this camera would be. I already own two other cameras from the popular "big name" brands so I was very interested to see how it'd stack up. I had looked at the Drift Innovation web site and just briefly glimpsed the cameras while in Vail at the USA Pro Challenge in Colorado. My first impression was not good…Wow was I wrong! This camera arrived and right away I was impressed. The packaging was very professional and I found afterwards you can still use the box to store your extra parts when not in use.
Unpacking and Features
Right out of the box the camera and remote control impressed me. The camera is sleek in profile and very attractive looking. The Drift Ghost feels sturdy, tough and usable. The buttons on the remote are big and easily used while riding. The buttons on the top of the camera are perfect size for fingers to operate easily whether just holding it in your hand, or mounted to a helmet, or bike, with or without gloves. The rubberised feeling of the camera is comfortable to hold, and feels safe when you decide to film from your hand.
There is also a large LCD screen on the side of the camera which allows you to see where it is pointed when mounted on your equipment. Unlike some other cameras I've used it isn't necessary for someone to stand behind you while trying to simulate a riding position in an attempt to guess what you and the camera are pointing at.
I also like the fact that there is no extra case to mess with. The camera is water-resistant straight out of the box, albeit only to three meters. I gave my camera to my daughter to take on the waterslide and it performed wonderfully! Also, during the week of record breaking rain here in Colorado I went out on my cyclocross bike and did a big mud ride. Camera and remote operated very well and kept on filming. I would not however, take it scuba diving without the extra case that Drift sells from their web site.
The remote control that comes standard with the Ghost has large buttons that are easy to operate. The most impressive feature of this largish wrist mounted remote is the lights. There are two large lights along the side that tell you whether the remote is turned on, camera is ready to film or filming. It glows green, red and blue and even when bombing down a rocky trail, you can tell what the camera is doing (although I do not recommend taking your hands off the bars while riding). The strap that holds the remote to your wrist is long enough to go over a bulky jacket but also has enough adjustability to go straight to your wrist.
Mounting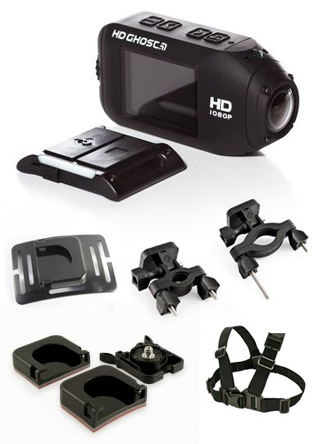 Some of the mounts in the Cycling bundle pack
The mounts that come with the standard camera kit are somewhat limited. I am a road cyclist and cross-country mountain biker so I wear helmets with vents. I could not attach the camera to my head straight out of the box. The stick-on mounts that are provided are too large to apply between the air vents on my helmet. Unfortunately I had to go onto the website and order a handle bar mount so I could film without half of my wheel in the shot, which was the result of mounting the drift to my front fork.
This would not have been a problem if I had on of their Cycling bundle pack, which includes a handlebar mount along with a fairly soilid range of other mounting options.
The standard kit does come with a goggle strap mount, but who rides a road or cross country bike with goggles? Good for skiing or snowboarding but not cycling. I first put one of the two stick-on mounts onto the front fork of my cross and road bike. It stuck well and the camera attached securely. The camera also has a screw mount on the bottom of it that allows you to put it on a tripod and the "universal drift clip" has a male screw attachment to attach it to the camera. This can be turned to rotate the camera to different angles.
From the front forks of my bicycle I can film straight forward to straight up (to film yourself suffering!) and straight backwards and everything in between. The handle bar mount also allows the camera to rotate in all directions because of the tripod attached "universal drift clip". I would have also liked to have a couple of extra 3M tape segments to reattach the mounts to other pieces of equipment once removed from whatever you have had it on beforehand. So far this, and the out of the box helmet mounting issue, is the only complaint I have with this wonderful piece of technology.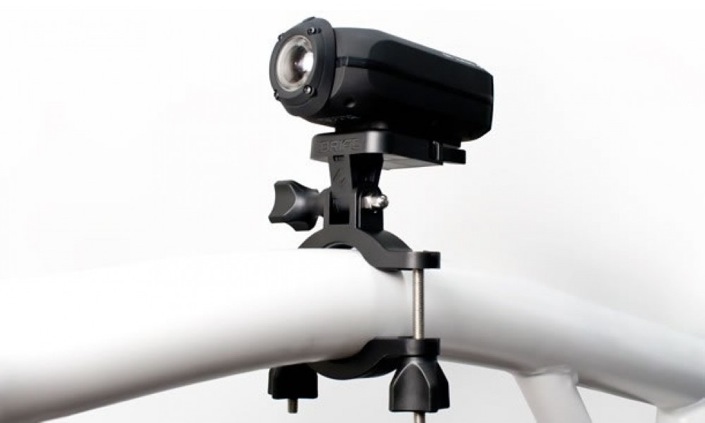 WiFi
The Drift HD Ghost Camera comes with WiFi built in. This allows full adjustability of the cameras features as well as the ability to share content. It requires downloading an App onto your phone or tablet (iOS or Android).
After playing with this feature for only a few minutes with my iPhone I found it very intuitive and easy to operate. I am not a teenager and thus no champ with electronics, but I found it easy to manipulate through the many features and functions of the unit. To add to the ease of use of the camera and its extensive features, there are numerous "how to" videos on their website. These videos are very informative, straightforward and useful.
Conclusion
This camera is very well put together and easy to operate. Its features are extensive, and the resulting images are as good as any other on the market. Also, when I wear this unit on my head I don't feel like a Tele-tubby, as I often do when I am rocking my other digital camera. Considering quality, value and features ,this camera is definitely a major player in the digital helmet camera market. I am surprised I do not see more out there. I do hope that the secret will get out soon as the quality is certainly high. If you are in the market for a new helmet camera please strongly consider "Drift HD Ghost". It is sleeker and easier to operate than many other players in the game yet with a comparable HD 1080p image quality.
For your sports filming buck the Drift HD Ghost would be a good investment.