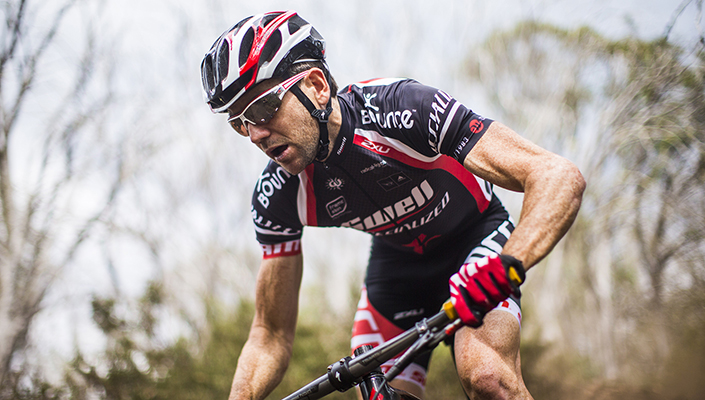 Andrew Blair is one fast Aussie
Pro mountain bikers typically have mad skills, and two-time Australian national cross-country marathon (XCM) champion Andrew Blair (Specialized Racing Australia) is no exception. The 36-year-old Canberra native has spent the past 20 years honing his craft on two wheels, and dabbles in cyclo-cross and riding road.
Blair even finished 45th at the 2011 Australian road race national championships ahead of heralded road riders Richie Porte, Mark Renshaw and Robbie McEwen, who were amongst the 67 elite riders who failed to finish the 163.2km race that year.
Fresh off two straight stellar seasons on the mountain bike, which included a start at the Commonweath Games in Glasgow, a second national title, and wins at the Snowies Mountain Bike Festival, Port to Port, and Tathra Enduro to name just a few.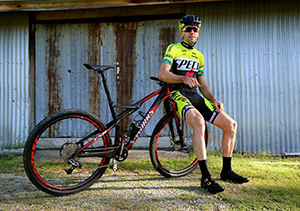 The man himself, Andrew Blair
image: Matt Tripet
Blair, who was married last year to Jenny Fay (IRL), a former Irish time trial and XCM champion, as well as the 2015 Australian XCM winner, is fresh off a hard fought second-place finish in a return to the Snowies in February and now has his sights firmly set on re-capturing his position atop the nations best mountain bikers.
"I'm not planning to try for the Olympics," Blair told BikeRoar. "It looks like we'll have two spots for the first time since Athens, so it would be a good year to have a crack at it but I would have to quit my job in order to commit to it. With Jenny and I expecting a baby in April that wouldn't be ideal, plus I don't want to miss out on the little guy growing up."
Blair will instead turn his attention toward the Mountain Bike Australia (MTBA) XCM Series, as well as the XCM and cross-country Olympic distance (XCO) championships in March.
Blair's weapon of choice is the S-Works Epic WC manufactured by Specialized, a RockShox RS-1 Brain with 100mm of travel and a 46mm offset and a 15mm Maxle Ultimate thru-axle.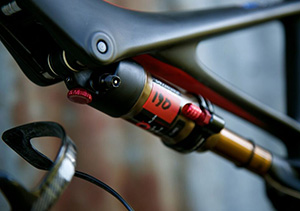 Suspension setup is a priority for Blair
image: Matt Tripet
"Suspension setup is super important," admitted Blair. "In the RS-1, I use four bottomless tokens so the fork ramps up steeply in the bottom of the travel. This means I can still have a fork that handles bigger hits and that suits my riding style without sacrificing the small bump compliance. I usually run 90-95psi depending on conditions."
Rear suspension is regulated by a Fox/Specialized Mini Brain with AUTOSAG and a Brain Fade adjust i-Valve.
"As for the rear suspension, the AUTOSAG feature on the shock is very handy for initial setup, but I like to put a bit extra pressure to reduce the sag a fraction from what is recommended," he said. "I usually run 190psi which gives me about 4mm of sag on the shock. I play with the rebound and the brain settings to suit given race courses, and I also put a small piece of tape on my fork and my shock to record the current pressure that way the mechanic and I know exactly what should be in there."
Another critical element for Blair is fit.
Blair runs the same saddle height and angle on all his bikes
image: Matt Tripet
"All my bikes have the same seat height and position based on a 148-degree knee angle," explained Blair, who also rides on the same S-Works Phenom saddle used on his Specialized Tarmac road bike. "I work with the Body Geometry Fit studio at the Cyclery in Canberra to set everything up at the start of each year. "Even though I setup the rear suspension with very little sag on my Epic, it is still enough to change the static setup of the bike."
However, for his recent Snowies title defence, Blair made a slight variant.
"For the Snowies MTB Festival, I opted to run the 50mm Specialized Command Post dropper because of the All Mountain stage 3," said Blair of his 6.6km descent stage victory. "At 415g, there's next to no weight penalty and the little drop will give me a little more confidence when moving fast, through the corners and on the steep bits."
Last but not least is tire pressure - something Blair admits he can be a bit 'pedantic' about.
"My standard setting is 26psi in the front and 27psi in the rear in my go-to 2.0 Specialized Control Fast Trak tires," he said. "If I go to a race without knowing the course or conditions, I take these on the Epic.
"For certain courses though, I do use different tires and different pressure to suit." Blair elaborates further. "For example, I have the S-Works version of the Fast Trak tire which is a bit lighter for the hill climb stage, so I'll use 2.3 Ground Controls for the All Mountain Stage and Control Fast Traks for the rest. I'm quite pedantic about tire pressure and I always use the same digital pressure gauge in training as racing, so I always know the pressure and can experiment with different things."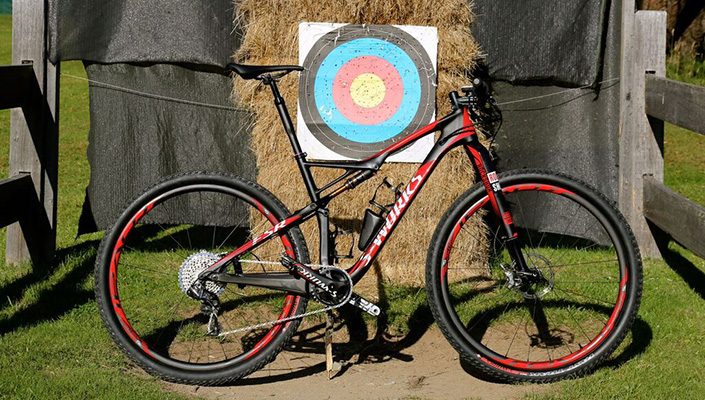 Andrew Blair's Specialized S-Works Epic WC 29er is a thing of beauty
image: Matt Tripet
The Basics:
---
Pro: Andrew Blair
Country: Australia
Age: 36
Height: 6 ft (1.83 m)
Weight: 161 lbs (73 kg)
Team: Specialized Racing Australia
Fork: RockShox RS-1 Brain - 100mm travel, 46mm offset, 15mm Maxle Ultimate thru-axle, 90psi, 4 x bottomless tokens
Shock: Specialized/Fox Remote Mini Brain - AUTOSAG, Brain Fade adjust I-Valve, Kashima Coating, 200x48mm
Shock pressure: 190psi, brain on 4/4
Tire pressure: 26psi front, 27psi rear
Groupset: SRAM XX1 w/gripshift & 34T chainring
Grips: Specialized XC Lite
Saddle: Specialized Body Geometry S-Works Phenom - 143mm carbon rails
Gearing: 34t x 10/42
Cranks: S-Works FACT carbon - 104mm BCD spider 175mm crank length
Brakes: SRAM Guide Ultimate 160mm
Crankset: SRAM RED 22 Quarq 53/39 172.5mm
Stem: Ritchey WCS 90mm -17deg
Handlebars: Specialized FACT carbon - 660mm 8-degree backsweep, 6-degree upsweep
Tires: Specialized Fast Trak S-Works 2.0
Computer: Magellan Cyclo 105
Seatpost: Specialized Command Post XCP - 400mm, 50mm travel, 415g
Bottle Cages: Specialized Carbon Z-cage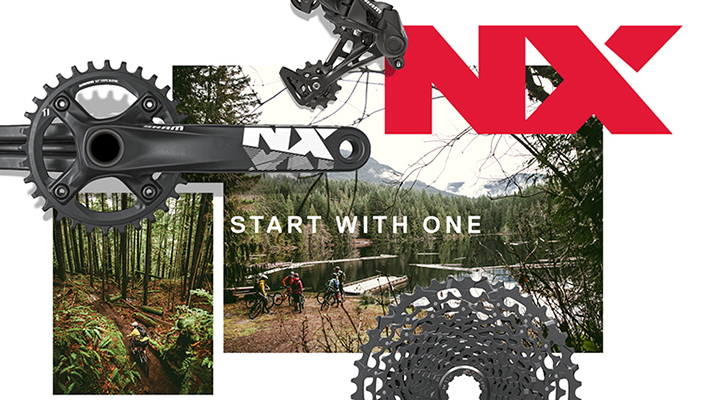 If you're in the market for a new drivetrain, SRAMs new NX line should be on your radar
BikeRoar
gives you the scoop on SRAMs new budget 1x11...'"
READ MORE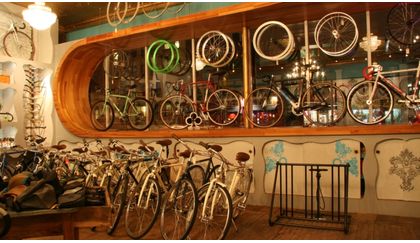 In the market for a new bike? Maybe you should shop for a new shop first
BikeRoar
has some great advice on how you can...
READ MORE