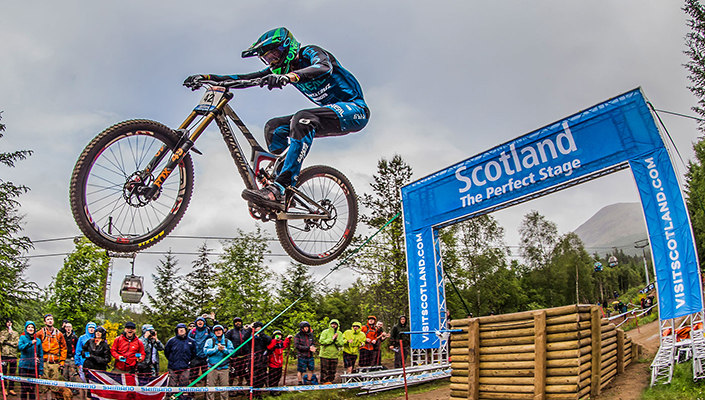 29-inch DH bikes - are they the next big thing?
If you paid any attention to the 2017 men's World Cup DH season you'll know that Gwin killed it all year, Finn blew it at worlds, and there were 29" bikes on top of the podium. Before you scream in agony and hurl your computer at the first wagon-wheeled mountain bike rider you see, let me take a moment to explore the idea of 29" wheels for downhilling, perhaps uncovering why they may make some inkling of sense.
Let's start with some video convincing; have a look at Greg Minnaar's commanding win at Ft. William in Scotland on 29's from the 2017 World Cup season.
We've gone over 29ers before, and we've also discussed some basics of MTB skills and concluded that both have evolved out of necessity. As our sport grows and riders' skills progress, so do the bikes and the race tracks. Like the evolution of the bikes, DH tracks have undergone massive changes over the years, seeing basically every feature increase in length, speed, trajectory, and time. Now, I know some will argue that tracks have been simplified, but hear me out.
To ask, "are 29-inch DH bikes needed?," is a loaded question. Are they? For who? Why are they? Are they actually rideable? The question brings up a good discussion about bike tech, racing, and intended use. Which is why it is a valid conversation to have over beers at the pub, or energy drinks at your keyboard.
Without resurrecting what seems to be the oldest debate in cycling, if you're riding on 26s now, you won't be on your next bike. Ratboy was the last racer to top a podium on a 26-inch wheel bike, but it wasn't this year, or last year... it was in 2014. 26" is dead in World Cup DH; with its burial, the door has been flung wide open for 27.5-inch bikes (a.k.a 650b). With that thought, why stop at 27.5? Geometry has changed, bikes are roomier, and course speeds have increased, so 29-inch is the logical evolutionary choice. Right?
Courses like Ft. William and Mount St. Anne are so rocky and straight that 29-inch wheels may offer a big advantage, and Pietermaritzburg in South Africa is flat and sprinty, so guys have even run 29-inch 170mm travel trail bikes for their runs.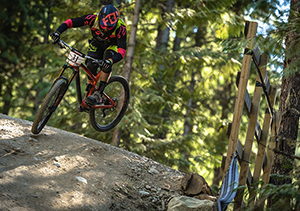 Bas van Steenbergen mid-air on his 2016 winning DH run.
photo: Fox Head
So, does this mean we're going to have to run out and buy new DH bikes? Are we going to see the industry force smaller wheeled bikes into obscurity like in the trail disciplines?
I asked all-around wheel wizard Bas van Steenbergen these exact questions and he responded, "I don't think they are needed [by everyone], but they are faster for certain tracks like Ft. William and Mt. St. Anne. Just tracks that are super-fast and straight."
Greg Minnaar piloted his prototype Santa Cruz V-10 29er to three World Cup victories in recent years, so it obviously works for him, but that doesn't mean you need one.
What's it like to ride a 29-inch DH bike? Simple - it feels big and fast; less nimble, but more stable; a monster truck amongst stock pickups. Sounds great, but again, is it needed?
To answer this we must consider, 'needed by who?' One thing to take away from Minnaar's various victories isn't that he did so on a 29er, but more that he's 6'3" (1.9 meters) tall, or "close to 100 feet" according to van Steenbergen. This means that he requires a larger bike to fit his stature. This is true for most 29ers; if you're a larger than average human, there's a good chance a 29er will work better for you no matter what riding discipline.
Like with the V10, we see there are prototype 29-inch DH bikes being tested by some brands. Traditionally, this has meant that the industry is adapting to a new standard. I don't think the same can be said for 29-inch DH bikes, at least not with any gusto. Look at next year's bikes and notice big manufacturers like Specialized, Giant, and Norco haven't added production-level 29" DH bikes to their lineups. So far, it's only Trek with its Session 29 carbon.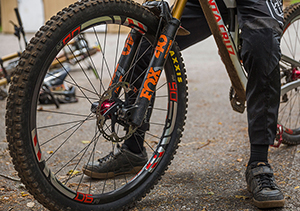 If your local trails are more wide-open, straight, and high-speed, and you're taller than 5'8", then maybe consider a 29" DH bike. Maybe. You won't be able to get as rad as you can on a smaller wheeled rig, but you'll be fast. You can see these parameters are fairly limiting in the scope of prospective riders for these big wheeled bikes. Yes, top tube lengths have grown, rear ends have shrunk, and modern geometry seems to encourage up-sizing in wheels. Just look at the success of long travel 29er trail bikes right now and you'll see that there is significant momentum going the 29" way.
Who truly knows, though, DH tracks may continue to evolve, which may require bigger wheels. Technology and geometry may continue to evolve as well. However, I can't see this happening significantly in the next few years. So, continue riding your 26"/27.5" DH bike and remember that for the average rider it's all about having fun and getting rad. But if you're the type of rider that always wants to be on the newest tech, then by all means, spend your money on a 29" DH bike, just be prepared for it to limit your riding and your fun.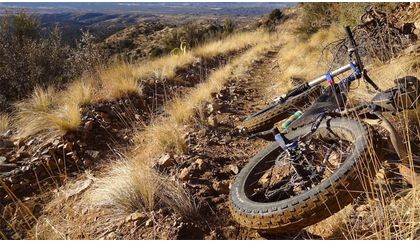 Foam tire inserts?
BikeRoar
takes a serious look at how good foam tire inserts work and asks - what's next for MTB wheels?
READ MORE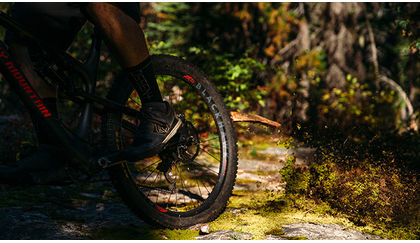 Carbon wheels have never been more popular but are they right for you?
BikeRoar
takes a look...
READ MORE