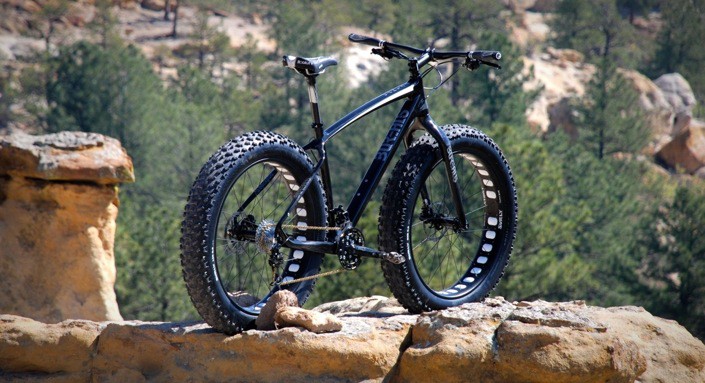 I am a believer that bikes are moving art. We spend countless hours riding, cleaning and maintaining them (not to mention how much money we spend on them). This much time and effort spent with a ride can only breed contempt if you are not totally in-love with every aspect your bike. The feel, performance and appearance of a bike must stir your heart and body to get out and ride.
Borealis has created a product that ticks all these boxes. Until recently a "fat bike" has been an oddity, an ugly duckling so to speak. It is Weirdness in a strange but fun, unconventional package with a frame made from skinny tubing with these big fat balloon tires. A mismatch so strange that it still works in an odd way that makes you really stand out at your local coffee shop and makes people ask, "What the hell is that and why are you riding it?" Not anymore.
---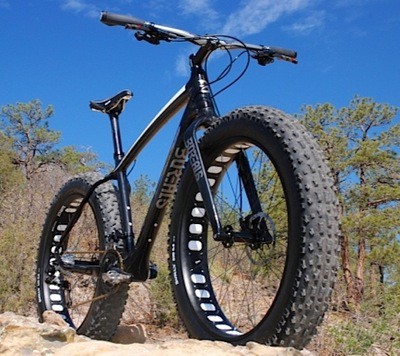 The Borealis Yampa is the most beautiful frame you will ever see on a fat bike. The craftsmanship in the carbon is flawless and the geometry of the frame fits like a glove. The first time I swung my leg over the massive puffy rear tire I looked down and was mesmerized by the carbon. This bike made me smile from the first pedal stroke. All of my bikes make me smile when I look at them and my smile increases when I ride them. This smile is a constant with the Borealis.
This bike is a hardtail, but the massive tires running at 10 psi (yes that's right, 10 psi) or below add the feeling that you have a couple of inches of travel in your suspension front and rear. The frame geometry makes this bike responsive but comfortable, and the specially designed rear seat stays allow flex for a comfortable ride while the massive bottom bracket creates lateral stiffness. Pressure on the end of the crank creates forward movement very efficiently.
But how does this thing ride? Is it just for snow rides in Alaska? No way. Not in a million years is this just an Alaska oddity. I rode this bike on some quite challenging and somewhat technical terrain: loose river rock, sharp gravel, ruts, mud roots sticking from the ground and even snow. Several slow moving up hill sections required all of my bike handling and balance skills, as did the fast sandy downhills and quick direction changes.
It handled everything on the trail like a champ, and climbed surprisingly well. In particular, it really performed well in the sand. There were several long sections of deep sand and the Borealis rolled through with no real effort. It tracked straight and didn't sink. I am not saying you should enter your self in the "Red Bull Rampage" with this bike but for a fun cross-country jaunt this could be your steed.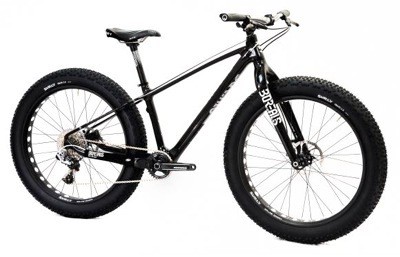 The 2014 Yampa comes in two setups; the Borealis Yampa XX1 and the Borealis Yampa X.9/X.0, each with SRAM XX1 or X.9/X.0 components respectively. I am a fan of the new XX1 because it rids the world of yet another unreliable front derailleur. (Don't get me wrong, I've got nothing against SRAM, Shimano, Campagnolo or any other component manufacturer. They do a great job of producing amazing equipment. I just feel that the weak link in bike components has always been the front derailleur.) And the brakes are SRAM XX with 160mm rotors. Stops you like a bug on a windshield.
Last but not least, this bike is light. The frame in medium size is a mere 1,270 grams (44.8 US oz.). Yes that's right, 1,270 grams. This incredibly stiff frame, paired with its supermodel lack of weight makes it stand-alone in its field.
---
The price tag for the Borealis Yampa XX1 could be considered hefty if the bike was not so versatile and fun. It's not just an Alaska snow-trail bike. This bike can be a Swiss-army knife of off-road rides.
Cycling is about smiling, no matter how serious your local road riding snob friends appear to be (I am one myself) and this bike will do two things; Smile, and stand out in a crowd. It is not just a weird snowbound single trick pony. It has many uses and does them all well. Go buy one. I know I want to!