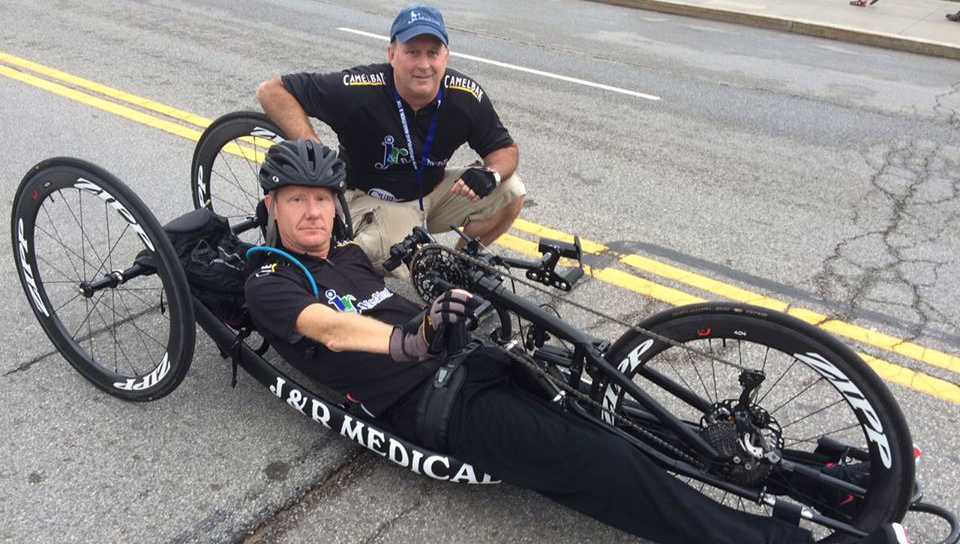 James DuBose and his autoshifting recumbent handcycle
image: James DuBose
As I rode to work on my commuter, my 10-year-old bike clunked as I shifted into an easier gear. My mind wandered to the discussion I was about to have with hand cyclist James DuBose about automatic electronic gear shifting systems. I had lots of questions in my mind 'How does it feel to have seamless gear shifting? How on earth does an automatic shifting system work?'.
I always thought the electronic systems were for professional cyclists or 'yuppies' that had too much money. I'd never thought of them being used by hand-cyclists (usually people with limited mobility in their hands) or by quadriplegics like James.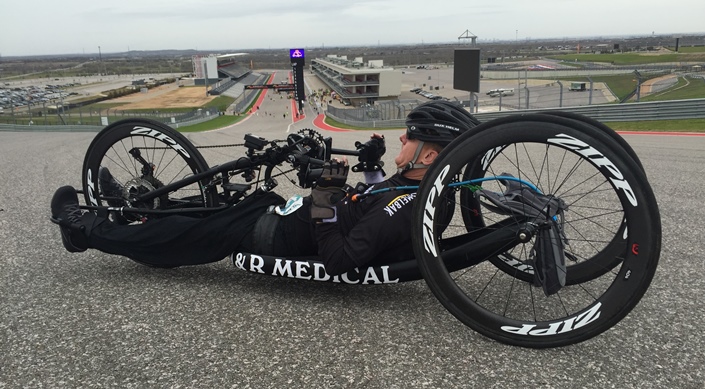 James is an inspirational quadriplegic athlete who has been using XTR Di2 for a while now on his handcycle (which also has ZIPP 404 firecrest carbon wheels!). He has recently gone one step further with his sweet set up; James now runs an automatic electronic gear changing system. Yes, that's right, it's automatic! The system he uses is called 'ProShift' (designed by Baron Controls) and it links with the Di2 via Bluetooth.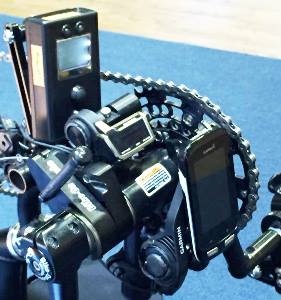 The autoshifting tech of James DuBose's recumbent handcycle
image: James DuBose
The standard style electronic shifting systems (like the Di2, Campagnolo, and mostly recently SRAM) have a shifter or a switch that you push to tell the electronics to change gear. Then the system creates the perfect tension on the chain and decides the best time in your pedal stroke to change gears. The new SRAM eTap set up does this wirelessly, but the older systems usually run a cable through your frame. The main benefits of electronic shifting are that the gears change at the same speed every time; it's reliable, consistent and accurate.
The automatic system goes one step further and it selects and changes to the optimum gear combination for you during your ride. So, you don't actually have to think about when to change gears, and importantly for some, you don't need to use your hands to make the change. It works by reading your on-bike sensors like speed, power and cadence, in addition to your physiological features (weight, heart rate) to determine the best time to change up or down a gear. This can be set up to pre-determined 'modes' to focus your efforts on training or recovery. The system will change the gears to make you work harder or easier, depending on what you require.
For James, the automatic gears have made riding and racing his handcycle a lot more easier and enjoyable. It means he can focus more on himself, nutrition, and training, rather than gear changing. He recently raced in the Houston Marathon where he put the system to the test. James bike has Di2 XTR (11-40T cassette) with 23/40 Rotor Q Rings, which gives James a wider range of gears than the Di2 road cassette.
"The automatic electronic system isn't noisy," he said, "but it makes a slight buzzing noise when changing gears. It's a great system that's improved my speed, my timing, and its improved my overall riding experience."
---
James DuBose explains the tech of his automatic shifting recumbent handcycle using ProShift and Shimano Di2.
"What makes the whole system work is the ProShift module. The ProShift module connects directly to the Di2 via Bluetooth, then to a speed sensor, which is on the front tire. As I start peddling the gears will start changing automatically."
James wasn't a cyclist prior to the accident 22 years ago, which left him a quadriplegic with limited use of his arms and hands, and in a wheelchair. He says he was "riding in a pick-up truck and it flipped and he broke his neck." I try hard to imagine the logistics of doing a long race on a handcycle, where you need to do everything with your hands; pedal, change gears, brake, eat and drink.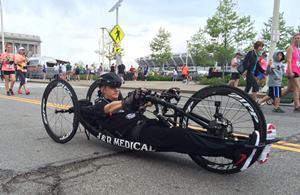 James DuBose racing his automatic control recumbent handcycle
image: facebook.com
How do you eat or drink when your hands a peddling? How do you wear a hydropack when you are sitting down? Raising these questions with James, he simply explained that each athlete needed to be a little creative. Some have helpers who run or ride beside them handing them food and drink. James uses a water filled hydropack hooked on the back of his seat. Whereas other athletes use innovative solutions like sticking gel and food to their chests using Velcro, for quick and easy access during a race. Logistically the automatic system will make it easier for handcyclists or anyone with a lack of movement in fingers or hands, or those wanting a more simplistic ride.
The set up is expensive, but it's early days, and prices should drop with time. It won't be cheap enough to warrant replacing the gears on my commuter.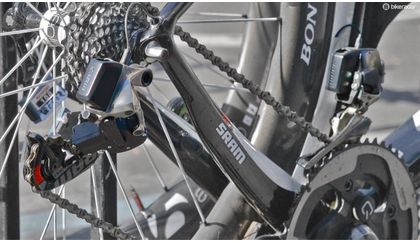 To tap, or not to tap. That is the question. If you're looking for more information on SRAMs eTap system than
BikeRoar
has you covered
BikeRoar
takes an in-depth look at SRAM...
READ MORE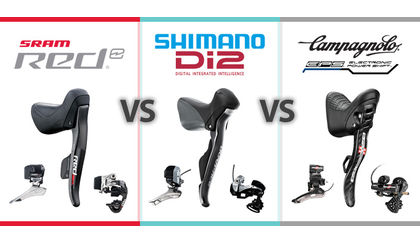 With SRAM, Shimano and Campagnolo all making electronic drivetrains it could be confusing on knowing which one to choose
BikeRoar
puts the big 3 electronic drivetrains...
READ MORE