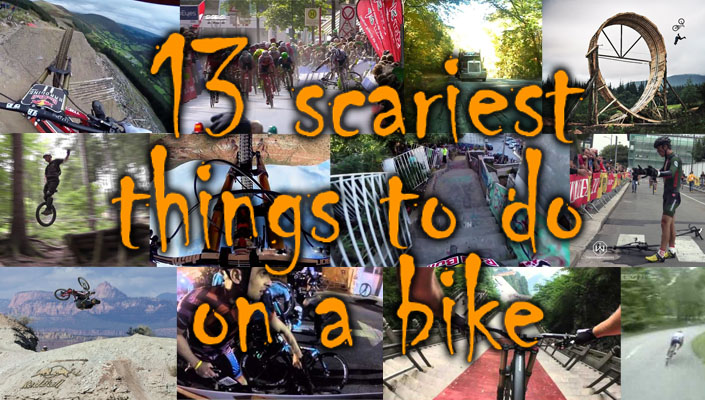 13 scariest things to do on a bicycle.
Bike riding can be pretty safe, but it's easy to ramp up the fun and the risk - turning some rides into scary, crazy, frightening, and insane. We got together to think about some of the scariest things we or others do on our bikes and these are the top terrifying things we came up with.

WARNING!
A natural response to extreme and scary situations is to let the curse words fly. As such, some of the audio in these video may be NSF (not safe for work).
13. Take on White Line Trail in Sedona, Arizona.
---
White Line trail is a white stripe of sandstone on the edge of a cliff. There's a near-vertical drop off the edge of the off-camber slickrock ride.
Kyle Wright tackles a frigthening White Line Trail.
12. Descend super fast down the twisties and switchbacks.
---
Michael Rasmussen exhibited incredible skill and daring while descending from the mountain on stage 9 of the 2005 Tour de France. He was riding well up the mountains, but had to ride on the edge to hold off the entire peleton and secure his first Tour de France stage victory.
11. Plunge down Red Bull Sky Gate in China.
---
Ride down 999 incredibly steep steps (50 degree slope!) in Tianmenshaw, China. The "Red Bull Sky Gate" invites top slopestyle athletes of the world to compete on this course that also includes gap jumps, wall rides, and a big stunt jump finish. In 2015, Kelly McGarry was injured when his brakes failed halfway down the hill.
Andrew Taylor previews Red Bull Sky Gate Mountain Race, China.
10. Fixed gear racing - with a stalled moto.
---
Fixed gear crit racing is generally dangerous, but then you add a stalled moto into the middle of the road and... well, that's what happened at Red Hook Crit 2016 in Brooklyn, New York.
Red Hook Crit 2016 - Bad Crash.
9. Pull a HUGE backflip over a 72 foot canyon gap.
---
New Zealand rider Kelly McGarry earned second place in the Red Bull Rampage 2013 competition with a run that included a huge backflip across a 72 foot canyon gap of near-vertical sandstone ridges near Virgin, Utah.
Kelly McGarry's run and 72 foot canyon gap backflip - Red Bull Rampage 2013.
8. Slam your bike to the ground.
---
Jeremy Santucci got furious at Red Hook Milan 2016 because of a crash that took him out of the race. He threw his fixed gear bike, actually borrowed from a friend, to the ground where it snapped in two.
Jeremy Santucci destroys his friend's DOSNOVENTA bike.
7. Unicycling. Extreme unicycling.
---
You may have mastered balancing on two wheels, but how about one? Now how about offroad and downhill?
Unicycle downhill riding on the IXS track in Bad Wildbad Bikepark, Germany.
6. Insane Urban Downhill.
---
There's no room for error when mountain bikers face the world's toughest urban downhill challenge. This is Red Bull Valparaíso Cerro Abajo, the gnarliest urban DH course through streets of Chile.
POV look from Tomas Slavik as he takes on the sketchy Red Bull Valparaíso Cerro Abajo urban MTB course.
5. Stomping the biggest front flip in mountain bike history.
---
Did Tom van Steenbergen stomp the biggest front flip in mountain bike history? Watch the video from Tom's Sony Action Cam, shot during production of Teton Gravity Research & Anthill Film's new movie, UNREAL.
Tom van Steenbergen's historic front flip.
4. Mastering the Loop Of Doom.
---
"The Only Downside is That, I Could Die..." - Matt Macduff. Built in a month at the Garden Route Trail Park in South Africa, the gigantic structure rises up to 40 ft. in the sky. A crash from an attempt to make his way around the 'Loop Of Doom' left Matt with 10 fractures in his right wrist and 3 fractures in his right ankle.
Matt Macduff and the Loop of Doom.
3. Ride on narrow roads with motorists who don't give space and don't GAF.
---
Craig Bauer says in his Facebook post, "I almost died today....I was being nice to drivers by riding to the right of the white line on some narrow roads with some shitty shoulder areas. I heard the truck and anticipated being 'buzzed'. I did not expect the trailer. The trailer was inches or less from my left shoulder. I held my line as I have been trained to do. The ditch was my last option." He closes with, "I apologize for the language at the end...not really!"
2. Sprinting to the finish.
---
"It's chaotic!" If you're not into banging elbows with other cyclists on skinny tires while pedaling furiously at 40 MPH and only protected by Lycra, then stay away from a road bike sprint finish. If that isn't challenge enough, this one from Cyclassics Hamburg 2016 adds a wet and slippery road from rain. First to the line is Nacer Bouhanni, though he would be disqualified for deviating from his line and illegally barging Caleb Ewan, the adjusted winner.
The chaoitic sprint finish of Cyclassics Hamburg 2016.
1. Racing down the world's toughest downhill mountain bike course.
---
See firsthand what it's like to rip down one of the heaviest downhill mountain bike tracks ever created, through he GoPro view of the creator himself, Dan Atherton. It's why Red Bull Hardline is an event like no other. The long and technical course plays on a variety of disciplines, where incredibly steep and rocky technical sections were combined with a motocross run in and 50-foot [15.24 meters] gap jump to create one of the most progressive downhill courses on the planet.
Dan Atherton Sends It Down the Hardline MTB Track | Red Bull Hardline: GoPro View.
BONUS. Crunching your bike on the roof rack.
---
Transporting your bike on a roof rack is convenient, but you've got to remember it is there, like when pulling into your home garage or a parking garage. This TV commercial takes it lightly, but if you've ever forgotten, the crunching sound will haunt you forever.
There are countless not-smart things you can do with your car. And a bike. And a parking garage.
Which of these things do you think is scariest? Tell us in the comments section below.
Editor's Note: This article was originally published Thursday, Oct 27, 2016, and is now revised for editing and to update links.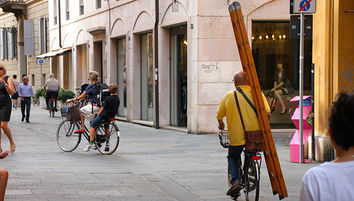 Don't be caught out breaking these important rules of cycling...
READ MORE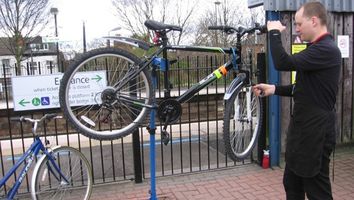 Routine pre-ride checks are an important part of your bicycle maintenance routine. They not only ensure that your ride goes smoothly and free from disastrous mechanical failure, but are...
READ MORE