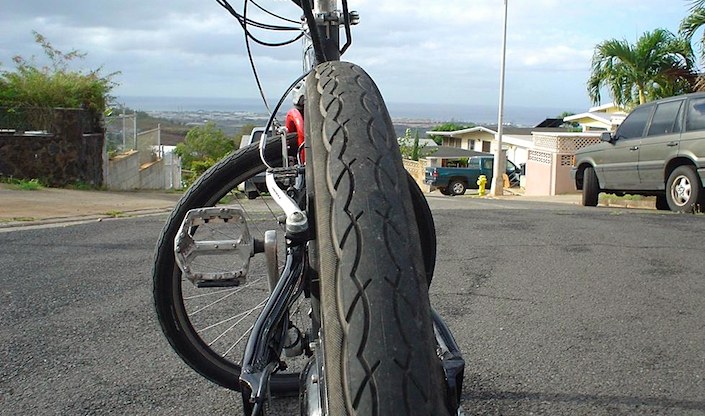 A mountain bike with road tires
Photo: forums.mtbr.com
There are a crazy number of options available when looking to upgrade your road tires. This may be on your road bike simply because you've worn them out and are looking for a replacement, or perhaps you are converting a mountain bike into a solid commuter.
Whatever your story, there is a dizzying array of sizes and specifications out there waiting for you. With this in mind let's start by looking at road tires.

DID YOU KNOW? All the information you need is printed on the side of your tire, namely: Size and maximum inflation. 700/29 and 26 are the most common sizes and this number refers to the diameter. The second number, for instance the '23' in 700x23, refers to the width in millimetres. This gets more confusing when you go to mountain bike tires which usually display width in inches like 26x2.0". Why roadies use metric and mountain bikers use imperial measurements is beyond me and beyond the scope of this article.
ROAD BIKES
---
1. 700 x 23/25/28mm road tire
The 23mm tire has been the standard size for quite a while, although in the professional ranks 25mm is becoming more popular. It has been found that the wider tire provides greater comfort and negligible difference regarding rolling resistance. A wider casing is also able to deform more creating extra grip. Bear in mind this also has to do with tire quality and associated Threads Per Inch (or TPI - see below).
In short, the 25mm or even 28mm tire is a good option when upgrading on your road bike as the extra rubber does indeed give a noticeably more comfortable ride and can be grippier, and therefore safer, on wet or loose roads. Most of us are after speed and the lightest weight, but if the pros are convinced...?
Examples: Maxxis, Hutchinson, Vittoria, Continental, Schwalbe, Michelin, Bontrager
2. 700 x 30-38mm road tire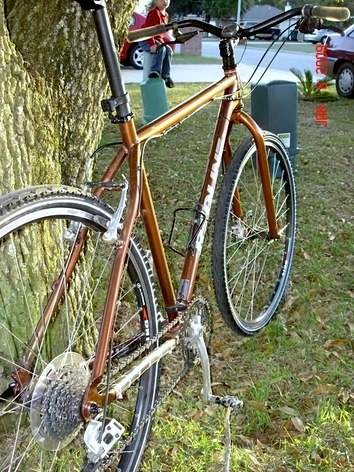 Photo: forums.mtbr.com
Different bikes need different tires. The greater width road tires are found on hybrids, city, cyclocross, and some flat-bar fitness bikes. These are the best commuting tires because they are rugged, durable, offer excellent puncture protection and all this while still retaining the fast rolling qualities inherent in a slick tire.
Many feature proprietary puncture resistant properties, making them very suitable as a tire to ride to work on, or even for long distance touring. These tires usually incorporate some type of minimal tread pattern. This has two purposes: Firstly, to channel water away from the tread, and secondly, for more secure footing on rougher or more irregular surfaces. If unsure, consult your local bike shop.
Examples: Maxxis, Hutchinson, Vittoria, Continental, Schwalbe, Michelin, Bontrager

Technology: Threads Per Inch (TPI) refers to the (most commonly) nylon strands which make up the tire casing. A higher number here means the tire will be thinner, more supple and more expensive, in short: A race tire. Lower numbers signify a tire that will have thicker sidewalls, be a lot heavier, be much more durable and certainly more puncture resistant. This is your typical training or commuting tire.
MOUNTAIN BIKES
---
3. 26 x 1.25-1.5" slick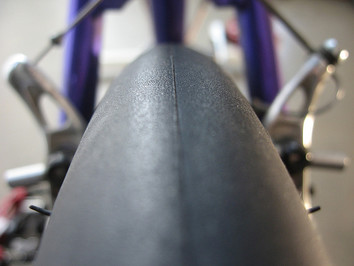 Photo: forums.mtbr.com
Mountain bikes make excellent commuting and touring bikes as long as they are wearing the most appropriate shoes. Ever tried to ride a knobby tire on the road up a hill into a head wind? Surely there is nothing worse than that feeling of busting a gut and going nowhere!
In my experience, a 26" wheel with a 1.5" slick was a great combination for long commutes. I used to do an 80km work day commute on such a setup and it worked really well. The balance is always comfort vs. speed/efficiency and I found this size bang-on!
Other options are to go as narrow as 1.25", but I feel you begin to negate the properties of a wider mountain bike rim...why not just get a 700c road bike?
Examples: Hutchinson, Continental, Schwalbe, Bontrager

29ers: The large wheels of the 29er mountain bike are well suited to road riding and this is where it gets interesting because a 29er is the same as a 700c! To clarify, you can use the ETRTO size which for a 700/29" tire is 622mm. This will also be printed on the sidewall of the tire. Mountain bike rims will be wider than on a road bike so choosing an appropriate width tire is common sense. If you are unsure consult your local bike shop.
4. 26 x 2" slick
Larger width mountain bike tires are probably more for freestyle street riding than anything else, but if you like lots of chunky rubber under you for fangin' down to the shops or just pedalling around for fun, these tires are comfortable and will deter punctures and pinch flats well.
---
Whether you're looking for the fastest race tire available, or you want to turn your mountain bike into a street bike or commuter, there is a slick tire for the job. Everyone has a favorite tire, but the place to learn more is your local bike shop.