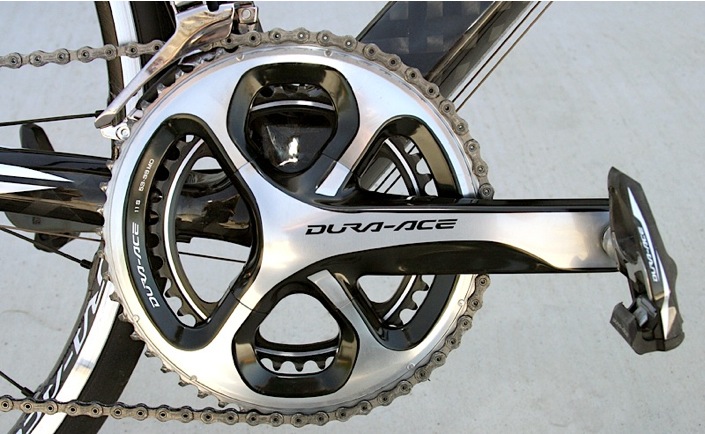 Shimano is one of the leading manufacturers of bicycle componentry in the world. Their focus is the equipment on your bike that makes it go forwards and stop - the groupset. For the purpose of this article, we will be focusing on the major groupset components as a whole. So when we refer to the 'groupset', we are referring to: Crankset, Cassette, Shift Levers, Chain and Brake Calipers.
Shimano offers a wide range of groupset options to allow the buyer to choose which level of componentry they would like. There are some key differences between the different groupset options, which has a strong affect on the cost of the groupset and subsequently the bike that hosts the aforementioned equipment. The top three levels of Shimano shifting componentry lists as follows:
Shimano Dura-Ace, Ultegra and 105.
All three of these componentry levels have key differences, from shifting performance through to weight. This has a direct affect on their suitability to your intended use, which is why it's so important to select the correct groupset for your bike. Let's start from the bottom, and work our way up.

But what about...? Yes, there are many other brands available out there like SRAM and Campagnolo, and similarly to Shimano they offer different levels of quality and price. While each brand's groupsets function in basically the same way, there are variations in feel which can only be experienced by going out to your LBS and riding an equipped bike.
---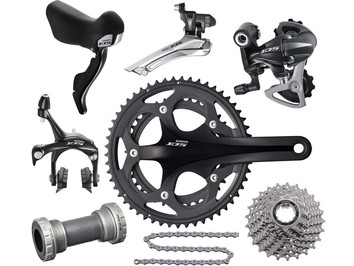 Shimano 105 is the base model within the road cycling range of componentry. Aptly referred to as '105' for short, this groupset offers excellent value for money, and is usually the first choice for people looking at entering the cycling world or even looking for a reliable setup on their commuter bike. Shimano 105 has recently been given a facelift, making it look very similar to it's more expensive counterparts.
Ultimately, the mechanical systems within the Shimano 105 groupset are of a lower grade, meaning that this groupset does not shift as smoothly as Shimano Ultegra, nor does it last as long before parts start wearing out. We're talking thousands of kilometres here, so you should still consider this as an option.
Within the past two years, Shimano 105 has been improved to the point of feeling very similar to Shimano Ultegra, although still weighing slightly more.
---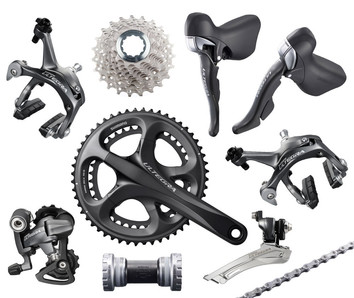 Shimano Ultegra is the middle man of affordability and performance. The first thing you'll notice is the improved aesthetics of this groupset. With cleaner lines and more refined shaping, appearance is the first thing you will pick up on. From there, it's the usual performance upgrades. Better shifting, better braking and less weight.
This comes down to a few things, namely the internal shifting mechanisms within the shift levers. Shimano Ultegra uses higher grade springs, bushings and index mechanisms within the lever to offer these improvements in feel. Not only will your gears shift smoother, but your braking will also offer much more modulation and feel.
The other factor contributing to improved shifting is the chain and chainring combination. Shimano Ultegra utilizes an enhanced chain ramp system - a few small bulges or grooves on your rear cassette and front chainring to assist in 'picking up' the chain when you shift gears. This, along with a higher grade chain, will result in a far superior shift feel.
When it comes to weighing in, Shimano Ultegra uses hollow crankarms and higher grade materials to lower the total weight. Without getting too technical, the reduction in excess materials also reduces the weight significantly. Lastly, Shimano Ultegra also comes in 11 speed versions!
---
The top-dog of shifting worldwide, due to quality and price (compared to some other options on the market). Shimano Dura-Ace takes everything about Ultegra and pushes it to the next level. It's a very fine line between Shimano Ultegra and Shimano Dura-Ace, but that's where the pleasure lies - having something that's just marginally better!
Dura-Ace has always been leading the charge, but it's only down to a handful of small differences compared to it's lesser counterpart. Dura-Ace does weigh less than Ultegra, thanks to some clever ideas. The top four gears of the rear cassette rings are made from titanium. Even the rear cassette gears are drilled to reduce unwanted weight without sacrificing performance. The chain links themselves are also drilled, again reducing unwanted grams!
Shimano Dura Ace does offer slightly sharper shifting than Ultegra, as well as marginally improved brake feel (less effort for the same stopping power). All this extra technology does increase the price, which is why most cyclists are quite satisfied with Shimano Ultegra as the perfect midpoint between value and performance.

NOTE: Shimano Dura Ace used to be the only option with 11 gears instead of 10 gears. As of 2013, this has changed - with both Ultegra and Dura-Ace now available in 11 speed options. On another topic, both Ultegra and Dura-Ace are also available with electronic shifting, but we'll leave that for another day. Stay tuned...
---
Which one for me?
Once you know what your parameters are, it isn't all that hard to select a suitable groupset from the three shown above. Here's a quick summary to help you choose, if you haven't already!
Shimano 105

---

2,624grams (5.78lbs)
Entry level performance
Price favorable
Reliable
Cheap to repair

This makes Shimano 105 suitable for commuters and beginner road riders alike.
Shimano Ultegra

---

2,441 grams (5.38lbs)
Race level performance
Affordable
Superior shifting and braking
Lightweight
11 speed now available

This makes Shimano Ultegra suited for road racers and cycling enthusiasts, and is pretty much considered to be the minimum spec required for riding competitively.
Shimano Dura-Ace

---

2,111 grams (4.65lbs)
Elite level performance
Superior manufacturing
Superior shifting and braking
Lightest available option
11 speed available

This makes Shimano Dura-Ace suited for elite competitors or lovers of 'top end' technology and performance (and a lighter wallet).
Next time you're out for a ride, have a look at what other people are riding - you might even come across other brands with equally as much technological progress as what Shimano have achieved. The most important part of selecting a groupset is to be realistic about your intended usage. But then again, sometimes it's just a pleasure to own the best money can buy, regardless of how you plan on using it...