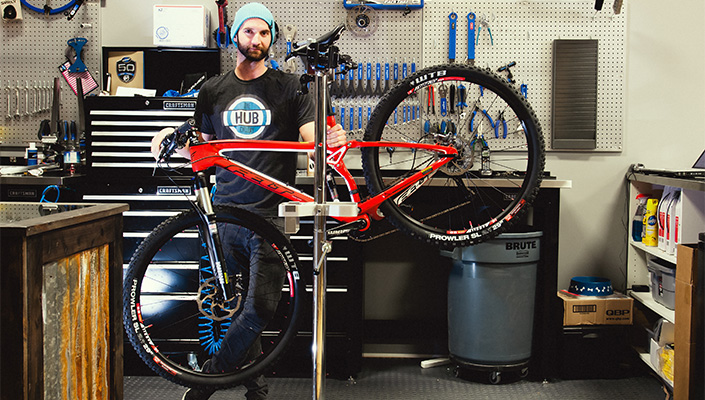 Photo: The Hub Cyclery Bend, OR
Step 3: Qualify
---
During this phase of the sale the idea is to gain as much relevant information as possible about the customer and they want. This is done through effective open-ended questioning. Open-ended questions are designed to get a descriptive answer by using qualifying terms such as: Who, How, What, Where, Why and When.
Who are you buying the bike for?
What bikes have you had in the past?
How long has it been since you rode last?
What did/do you enjoy about riding the most?
Where do you want to ride this bike?
When are you looking to buy this?
Why did you select our shop?
Why did you stop riding?
What size bike do you currently have?
What is your favorite color?
Where area do you live? in
How did you find out about our store?
And the list goes on. The skill here lies in being able to lead the questions based on the outcome from the previous answer. With practice and you will begin to recognize patterns and gain a more intuitive, less robotic approach.
These questions are vital to opening up the customer and gaining an insight into what they want, while also keeping in mind that what they want and what they need may differ. It is your job as a sales person to guide the consumer through the journey and help them buy the best bike possible for the intended use.
They may envisage their commute to work as a pavement warrior jumping curbs, getting air and weaving in and out of traffic like a competitor from the RedBull Urban downhill races https://www.youtube.com/watch?v=qU0e10L3sH4
When in reality their commute is more like riding a cruiser with a basket filled with cats. http://vimeo.com/94181469
It is only through interest and effective questioning that we can ascertain the customers motivation behind buying a bike. The way to gaining loyal and repeat customers is selling the appropriate bike and ensuring a positive cycling experience.
Merely selling a customer what they "want" is easy and meets short term sales targets but it is also negating our responsibility as cycling and sales professionals. That customer will not go to their friends and say. "Crap I bought the wrong bike!!" they will say "Those guys at <insert shop name here> sold me the wrong bike, don't go there." Do this enough times and you will gain a reputation as a shop to be avoided.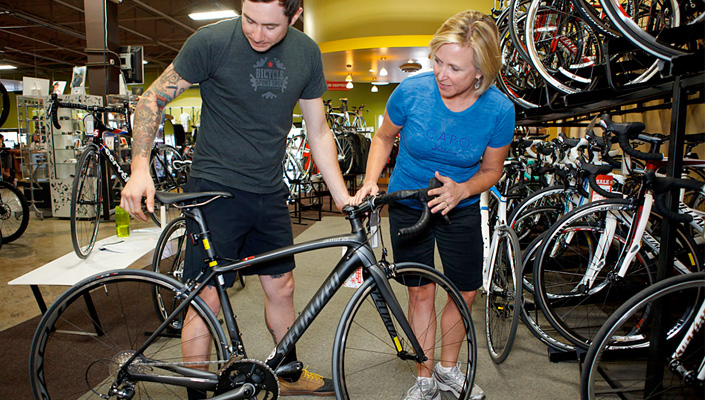 Photo: J.H. Jackson Photography
Step 4: Feature/Benefit Selling
---
The purpose of qualifying with questions is to create a picture in your mind of what sort of bike will answer the needs of the customer. With this picture you are now able to introduce the bikes that you feel best meet these needs and will result in the best overall experience for your customer.
"You mentioned riding to work on bike paths and the road and that you will do this every day for about 15 miles…" A bike shop professional will head towards urban or flat bar road bikes and then explain which features these bikes have and how they would benefit this kind of riding.
A good salesperson will know exactly which kind of bike is most appropriate, but the purpose of the feature/benefit process is walking the customer to their own understanding of this. A recommendation based on features and benefits can be followed by asking "Is this the sort of bike you are after?" or "Do you think this bike will do the job?" This is the basic process of a trial close and the next step is dependent on the answer.
Often in the process, once you have qualified their needs and shown the bikes that satisfy those needs with features and benefits, the customer may answer your trial close with "No, that's not really what I'm after". At this point it is necessary to go back to qualifying again; asking more questions with the intention of gaining better understanding of why the customer feels the product you recommend isn't appropriate. "What is it about this bike you don't like?" or "Why do you feel this bike won't work for you?" are two examples of questions to ask. The response may be a simple as "I just don't dig fluoro pink!" or "Someone I know has this brand and it snapped"
The process here is to continue rolling through this cycle of open questions, followed by an explanation of the features and benefits and then the trial close. Eventually "Will this bike do the job?" will receive a yes and it's time to close out the sale for real.