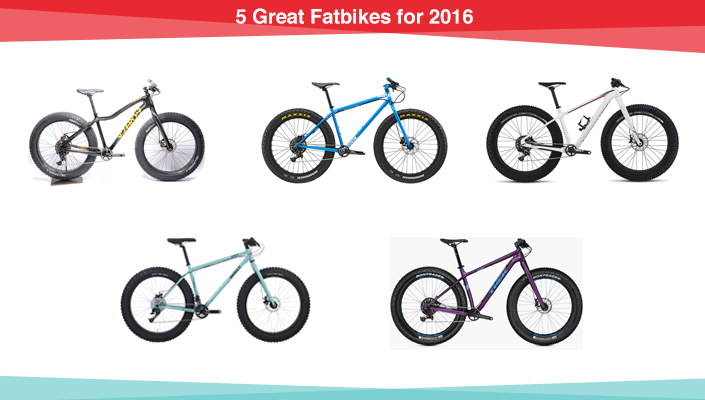 BikeRoar brings you 5 great fatbikes for 2016.
The popularity of fat bikes is definitely on the rise, and there are lots of great deals to be had. But what's the best fat bike for you? Do you ride the dirt and gravel or is snow your thing? We take a look at five of the best fat bikes on the market today.
---
Based in Alaska, the team at 9:ZERO:7 know all about building bikes that thrive in tough conditions. The new Carbon Whiteout GX-1 features a SRAM GX 1x11 drivetrain and comes standard with tubeless-compatible Sun Ringlé Mulefüt 80mm rims laced to 9:ZERO:7 hubs and wrapped in 4-inch Schwalbe Jumbo Jim tires. With a combined frame and fork weight of just a fraction over 2kg (4.4lbs), this is a pretty lightweight machine for a fatty and it handles accordingly.
The Avid DB5 hydraulic brakes have ample stopping power, even for a muscular beast like this one - there is also the option of the Avid BB7 cable brakes if you plan to ride in extreme cold. Like most of the 9:ZERO:7 collection, you can opt to have the Rock Shox Bluto suspension fork for an extra $400, but it obviously adds considerable weight to the vehicle.
If you want to get super fat, the Whiteout can handle a 5-inch tire, and 9:ZERO:7 offer them in the form of Studless Dillinger 5 on Surly 100mm Clown Shoe rims. This adaptability is what makes a good fatbike great - well, that and the way it rides. The Whiteout is everything a fatbike should be: capable and fun on any surface, in any weather. The light frame and fork combo offset the clumsiness of the giant tires, but those giant tires help offset rider miscalculations.
Pros:
Light weight
Full carbon frame
---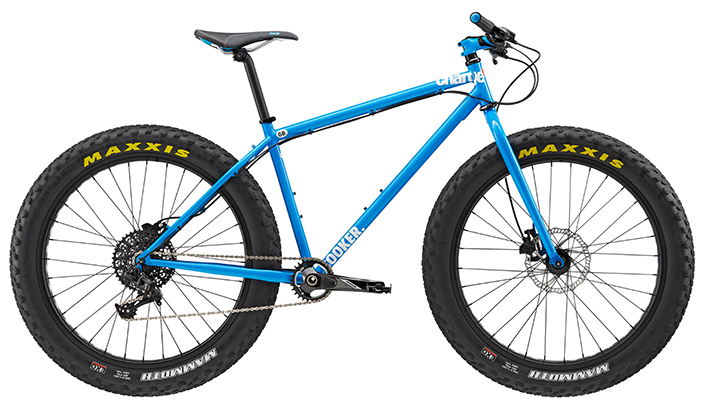 British manufacturer Charge has come up with a fatbike designed to lure in the first-time buyer in the form of the Cooker Maxi 2. Coming in comfortably under the $1500 mark, the Cro-Mo frame and fork set on the Cooker provide a strong platform upon which to hang some basic, but reliable, fatbike essentials.
The SRAM GX 1x11 groupset is a definite winner, and the custom Charge 4-inch rims and Maxxis Mammoth 4-inch tires will carry the rider far off the beaten track. With a 170mm rear end, the Cooker won't accept 5-inch tires without lots of tweaking, but 4 inches is plenty for this style of bike. The Tektro HDC-330 brakes are OK - not brilliant, but OK - but that's one of the very few faults we found with this bike. Aesthetically it looks great, and the gloss blue paint job is a real eye-catcher. A brilliant entry-level fatbike.
Pros:
Affordability
SRAM GX drivetrain
---
This bad-fat-boy comes race-ready with a lightweight carbon frame, fork, and wheelset - total weight of a medium-sized Fatboy is only 10.5kg/23.2lb. There are hardtail 29ers out there that weigh plenty more than that, so the Specialized Fatboy Expert Carbon really is very light for a fatbike.
This is not an expedition bike or a back-country adventure tourer. It's primarily a fat race machine and therefore lacks some of the adaptive capacity of other fatbikes. But, it's light, it's fast, and it handles beautifully; the HED Big Deal carbon wheels spin up as quickly as XC rims, making the Fatboy feel light and nimble despite its large tires.
The SRAM X01 1x11 groupset is perfect for this bike - light, responsive, uncluttered, and reliable. If you want to go as fast as a fatty will let you, visit your local Specialized store and check out the Fatboy Expert Carbon.
Pros:
SRAM X01 drivetrain
Ultra light weight

Check out the Comparison
4 of the best fatbikes from 9:ZERO:7, Charge, Specialized, and Surly

---
It's only fitting that Surly, the pioneer of fatbiking, has a machine on our top 5 list. The Wednesday (named after the little sister of Pugsley in The Addams Family) is a slightly modernized successor to the Surly Pugsley, which was released way back in 2005. Surly bikes are all about forging trails in remote places, camping, exploring, and bikepacking. The Wednesday follows suit - it's not quite as enormous and uncompromising as its very big brother, the Ice Cream Truck, but its 4130 steel frame still features a full complement of eyelets for racks and fenders and a vast array of braze-ons for bottle cages and cargo carriers.
The Surly Nate 26 x 3.8" tires have heaps of grip, and the Surly My Other Brother Darryl 80mm rims can take an absolute pounding and still stay true. It's not a light bike, tipping the scales at 16kg/35lb, but nobody looks at buying a steel-framed fatty with the expectation of it being light. To build a quality fatbike on a budget some corners had to be cut, but Surly did a good job of this without compromising on safety or performance. The SRAM X5 shifters and drivetrain may not be the lightest or the cleanest in terms of shifting, but the components are proven and reliable, and the Truvativ X5 double crankset with its 34/22 tooth chainrings is a good option that won't max out the credit card.
The Wednesday rides exactly as predicted - point it at something big and you can just ride on over it. But lean aggressively into turns on the trail and you might be surprised at the responsive, playful nature of this big steel monster. If you have a slightly restricted budget, but still want a true go-anywhere fatbike and have an appreciation for the heritage of these wide-tired fun machines, then the Wednesday could be for you.
Pros:
Price
Great for bike packing
Cons:
Weight
SRAM X5 drivetrain
BikeRoar Editor's Pick
---
This super-versatile fatty gets our #1 vote. The ability to accommodate 4" or 5" tires, a variety of wheel sizes, and the option of a regular drivetrain or single-speed, coupled with a light, super-strong Alpha Platinum aluminum frame and quality components, make the Farley 7 a great buy at any price, let alone under $2500.
The massive 26 x 5" Bontrager Barbegazi Team Issue tires on Sun Ringlé rims are bombproof. The cabling for the SRAM shifters and Avid DB3 hydraulic disc brakes are cleverly and neatly internally routed to prevent snagging and to keep the Farley looking clean and shifting smoothly in the nastiest and dirtiest conditions.
Want to make your Farley lighter? No problem - thanks to the new Stranglehold sliding dropout design it's a simple matter to convert it to a single-speed. It's equally straightforward to swap out the 26" x 5" wheels for 27.5" x 4", or even 29" x 2.8". Obviously this requires some extra investment in wheelsets, but the option is always there.
Putting the versatility to one side for a moment, the Farley is a pleasure to ride thanks in part to the Bontrager Haru carbon fork, which adds a feeling of nimble maneuverability that might otherwise be missing. The bike hugs the trails on the downhills and the traction offered by all that rubber helps winch the rider up the other side. Overall, it's a great bike that's a blast to ride in all conditions.
Pros:
Price
Adjustable dropouts allow multiple wheel sizes and fine tuning
Internal cable routing.
Ginormous Barbegazi treads have great grip.
Cons:
SRAM GX at the lower end
Ginormous Barbegazi treads are pretty hefty

Check out the Comparison
4 of the best fatbikes from Charge, Specialized, Trek, and Surly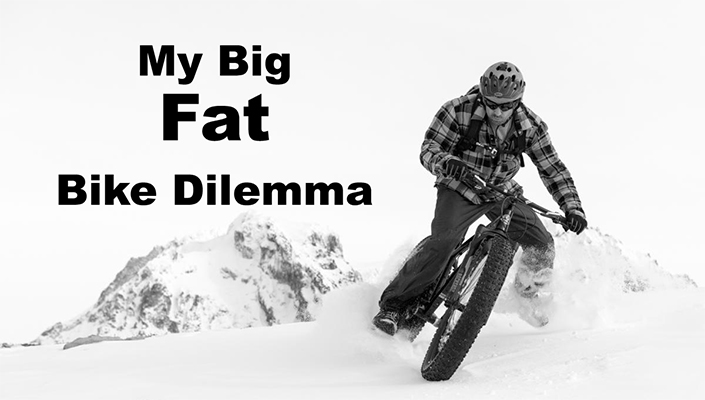 Shopping for a fatbike but the different specs and geometry has you confused?
BikeRoar
has you covered with our breakdown of fatbike specs and...
READ MORE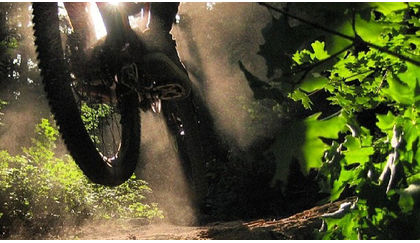 Losing your grip? Or maybe you're just in the market for some new tires?
BikeRoar
gives you their definitive list of the best tires...
READ MORE