Bikes » Road » Carbon »
Ridley Noah 60 (2016)
Performance aero bike at affordable price
Pros
* Slippery aero features.
* Ultegra group.
* Good looks: not too crazy, not too bland.
* Race ready.
Cons
* Heavier than average.
* Wheels are 'training' level.
Review
Belgian brand Ridley offers Noah as the more affordable 'baby brother' version of their Noah SL aero road bike, a pro-level bike raced around the world, including the Tour de France. To keep performance up, yet lower the pricepoint, Ridley retains primary attributes from the SL for the Noah and makes some calculated compromises in other spots.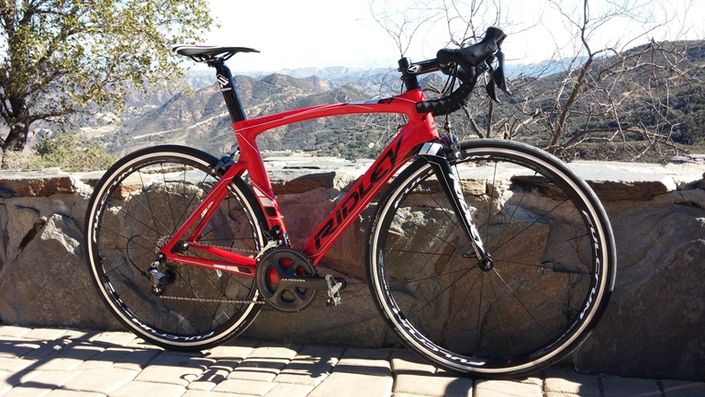 Noah's overall aero frame design is the same as the SL - integrated head tube and fork, rear wheel tucked into the seat tube, and aero tube shapes, particularly the F-Surface + tubing with a 'divet' running along the airfoil tube shape to smooth airflow and reduce drag - by 7%, says Ridley. It's also comprised of the same rigid 24-ton carbon (30T-24T high modulus unidirectional carbon) as the SL - stiffness to transfer pedaling power straight through to moving forward. Noah also comes with adjustable dropouts to keep the rear wheel, whether 23mm or 25mm tires, as aerodynamically close to the seat tube as possible.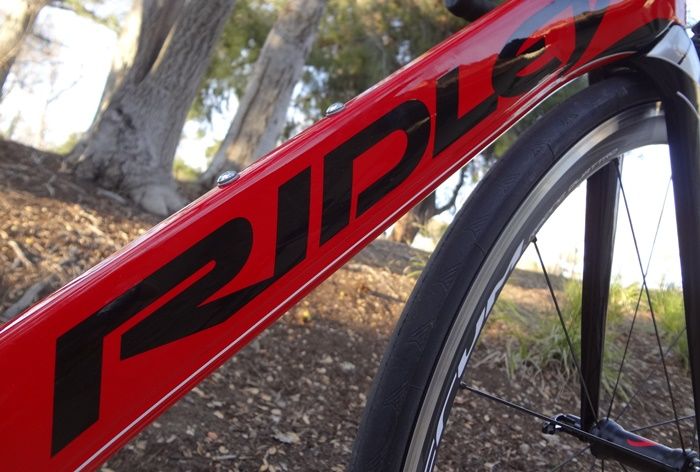 Differences from SL are you get a full carbon aero fork, not the uber-aero F Split Fork; you lose some aeroness, but save cost and some weight. Another cost-to-aero compromise is the Noah uses standard caliper brakes, not tucked in integrated brakes.

How does it look? Noah has great aero bike angles - it looks fast standing still. Graphics are exciting, but not overwhelming, all under a gloss coat. The Noah 60 we tested was red and equipped with Shimano Ultegra and Fulcrum Racing 4 wheels.

How does it ride? We put Noah through its paces in the climbs and switchbacks of Malibu, including the world famous Rock Store. For an aero bike weighing 8.2kg (18lb), it climbed well, in large part thanks to the stiffness that transfers power rather than soak it up. However, and compared to other aero bikes where the stiffness goes straight up into your body, Noah's ride was less harsh, probably thanks to the Fulcrum wheels. It was going downhill and on the flats where we could feel the aero benefits of the bike. It descended with some sharpness, a slight bit of twitchiness, and generally flowed nicely around wider turns.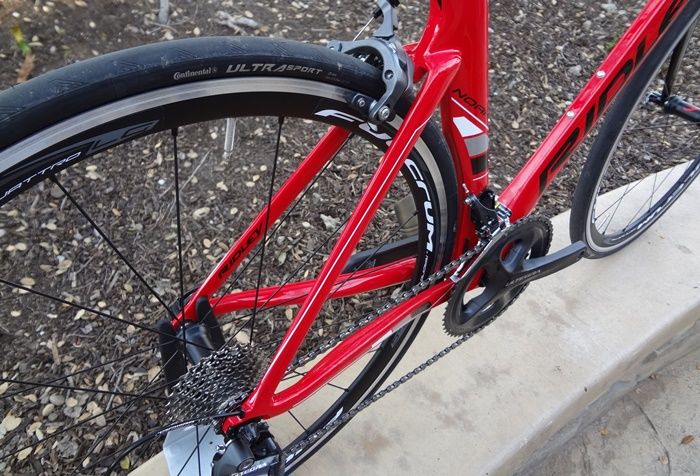 As is, the Belgium-made Noah is a pleasure to ride. The stiffness and power transfer are noticeable and worthwhile. Shimano's mechanical Ultegra grouppo gives premium action at much better value than Dura-Ace, and if you're looking for electronic, Ultegra Di2 is available in the Noah 55 for $4,620. Or, you can bring down the Noah 60's MSRP from $3,750 by going with a Noah 70 spec'd with mixed 105 at $3,000.

Noah is totally raceable, more suited for flat or rolling road races than uphill climbing races, and maybe not so much for technical criteriums. Given the pricepoint, it's a bike you can ride and race comfortably, and if you take racing more seriously, might only need to upgrade the wheels.

- Review and photos by Anthony D. Morrow.
Details
The 2016 Ridley Noah 60 is a mid-range aero road bike. With top-end kit from Shimano's ultra-reliable mechanical Ultegra group to ace Fulcrum Racing wheels, the 60 is ready to race. Thoughtful touches abound throughout, from the custom aero seatpost, to the Continental slicks, to the paired 4ZA Stratos bar/stem combination, the last offering excellent control and a number of comfortable hand positions. The frame is Ridley's top-end all-carbon SL, here equipped with a fork utilizing the same carbon construction, seamlessly integrated at the headtube.
A good aero road bike.
See Manufacturer's Description


Quick Specifications
| | |
| --- | --- |
| Name: | Noah 60 |
| Brand: | Ridley |
| MSRP: | $3,750.00 |
| Year: | 2016 |
View Full Specifications