We all want to climb better.  We watch our cycling heroes ascend the world's toughest climbs with relative ease and we wonder why we can't do the same.  To put it simply, climbing well comes down to one important number: your power to weight ratio.  Normally expressed in watts per kilogram, this ratio is the amount of power produced over a given period of time divided by your weight in kilograms.  The climbers for the pro teams normally have a power to weight ratio over 6w/kg.  It has been said that in order to win a mountain stage of the Tour de France, a climber will need to produce in the neighborhood of 6.7w/kg, an insanely high number to us average Joes!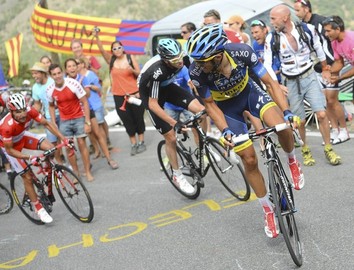 Most of us will never be able to achieve those types of numbers, but that doesn't mean you can't improve your climbing and even dominate the climbs on your weekly group rides.  With a few simple changes to your training program, and approaching your climbing in slightly different ways, you can significantly improve your climbing ability.   By adjusting your training, picking the correct pace, adjusting your body position and preparing mentally for the challenge ahead of you, you will find yourself becoming a better climber.  Let's see how we can do that.  

It all starts with training.  In order to become a better climber, you need to climb more.  Mix hills into your training program (and follow the other tips in this article) and you'll be well on your way to dropping your friends the next time you ride the local hill route.  For those of you who live in the flatlands, fear not.  You too can train to climb better by utilizing the wind; ride into the wind to simulate a climb.  

Hills can be broken into two types: those climbs lasting less than 5 minutes and those lasting over 5 minutes.  The approach for each type will be slightly different, so knowing your route before attacking the climb is crucial; choosing the wrong approach will find you getting dropped instead of you dropping them, so know your route.  As you approach the climb, utilize your momentum.  Don't downshift too early, or you will lose momentum.  For the shorter climbs, you'll rely more on pure power to get you over the top.  Keep the cadence in your normal range to slightly slower and push a bigger gear up the climb.  Knowing that it's a short climb, you can recover over the top of the climb, so don't restrain yourself from pushing at a pace that you can't hold for an extended period of time.  

On longer climbs, you will want to avoid pushing too hard too soon.  For a long climb, keep your momentum high as you begin the climb, and as your cadence slows due to the demand, begin downshifting until you find yourself in a gear that you can spin your normal cadence without putting your effort level over that which you can hold the entire climb.  This will be your pace for the climb.  As the gradient changes, so will your gearing, so don't be afraid to shift gears as needed.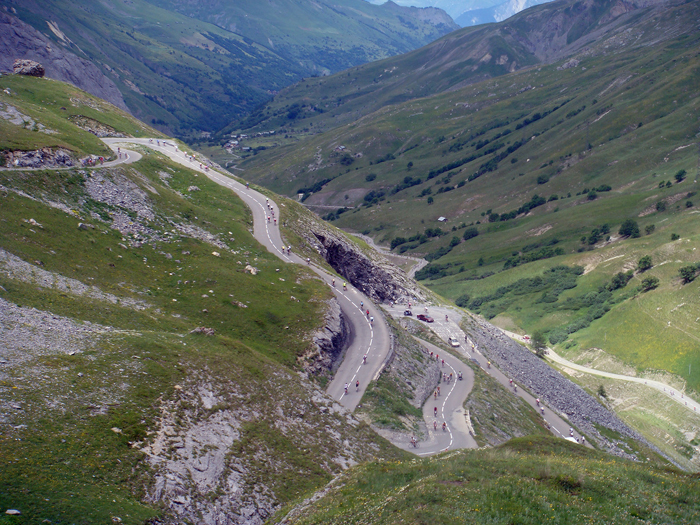 For those long climbs, adjust your body position during the climb.  This does two things: it keeps you comfortable, and it works different muscles that help allow you to fight fatigue.  Don't climb in the drops -- keep your chest up and open with your hands either on the top of the bars or on the brake hoods.  Shifting your position, such as moving forward or back on the saddle, or getting out of the saddle for a period will break up the monotony of the climb and allow some relief for your muscles.   

Knowing what's on the other side of the climb will determine how you finish the climb.  If the climb ends on a plateau or a false flat, you'll want to keep your climbing technique throughout the entire climb and over the top.  However, if the climb ends with a descent on the other side, you can afford to finish the climb with a burst up and over the top, which may give you some separation from your climbing companions.  As you near the top of the climb, pick a spot to make a big, hard acceleration.  You will go nearly all out for this effort, so make sure you don't go too soon, or you risk blowing up before cresting the peak and finding the relief of the descent.  A well-timed burst can have you going over the top all by yourself, off the front.   

Finally, to improve your climbing, mentally prepare for the suffering that you will endure during the climb.  Regardless of a person's fitness level, climbing will involve suffering.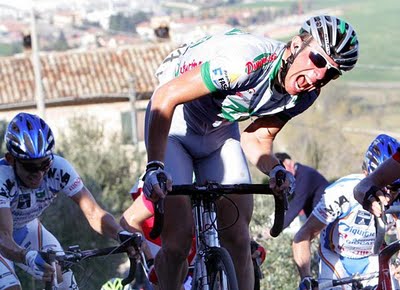 Knowing that you have prepared for the climb, and that if you're suffering, so is everyone else, helps to keep you in the right frame of mind for the climb.  Additionally, find ways to distract yourself from the pain. A useful trick is to do math -- count by 2s or 3s; your mind can't focus on the pain if it's trying to do math. Or, find a personal mantra to repeat in your head over and over to get your mind off the pain. The cyclist who is prepared to deal with the pain and suffering that accompanies the climb will most likely be the one who ends up on the front.  

So, if you really want to climb better, work some climbs into your weekly training regimen.  Implement the above tips and watch your friends fall off your wheel when the roads tilt toward the sky!   If you have any additional climbing tips, we'd love to hear them.  Please leave them in the comments below.    

About the author:  Mark Orton has been involved with USA Cycling for several years, including serving as Lead Coach for the East Coast Junior Development Camp.  Mark also owns and is head coach at SpeedWorks Coaching.  Beyond his coaching pursuits, Mark is a proud husband and father of three boys, and is a pro mountain biker.