When it comes to purchasing a mountain bike, there are three things to consider. First of all, ask yourself this...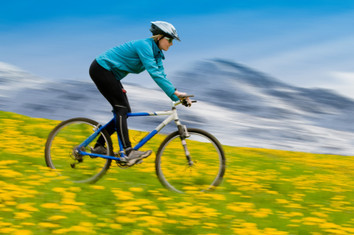 Living in Moab, there is no shortage of chicks who rip.

There are not only extreme, but professional female athletes. From climbers to kayakers to bikers, I am continuously blown away by the talent of girls I run into while I'm out in the desert.

I would love to see the number of females out on the difficult mountain biking trails increase, and I speak from experience when I say that the bike contributes to the quality of the ride.

When it comes to purchasing a mountain bike, there are three things to consider. First of all, ask yourself this;  


1. Why are you buying a mountain bike?
It will help to consider the following three questions:
Are you looking for an exciting method of exercise?
Are you an adrenaline junkie in need of another high?
Or are you just looking for an excuse to wear those sweet spandex jumpers?
I do have to agree, any excuse for chicks to wear spandex is a good one, but it might not be reason enough to shell out the dough on a sweet ride.

Do your friends have bikes? Mountain biking is a great way to spend quality time with your friends, even your significant other, or make new friends who are also into mountain biking.

My first time mountain biking was on a rental bike at Winter Park Resort in Colorado, I couldn't stop thinking about it! A couple of years later, I borrowed a bike from a friend for a trip down to Moab in Southern Utah and the next thing I knew I was moving there.

I love that mountain biking is not only fun, but there are a lot of options. You can go for long endurance rides through the deserts, or you can opt to ride the chairlift up and cruise downhill on those fancy manicured ski resort trails.

Maybe you have seen extreme mountain biking footage on Youtube or perhaps you rented a bike and realized for yourself that it is just a blast. (This is highly recommended; borrowing, renting or demoing a bike is a great way to see how a specific bike meets your needs, based on the following two questions.)  


2. Where are you going to ride your bike? Not necessarily where in the world but more important, what kind of terrain is it?
Do you plan on riding your bike on smooth single track where a hard tail would suffice?
Do you plan on doing mostly downhill or are you interested in cross country?
Do you want gears or would you prefer a single speed?
Do you plan on riding in areas with technical terrain where a full suspension bicycle will suite you better?
I personally opted for a full suspension downhill bike, and too often I have friends who aren't interested in riding with me only because their bikes are hard tails and therefore it is not well enough equipped for specific trails. (This however reminds me of how spoiled we are today because I know that the mountain biking pioneers of the Moab area were riding these same trails in the 80's with bikes that we would surely gawk at today!)
How much travel do you want the bike to have?
Do you want the clearance of the 26 inch tires, or would you rather go with a 29er?
These are all definitely things to think about and topics to discuss in detail before you begin to think about question number three.  


3. How much are you willing to spend?
Over the years, especially in the case of outdoor gear, I have come to this conclusion which holds true most of the time - you get what you pay for.

Don't be intimidated by walking into a bike shop and noticing that the price tag has a lot of zeros on the end. Even though your bike is not going to be cheap, you shouldn't have to sell any of your internal organs on the black market to get one.

Like any other hobby, it's expensive but it provides for an awesome time. And, if you have taken the time to think about what bike will work best for you then you will get a lot more out of the ride and you will be stoked on your purchase.

I was working as a lifty at a ski resort outside of Salt Lake City one winter, and saved for the entire season to buy my bike.

This was a feat for a ski bum to somehow be able to come up with enough money to buy anything more than cheap beer.

Once it came time to make the purchase I almost had a hard time shelling out all the cash! But the first time I rode my bike, I knew I had made the right decision. 

Shop around for deals, check out used bikes (make sure that it's not stolen property if it seems like it's too sweet of a deal) or consider a bike that was previously a rental or demo bike. Ask a lot of questions, make sure the bike is your size, and fit to what you want to do with it. Ride it around the parking lot and jump it off the curb.

Good luck with your purchase and I'll see ya out there!