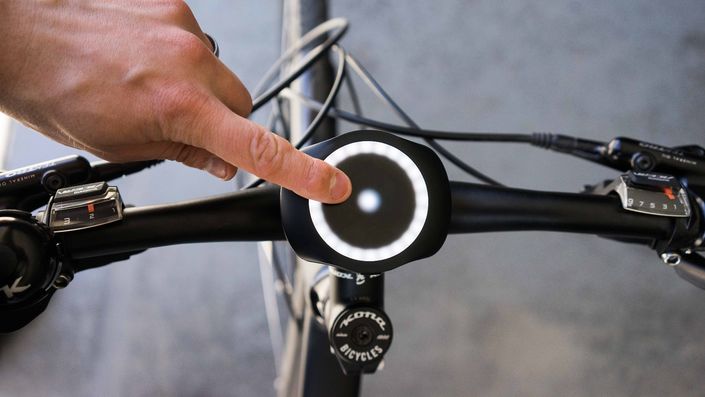 How smart and useful is the SmartHalo smart biking system? We test it out.
Backed by an overwhelmingly successful Kickstarter campaign, the SmartHalo bike system is now shipping to customers worldwide. We were able to get our hands on one of these highly sought after devices and put it to the test.
What the heck is a SmartHalo?
---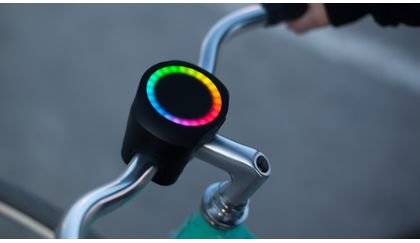 SmartHalo is a smart electronic bicycle accessory designed to enhance your cycling experience. The sleek device, meant to have a permanent home at the center of your handlebar, is minimal in its design, but big on its list of features:
Turn-by-turn navigation system
Compass
Bike finder
Built-in bike light
Anti-theft security alarm
Fitness tracker
Visual speedometer
Phone call and SMS notification assistant
SmartHalo does all this without having a traditional display screen. Its creator, Montreal-based CycleLabs Solutions Inc., set out to design a more intuitive device for bicycles that would incorporate several bicycling lifestyle technologies in an elegant, minimalist design. The result is this smart device that manages to seamlessly communicate all information through its 25 high output, multi-color LED lights arranged in a circle.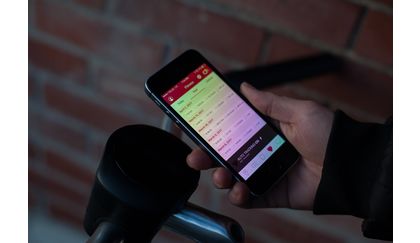 Control of SmartHalo is through the intuitive smart phone app; your Android or Apple iPhone serves as the home base for all the device's key features as the two communicate via Bluetooth Smart and ANT+.
The device has an equally intelligent mounting system. Only a special magnetic key can release the SmartHalo from its mounting brackets, allowing you to remove it for charging or to pop it into your a purse or pocket and keep it from thieving hands. That being said, SmartHalo is nearly un-thievable once when properly installed and armed with the built-in alarm system, so the weatherproof device is intended to be low-fuss and stay safely on your bike.
With all of this tech available in a small package, and especially with no display, we were interested to know how SmartHalo would perform in the real world. Would it live up to the buzz and promises of Kickstarter? Would this device prove more useful than a traditional cycling computer or smart phone mount?
Installing SmartHalo
---
Installation of SmartHalo is easy and straightforward. There is a clamp system which you affix to your bars and then the device attaches to these clamps, centered over the stem. SmartHalo provide some fit guides which allow you to size the mounting bracket to help you know what size clamp spacers to use, if any at all. There is also an alignment card which helps you align the two separate clamps in the right position for mounting the SmartHalo. There is a slight amount of fine adjusting that you can do even with the device mounted to make it sit as flush as possible.
Smart Halo claims their clamp system will fit any type of bars and we could not see any reason why it wouldn't. Kit includes the clamp shims to fit any handlebar diameter, and clamp risers to give the device extra clearance above some stems that may stick up more than others. Give yourself 10 minutes and you will have this sucker installed correctly.
Using SmartHalo
---
Once the device is installed on your bike, you need to download the supporting app for your smartphone to control the unit. The app is sleek and incredibly intuitive, requiring little instruction on how to navigate the set-up and use of the device. After registering the device with your email and basic information, you and your device are ready to go ride!
Using the navigation is reasonably intuitive as the SmartHalo lights up and beeps to give you good notice of an upcoming turn or mistakes you have made. The device eases you into your directions as the LED lights illuminate as they hone in on the exact turn you need to make. The LEDs are bright enough to be seen even mid-day in the direct sun.

Is it easier than following map directions from your other smart device? Keep reading to find my final thoughts.

NOTE:
SmartHalo's turn-by-turn navigation system is based on MapBox and Open Street Maps and not Google Maps, which has its pluses and minuses. Open Street Maps is a crowdsourced mapping program that relies on the information provided by users to create its map interface. While generally robust, a downside is that in a smaller city without much information provided, maps might be incomplete, whereas in a larger center it's far more likely maps will be extremely comprehensive. An upside is flexibility: you can change, add, or create new pathways for your city by logging them into the Open Street Maps site so you and other users can benefit. You can also report map inaccuracies within the app as you discover them in your city. You don't have to do this, but the option is there if you want to contribute or have more control over the maps, routes, and directions SmartHalo will deliver to you.
The Fitness Tracker is interesting to use, although don't expect it to be as comprehensive as a more performance base cycling computer. It tracks: riding time, riding distance, average speed, calories burned, and CO2 spared — CO2 spared obviously being the most important for bragging rights at the brew pub on a Friday night as your friends ramble on about their KOM's while you're able to quantify your positive impact on climate change.
The built-in alarm system works quite well as it automatically turns itself on when your bike sits still and you step away. Its 3-axis accelerometer does a surprisingly good job of measuring when your bike is being tampered with. The settings for the alarm are controlled by the app, but you can set a tap code for manual arming and disarming of the alarm as well. The ominous beeps and shrill siren do work well as a deterrent, but in no way should SmartHalo be depended on without a proper bike lock.
As intended, the SmartHalo unit is incredibly difficult to remove from your bars without the little magnetic key it comes with. The HaloKey is essential for removing the SmartHalo when you need to, like for charging, but the creators of SmartHalo are adamant the device is designed to be a permanent feature of your bike. You'll have to judge your bike parking situations as to whether you remove SmartHalo or not, but it's easy enough to remove when you feel the need.
Un-docking the SmartHalo using the HaloKey, then taking it out for a ride to show how its lights and colors look during the day to give directions and correct when you go off course. video: Josh Palmer | BikeRoar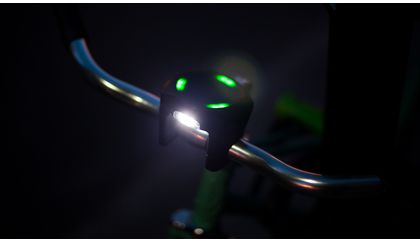 The front light comes on automatically when the device senses it's dark out and you're in motion. I found it to be fairly accurate and responsive and a pretty useful feature that really simplifies safety. Using the app, you can control the light to either be constant or flashing. The light turns itself off when the bike is no longer moving, meaning it won't spend all night on in your garage. The light works well, but its beam depends on the angle of the device on your bars; if you tilt the SmartHalo towards you versus mounting it flat, the light shines up into the heavens rather than in front of you where you need it.
SmartHalo can light up and beep when you receive a text message or phone call. You might decide to pull over and check your phone if you get a notification, but depending on how many calls and messages you get, this can change from being helpful to distracting. If you need this feature, great, use the app to activate it for calls or texts, and if not, toggle them off.
So, is SmartHalo right for you?
---
I do quite like the SmartHalo for its simple design and features. The developers obviously know their tech as the app is incredibly easy to use and helpful in all aspects of using the SmartHalo. The SmartHalo is the perfect device for the urban dweller who lives on their bike and doesn't require an abundance of in-depth features that are more useful in the peloton than they are in the city streets. I can also see this being a potential accessory for bike share or bike tour bicycles for its easy navigation.
Despite its intelligent and thoughtful design, the device isn't without a few complications. The mounting bracket is difficult to snug up when you do not require a shim for your larger diameter bars, making the device easy to move with a bit of a firm nudge. The device can also become distracting as I experienced when the device lost the Bluetooth connection to my phone and I needed to make a right turn while my phone was simultaneously ringing... there were a lot of beeps and flashing lights to interpret while navigating through traffic on a busy day.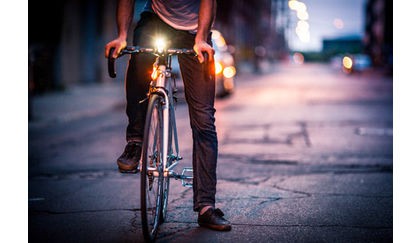 All considered, SmartHalo is a cool device for those who live on their bike. It's not as feature laden as some of the cycling computers available, but it does have everything an urban cyclist needs using a built-in rechargeable battery with a life that's measured in weeks, not a handful of rides or days. The design is durable, minimal, and it operates intuitively; it's only when multiple things are happening at once that the device can become overwhelming.
Is the SmartHalo worth using over your smartphone or a higher-end cycling computer? Yes and no. If you're a techy-racer who's looking to track performance in its entirety, then no, SmartHalo is not for you. If you use a bar mount for your smartphone on the occasional sunny day ride, then no, SmartHalo is not for you. But, if your commuter bike is at the heart of your urban life and you have an appreciation for multiple features packed into an intelligent design, then yes, SmartHalo is the perfect device for your cycling life!
$179 USD - smarthalo.bike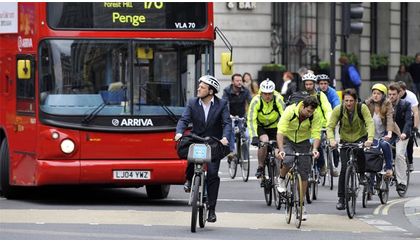 We clear up what to look for when buying a bike for commuting in 10 easy steps...
READ MORE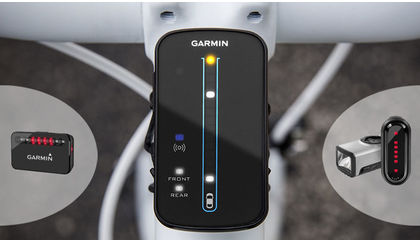 The new Garmin Varia bike radar and light system will be available soon. Here's a look at what to expect...
READ MORE