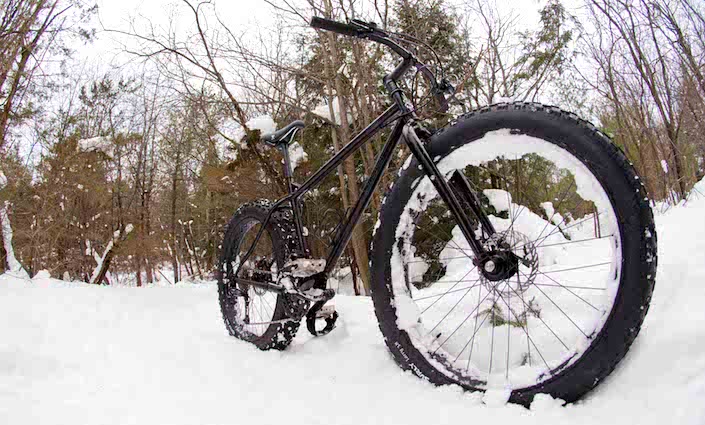 The Surly "Neck Romancer" Pugsley fat bike in the snow
It all started in 2005, when Surly introduced the first mass-produced fat tire bike, calling it the Pugsley. Originally intended for on-snow use, these behemoth-wheeled machines are designed for low air pressure, between 7-8 psi (48-55 kPa), to help get the riders over the slushy, heavy terrain.
Initially, the trend was slow to come around, as the original Pugsley was a heavyweight fighter, weighing in at around 42 lb (19 kg). And with .75 to 1.25 inches (19-32mm) of travel, fat bikes looked strange next to the popular skinny-tired bikes found throughout the states. They were like eating a cream-filled doughnut at a weight watcher's seminar.
Slowly, the bikes started to gain popularity in mountain states, giving hardcore riders a way to keep enjoying their favorite sport in the depths of winter. It didn't stop there either, as fat bikes became popular in beach and sand dune areas, naturally providing a quality ride in another harsh condition.
Then, looking to shave some grams and look cooler than the rest, the niche handmade market began to blow up with fat bikes. Going for the high-class look, these handmade manufacturers lipo-sucked the fatties in to high-performance, gluten-free, jelly doughnuts.
Once the fatty's lost some weight, people began riding fat bikes through snow, sand, mud and even high-country single track. Rivaling the weight of a mid-range mountain bike, the fat bike has become the go-to ride for some and an awesome addition to the quiver for most.
With 2014 around the corner, many mainstream manufacturers like Specialized are producing fat bikes, a sign that the trend may be here to stay. Winter race series are gaining popularity and the bikes are slowly making their way into groomed Nordic centers.
Many companies are marketing the bicycles as worthy everyday mountain bikes. Boutique brands like Borealis of Colorado Springs are even producing full carbon wheels and the complete bikes weigh in at a stunning 21 pounds (9.5 kg). Also check out the sweet Salsa Mukluk Ti.
Once you go fat, you may never go back…