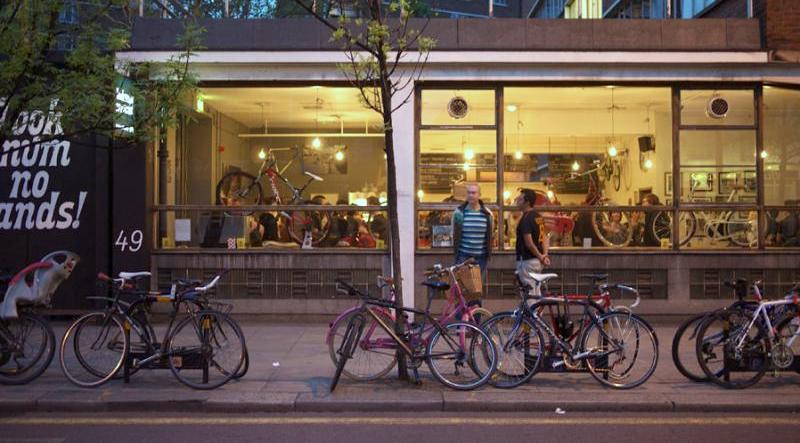 London cycle café, Look Mum No Hands!
Cyclists support local bike shops, but what is their greater effect on local businesses in the areas they prefer to ride through and the shops they choose to stop at along their way?
Preferring two-wheeled transportation that doesn't have a fuel cost and being tightly clad doesn't equal being tight-fisted with your money. This is a statement that many local bike shops will tell you to be the gospel truth. Cyclists generally like spending money, if they get quality products for their cash.
But does this also count as the gospel truth for shops located in areas where cyclists ride through?
After a recent road race event in Surrey, England, there was a public outcry about up to 100 road closures put in place during the RideLondon event.
There was a large detrimental effect on local businesses, as shoppers were unable to actually get to shops, and cleaning up after the race also had its fair costs.
The event is not the only cycling event to have caused problems in a local area, and it begs the question: Are cyclists a force of good or bad for local businesses in the areas they ride through?
---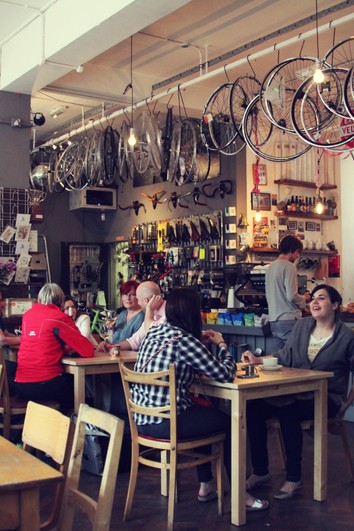 Photo: Bicycle Touring Pro
USA and Scots say Yes!
If you look at cities in the US, then the answer seems to be yes. Two studies released last year from Portland, Oregon and New York City, respectively, both point to the conclusion: bicyclists and pedestrians seem to spend more than people arriving to a neighbourhood by automobile or public transport.
Across the pond in Scotland a recent study concluded that:
"The total economic contribution from cycle tourism is estimated to be between £117.2m and £239m."
So, whether on holiday, out on a Sunday ride or simply cycling out to get the shopping, it definitely seems like cyclists are an economic force of good.
---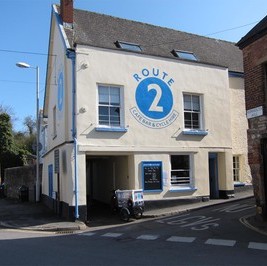 Route 2 cycling café, Topsham
What the businesses say
Moving on, you can find various stories of cycling transforming local businesses.
An example of this is Route 2 Topsham, which is located on the River Exe estuary in the South-West of England. Owner Liz Hodges remembers exactly what gave her the idea of focussing on cyclists as a customer group.
"In the Mid 90's I attended a tourism seminar where Sustrans gave a presentation about creating a number of key cycle ways & networks throughout the UK, ready for the "New Millennium" - I was hooked!," she says.
This led to opening a shop that is a mix of café style local dishes and drinks, cycle hire & repairs and serviced apartments.
The shop's future plans includes organizing longer, more serious road rides over the moors of Devon, basic cycle maintenance courses for children & adults, helping to develop route plans, new cycle menus & take away picnics and finding more space for the shop & repairs.
Further up towards London, at the Micycle cycle café the story seems to be the same
"At our two existing shops we serve coffee and soft drinks mainly to our cycling customers who like to hang around and talk bikes. Both have gardens, seating in front of the shops and wifi access, so people can surf while they chat and wait for small repairs to be completed," a staff member told BikeRoar.
"We cater for a very wide range of cyclists with a heavy female customer bias, which gives the shops a gently relaxed atmosphere where conversations are never dull but never elitist."
Lewis Chalkey, owner of cycle café 'Look Mum No Hands!' in London thinks that combining business ideas might be the way to reach cyclists and make them a positive impact for businesses.
"I've worked in the service industry for a while and I think that there is a general tendency towards places like ours that focus on doing more than one thing - and doing them well, mind. The combination of various businesses in one means that we cater to a wider selection of people. We get a good mix of people in the café. Some come to meet friends for coffee, some because they can use a pump outside the shop and some for a business meeting. There's a good flow from one business to another. People who come in for coffee or a beer see that we also fix bikes so they might come back for that," he said.
For Look Mum No Hands! the combination of businesses means that the cycle workshop generated 25% of revenue, bike accessories 15% while the rest is generated by the café.
---
The moral of the story seems to be that even though cyclists can be a source of annoyance for some – they can also be a source of income for your shop. Especially if you can find a way to integrate cycle friendly aspects into your business