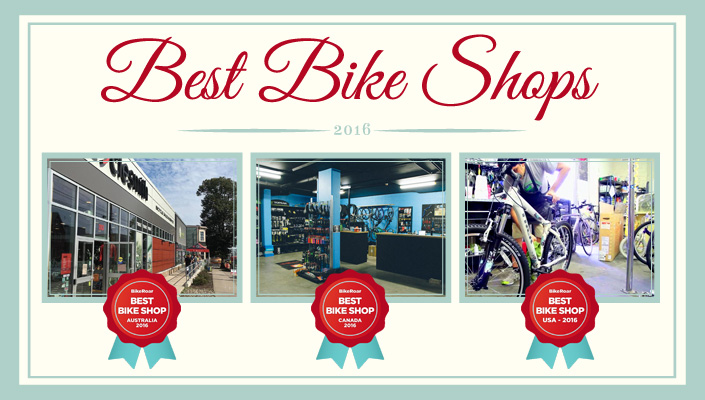 BikeRoar's Best Bike Shop 2016 winners are...
BikeRoar asked its readers in Australia, Canada, and the U.S. who their favorite bike shops were and they came up with three surprise results:

Australia: Riding Way - Murrumbeena, Victoria
"The most trusted local bike store" - A small, but busy one-man 'family' bike shop in Melbourne's foothills, 17km from the city (about 2km from Chadstone Shopping Centre).

Canada: Cyclesmith - Halifax, Nova Scotia
"Nova Scotia's Bike Store" - A passionate and professional store catering to all categories, whose staff are very much involved in the local racing scenes, on and off road.
U.S.A.: Randy's Bike & Run Shop - San Angelo, Texas
"Health, Fitness, Running, Cycling, Swimming." - An established business catering for local cyclists and runners in a mid-sized Texan Air Force town.
Well, it was a surprise, at least until we got to speak to the owners about their stores, their customers, their business ethos and strategies. Then it wasn't so much of a surprise anymore. Check out their responses to our questions and you'll see why for yourself:
What makes you so popular with customers?
---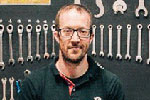 Steve Taylor-Madin - Riding Way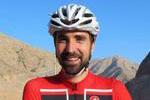 Steve Sharland - Cyclesmith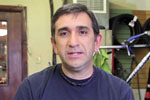 Randy Rangel - Randy's Bike and Run Shop
RW: Owner Steve Taylor-Madin's initial response was a disarming, "I'm not sure." But then he actually thought about it. "I do a lot in the local community, such as offer a free bike service for all the local school kids. I wanted to make sure that every local kid is riding to school safely. It was insane the first time we sent out the emails... a couple of hundred kids responded." Practically speaking, Steve also pointed out that it was "a way to reach a bunch of people without spending a lot of money." So, Steve found a mechanism to almost instantly connect with the local families at a personal level and that has translated into loyalty and traffic.
CS: Steve Sharland is Cyclesmith's 'chief wearer of many hats'. He's originally from the U.K. and came to Nova Scotia via Oman (that well beaten path). Steve's core response was about passion and service; "Everyone who works here is a passionate cyclist, as opposed to what you see in the other stores. They are all very active cyclists in road or MTB scenes and that experience and passion reflects in the service they give."
RB: Randy Rangel describes himself as a "hands-on owner, who'll jump through hoops for people." He explained that San Angelo is a "small town (100,000 people) where everyone knows each other," so you have to "go above and beyond." Randy's attitude towards customers is that he's "a customer too" and tries his best to reflect that understanding in his sales and service.
What sets you apart from local competitors?
---
RW: "The interaction with the customers in the store" is what Steve figures separates him from his local competitors. "I don't 'sell'. I'm not pushy. I'm happy to tell my customer not to buy a bike if I don't think it's right for them. I see a relationship as more than just a sale. I try to get as much of a 'story' out of the customer as possible." And two more separators that were music to my ears; "I create solutions for people's problems," and last but not least, "price is always last." Priceless, you could say.
CS: At Cyclesmith, it's their "attention to detail" that sets them apart. That and their "experience and passion." Unlike their competitors, their "staff are all active in the local road and MTB scenes," which Steve clearly feels is an important point of difference and advantage.
RB: It's a similar story in San Angelo, Texas, where Randy's main point of difference with their main competitor is that "we're really involved with the local clubs. We really try to give back to the local community, clubs and events, whether it's donating prizes or manning an aid station."
How important is location to your success?
---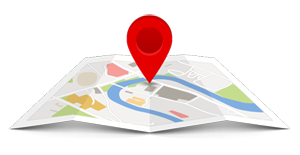 Location, location, location...
RW: "Massive!" Riding Way recently moved from a larger location on a busy road, which apparently "wasn't very visible," to a smaller space in a shopping strip next to a train station and bike path. Steve reports his business is now "hugely different." Steve has halved his floor space and doubled his rent, but is financially much better off now, thanks to his new high traffic position. He reckons he's "added 25% of new customers just from improved passing foot traffic," and that business is now "much better during the usual quiet times" because of the move.
CS: Cyclesmith is located in the center of Halifax, which is itself the center of Nova Scotia. Steve said it's the part of town "where most people in and around Halifax come to shop," which they can see is certainly an advantage.
RB: Randy told me his location is ideal as it's "close to the Goodfellow Air Force training center, which has an almost constant rotation of new military trainees, and also close to the local Angelo State University." He reckons "everyone in San Angelo knows where we are." And I don't doubt him.
What are your defining product categories or brands?
---
RW: Riding Way is very much targeted at the "family and commuter markets," with Avanti and Malvern Star being its mainstay bike brands.
CS: With brands like Trek, Cannondale, Cervelo, Kona, and Electra on the floor, it's safe to say Cyclesmith has pretty much every category very nicely covered, indeed.
RB: While trying to cater to everyone, Randy's passion is certainly triathlon. With Giant, Trek, and Felt on the floor, there's certainly plenty to cater for local triathletes, not to mention all the others who don't feel the need to spoil a perfectly good ride with a run and a swim.
What are your category sales leaders?
---
RW: "Definitely workshop first. Then parts and accessories and bikes. Although bike sales are now 3-4 times more than in the old shop."
CS: Being Canada, sales are highly seasonally affected. Whereas bike sales dominate the summer months, in the winter "it's the workshop and bike builds which bring in the most dollars."
RB: Down in San Angelo, Randy responded with a one-word answer: "workshop." There seems to be a theme forming here, folks.

Cyclesmith offers customers their workshop expertise.
What channels do you sell through?
---
RW: Riding Way might be quite traditional and 'old-school' in many ways, but it's certainly completely modern in the way it sells. It is very much a true 'bricks and clicks' business. "Every product I sell is listed on my e-commerce site and I offer 'click and collect' on all my bikes."
CS: Cyclesmith has a website which shows the customers stock levels, but they don't as yet sell online. "We may sell online in some fashion in the future, but it's a tricky balance and we haven't tackled it yet."
RB: Randy's is very much still a 'bricks and mortar' retailer and seems too busy and having too much fun to bother with e-commerce just yet. It seems their strong local following doesn't seem to mind shopping the old fashioned way. At least for the time being anyway.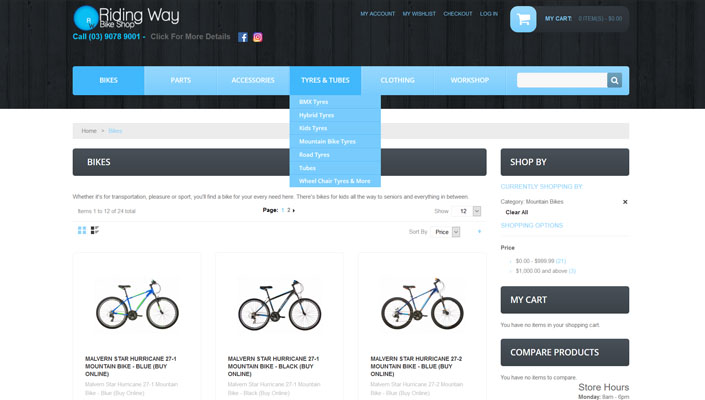 Riding Way is doing e-commerce with its website.
What is your digital strategy? E-Commerce, EDM, CRM, SEO, SEM, third party sites?
---
RW: Apart from BikeRoar (of course), for customer engagement Steven relies on the tried and tested social media platforms: Facebook, Instagram, and Twitter. For content, he writes his own blog, which he incorporates into his site, social media, and EDMs. For CRM he is using Lightspeed, which he constantly uses to prompt customers. Plus, he's now using text messages for repair updates.
CS: Cyclesmith are also using the popular social media platforms for customer engagement, but apart from occasional campaigns, they haven't really been doing frequesnt paid social media advertising yet. Their website is more of an information space than anything else. EDM appears to be their preferred 'sales push' digital conduit (especially in the winter months when they're quieter), which they try to coordinate with their social media output as much as possible.
RB: For Randy's, on top of BikeRoar's support, their digital activity primarily involves Facebook, Instagram, and Twitter. Randy's has a website, but as with Cyclesmith, it's primarily used for content and information.
What's your pricing policy?
---
RW: As more and more retailers are doing these days, Riding Way employs an offline/online pricing strategy; prices in store tend to be RRP, but online Steve tries to be competitive with other major online stores. If you think about, cafes and restaurants have been doing this for years. Eat-in, it's full price, and to takeaway it's cheaper, which proves that consumers will pay more for service, experience, and immediacy.
CS: Like all bike retailers, Cyclesmith is very much conscious of the typically unmatchable prices of the major online retailers, so they don't bother trying to compete with them. Instead, they focus on building value, expertise, and customer service in to every sales experience. They figure this justifies higher prices than are available online. And so far, they seem to be correct.
RB: For Randy's it's certainly all about MSRP. Randy believes they're not just selling a product, but "you're selling yourself; you're selling the store." And as with all three of these stores, that clearly has a value that their loyal customers are happy to pay for.
What are your customer service principles?
---
RW: For Steven, "that's everything!" He doesn't call his customers 'customers.' "Once they've bought from me, they're friends." And that's how he treats them from thereon, which might be a clue as to why he won so many consumer votes.
CS: "Experience and passion reflects in the service you give." Every time and all day long.
RB: At Randy's, "making sure the customer is happy is number one. Always finish on a high note. Know you gave it your all. Always give the customer something to remember." Can't argue with that can you?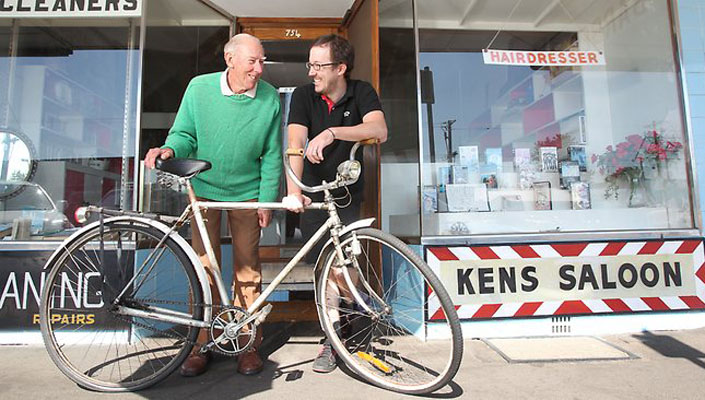 Riding Way makes friends, not just customers.
Do you have a customer retention strategy?
---
RW: For Steven at Riding Way, his retention strategy is all about getting customers to sign up for his email newsletters. That and giving his customers the best customer service.
CS:I think Steve Sharland's response on retention strategies summed up really well the three stores. His initial response was that they have "no particular retention strategies, aside from offering a free tune-up." He then detailed a number of really smart customer retention policies, which says to me that they're doing all the right things, but that in most cases, they are more instinctual than deliberate. For example, Cyclesmith always offers to "register a bike purchase with the bike manufacturer for the customer, so they don't have to. This requires an email address and other contact details and is a good incentive for them to provide it." That's just smart and a simple customer retention activity from every angle. Beyond that, Cyclesmith virtually insists on a test ride before purchase and focuses on attention to detail and always getting the right bike for the customer.
RB: Simply for Randy's, it's all about "working hard for the customer and making sure they're always happy." How very Texan of them.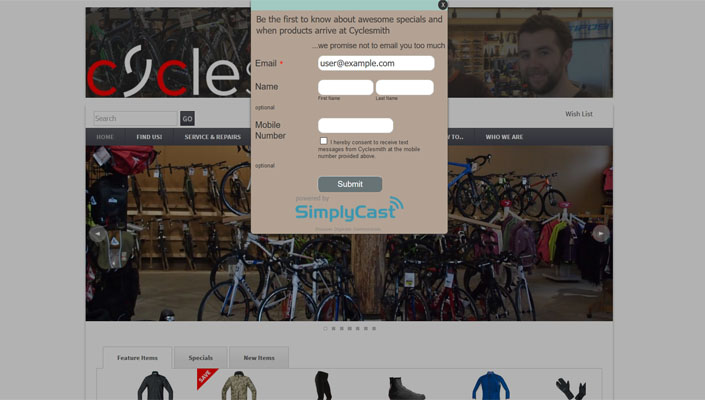 Cyclesmith isn't shy about asking for customer emails online.
What has been your most important investment to date and what will be your most crucial investment for the future?
---
RW: "So far it's been the investment in our website and the Lightspeed system." It can't be overstated just how essential a modern, dynamic, and, ideally, cloud based (which Lightspeed finally is) RMS (Retail Management System) is to a modern bike retailer. Interestingly, when asked about what his critical future investment needs to be, Steven's response was "more community investment." This further illustrates just why this store is kicking goals. He's not trying to be the best bike shop in the world. He's just trying to be the best bike shop for his customers.
CS: Without stating it directly, it's clear to me where Cyclesmith have made their two most important investments to date: 1) their staff, and 2) their workshop. If you've got great staff with experience, passion, and knowledge, plus a pumping, resourced, and respected workshop, you're almost automatically ahead of the game before you do anything else, especially in a world which is both at the same time globally aware, but more locally active. Add to that the commercial reality that it's nigh impossible for physical retailers to compete with online retailers on price, the opportunities lie in service, immediacy, know how, retail 'experience' (in the 'lived' sense, not the learnt sense), and humanised relationships and interaction.
RB: In the context of the previous observation, I loved Randy's answer to this question; "My employee, Sebastian, he is my backbone." He couldn't think of anything he needed to invest in going forward. Maybe we should catch up for Texan BBQ and a chat one day?
Do you invest in or incentivize your staff?
---
RW: Riding Way is about to take on its first staff member (other than the boss, of course). That is literally investing in staff. Passing on his gift for customer relationships and service will likely be the first investment he will make in whoever that is.
CS: Cyclesmith presents regular training sessions, "especially in the spring when we are getting a lot of new stuff in. We have product training sessions almost every week, working with different manufacturers and suppliers to make sure everyone gets a good technical knowledge of all the products." But doesn't everyone do that? You'd think so wouldn't you? Sadly, not.
RB: Randy takes his staff to Interbike every year. And as we know, whatever happens in Vegas, stays in Vegas...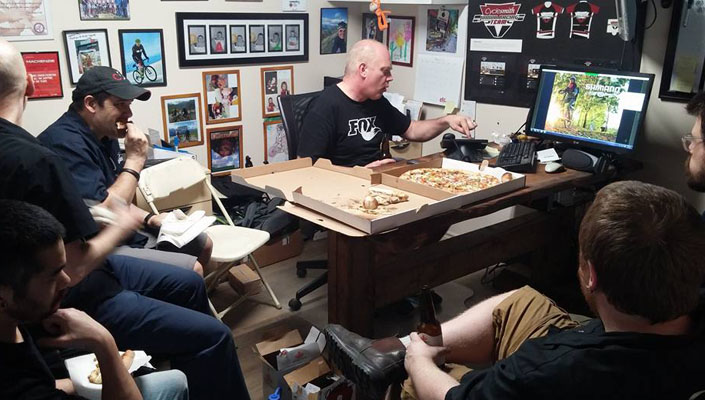 Cyclesmith employees get together for an online education session - and pizza!
As I admitted at the start of this report, these three stores are certainly surprise winners of the BikeRoar Best Bike Shop vote for 2016. Most of you who live or work in the respective bike industries in Australia, Canada or the U.S., quite likely haven't heard of these three bike shops. Each store happily admitted they were genuinely, but pleasantly, surprised they had won.
But as I then pointed out, it was clear to me, after speaking with them, just why their customers rate them so highly. They are all, firstly and foremostly, customer focused - not just in word, but in deed. They all know their customers are golden and the lifeblood of their businesses and they respect that intently.
All three stores do the basics really well, and rather than stress about the world, the internet, and other things they can't control, they simply focus on what they can control and influence: their own level of service, passion, honesty, integrity, and most of all, the support of their local cycling communities.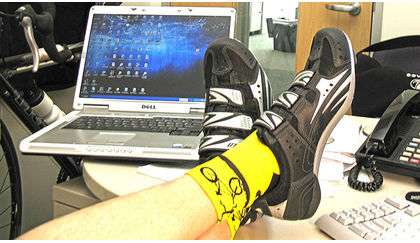 If you're looking for a sure fire way to increase business, look no further then your computer!
BikeRoar
gives you hard data on why email marketing is worth...
READ MORE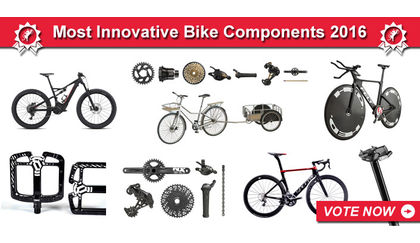 2016 was a good year for big breakthroughs in the bike industry
BikeRoar
selected the most innovative...
READ MORE