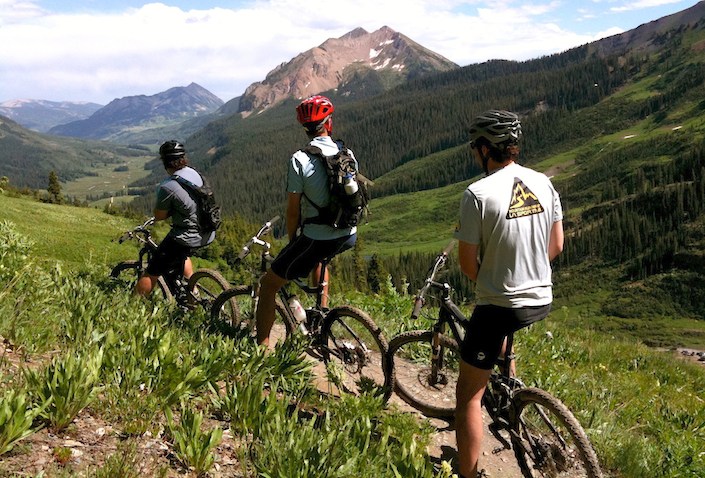 A mountain bike adventure
Taking to the trails for days on end is one of mountain biking's greatest thrills. Before setting off on your adventure, you want to make sure that you've got the right equipment needed to avoid the adventure turning into an arduous pain in the…saddle part of your body.
Luckily, we've had both sorts of experiences and have put together a quick checklist of the essentials for a great mountain bike adventure.
---
Get the right bike
When planning a mountain bike adventure, you need the right bike. This might sound obvious, but there are some considerations that need to be made, if your trip isn't going to be derailed before it even gets started.
The message here is that you should go for a hard tail mountain bike, and it should probably be an alloy or steel frame. Full suspension loses a lot of forward momentum and is more suited for adrenaline riding than long treks. A completely stiff frame is also an option, and if you're looking for a cheaper alternative to a visit to the chiropractor, then this is the bike for you.
With regards to steel or alloy, part of the reason is that you can mount hardware to this sort of frame without the fear of hearing that horrible crunching sound that carbon can make when it cracks because you were trying to fasten something to it and just gave the screw half a turn too much.
Also remember to include the essentials like helmet, gloves and glasses.
---
Get the right gear
Once you've got the bike sorted, it's time to think about how much other gear you should bring - and how to carry it. With regards to the latter, the obvious options are a trailer or panniers.
As for what to bring, the checklist could include stuff like: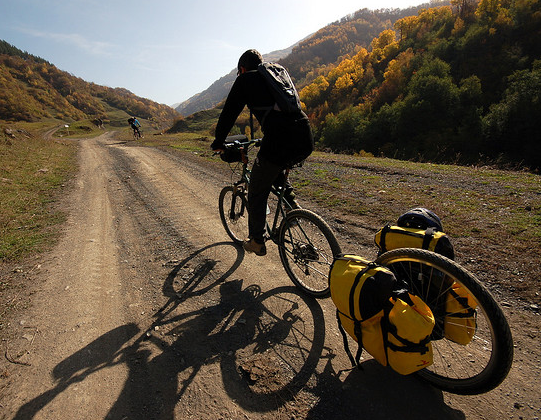 MTB touring with a trailer
Extra clothing (this should include a wind shell or rain jacket for anywhere outside the Sahara or Australian outback)
Food (including snacks/energy bars)
Liquids (water/energy drink)
Sunscreen and sunglasses
Small first aid kit with space-blanket
Matches or other fire starting equipment
Mobile phone or change for a public phone (just in case!)
GPS equipment (could be mobile phone) and/or maps
This might sound like an impossibly long list of gear – especially seeing as it doesn't even have things like tents and sleeping bags on it - but trust us, it's better to ride around feeling like a bib-clad Swiss Army Knife for two weeks without using any of your gear than it is to feel like a complete...saddle part of your body...when you're stranded in the middle of nowhere because you didn't bring the right equipment.

NOTE: For those long solo adventures into the middle of nowhere it is always a good idea to inform family, friends or even locals about your journey and the duration you plan on being potentially out of contact with the world. A friend of mine took off on a short kayak trip which ended up becoming a 5 day ordeal (unfortunately their river turned out to be dry!).
---
Get going before you start
Going before you start? Sounds like a logical fallacy of something straight out of Einstein's brain, but what we're talking about is training. You need to get your body used to being on the bike if a week in the saddle is going to be enjoyable. You don't need to do a lot, or to do it at high intensity, but we recommend spending time riding around from no later than a month before you plan to set off on your adventure. If not, the smart money is on you being mighty sore before long!
---
Getting your head down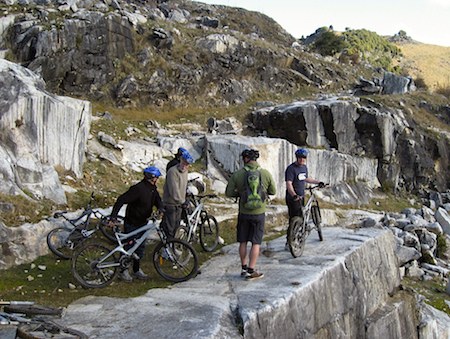 Photo: Grayskullduggery / Flickr
Another thing worth considering before setting off is the sleeping arrangements. In most countries, tents are a good option for most of the year. Of course, if you're planning to cycle around the African savannah or other similar places, this option comes with the risk of visitors during the night. Here the general rule is that hearing any sort of heavy breathing in or outside the tent in the middle of the night is bad. Very bad.
Generally speaking, tents are the cheapest choice, whereas stopping in a cabin or hostel can also be a good option. There are other options (hotels, for example) but these generally make everything more expensive.
---
Get it documented
So you were out on an adventure in the outback and came across a herd of camels, or you were riding in the early morning hours and chanced upon the absolutely most stunning view. Well, surely you'd want to share that with friends and family when you got back home.
So get that stuff and more on tape or camera! Use head-cams (like the Drift or GoPro), old school cameras or perhaps a modern smart phone.
An adventure is often something you go on where you want to have a chance to take a breather and time off away from anything connected to the world of smart phones and electronic gadgets, but they're very useful – even on an adventure.