Accessories » Travel Cases »
Scicon AeroComfort Road 3.0 TSA Bike Travel Bag
Incredibly user-friendly and it does a fine job protecting
Pros
* Incredibly user-friendly
* Practically no bike disassembly
* Easy to maneuver
* Case-level protection in the form of a bike bag.
Cons
* Pricey
* Still not a hard case
Review
A good bike bag is one of the things that can make a race or ride away from home a genuinely fun experience — and a bag that falls short of your expectations can ruin your whole trip. A bag or box with dodgy wheels that's hard to pack and impossible to wheel through an airport is incredibly frustrating — even more so if it took hours to dismantle your bike just to get it successfully stashed away.

Enter the new AeroComfort Road 3.0 TSA from Italian manufacturer Scicon... READ THE FULL REVIEW →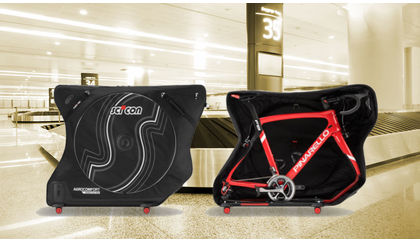 Details
When you fly with your road bike, you have to pack it into a bike case, box or bag. Bike bags are cheaper because most airlines won't charge you a supplementary charge, but they don't normally offer the same protection as bike cases. That's why we created the all-new SCICON AeroComfort Road 3.0 TSA bike travel bag – providing case-level protection in the form of a bike bag.
Developed with and tested by leading professional cycling teams and world-class athletes the SCICON AeroComfort Road 3.0 TSA is the first choice of the pros. They choose it because it is reliable and robust, while still being lightweight and comfortable to carry.


Quick Specifications
| | |
| --- | --- |
| Name: | AeroComfort Road 3.0 TSA Bike Travel Bag |
| Brand: | Scicon |
| MSRP: | $899.00 |
View Full Specifications