Accessories » Lighting » Combos/Systems »
Knog Blinder MOB The Face Twinpack

Bright, functional, durable, and they look good.
Pros
* Bright and with several on/flash modes.
* Easy on and off mount straps
* Rechargeable
Cons
* Buttons a little small
* Not cheap
Review
Let's face it, you need bike lights for safety and visibility, and every few years you need to upgrade your lights just like you do your mobile phone. You start to crave a light that is brighter, easier to mount, and has a quicker charge time and a longer burn time than your old set.

Over a three-month period, we tested out two front/rear light combos from Knog... READ THE FULL REVIEW →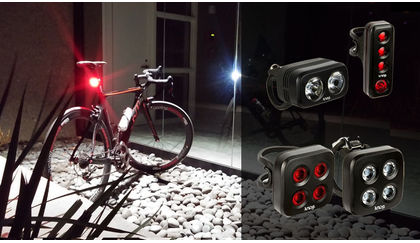 Details
The 2016 Knog Blinder MOB The Face Twinpack is a light set. Ace for being seen, the set offers multiple settings borh front and rear for high visibility and optimized battery life - at the lowest setting both lights will last more than 50 hours, cutting recharges to a minimum. The brightest setting is visible at a distance of more than a kilometer, getting you on driver's radar early and keeping awareness high. The Face lights incorporate four LEDS apiece, producing a novel pattern that is quite attention-getting.
A very good visibility light set.
See Manufacturer's Description


Quick Specifications
| | |
| --- | --- |
| Name: | Blinder MOB The Face Twinpack |
| Brand: | Knog |
| MSRP: | $84.95 |
View Full Specifications