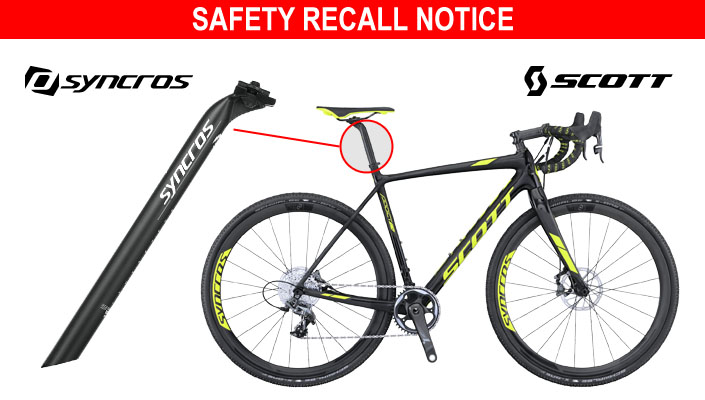 Scott recalls Syncros FL1.0 Carbon Offset seatposts - outfitted on bikes including the Addict CX 10 Disc
SCOTT Sports has issued a recall notice for its Syncros FL1.0 Carbon Offset seatposts because the seatposts can break, posing a fall hazard to riders. The company has received 11 reports of broken seat posts (none in the U.S.), but no injuries have been reported. The seatposts were sold on nearly 1,500 SCOTT bicycles and as an after-market seatpost, model year 2016, as a single part in bike shops.
While Syncros components are regularly spec'd on SCOTT bikes (road, cyclocross, mountain), the bikes with seatposts involved in this recall are limited to road and CX models from 2016.
Bikes sold with the recalled seatpost are: Addict 10, Addict 15, Addict 20, Addict CX 10 disc, Addict Gravel disc, Addict SL, Addict Team Issue, Solace 10 disc, and Solace Premium disc, and framesets including Addict 10, Addict CX 10 disc mechanical or Di2, Addict Team Issue, Addict Team Issue Di2, and Solace 10 disc mechanical or Di2. The after-market seatpost is the 2016 Syncros FL1.0 Carbon Offset 27.2mm.
Consumers should immediately stop riding the recalled bicycles and/or bikes outfitted with the after-market seatpost and return them to an authorized SCOTT dealer to have a free replacement seatpost installed.
A complete list of serial numbers included in the recall, an easy to use serial number verifier, and more information about the recall can be found at SCOTT's website.
Consumers may contact SCOTT USA toll-free at 888-607-8365 from 8 a.m. to 5 p.m. PT Monday through Friday, by email at recall@scott-sports.com, or online at www.SCOTT-Sports.com and click on "Safety" at the bottom of the page, then "Recalls" for more information.
More recall information:
---
:: 'Safety & Recalls' on SCOTT Sports website.
:: Recall Notice on the CPSC website.
:: Recall Notice on the Health Canada website.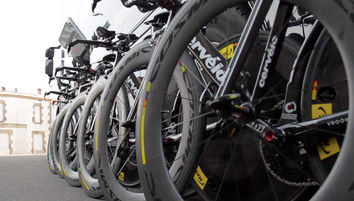 Upgrading to aerodynamic wheels is the most effective, and definitely the most popular, way to improve the performance of your bike. You're not just reducing the weight of your bike, but you're also benefiting from a lower rolling resistance and better aerodynamics. But it's not all champagne and cheese...
READ MORE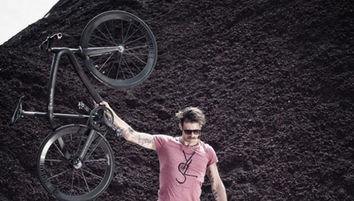 There are many ways to lighten your bike, some more costly than others. We've consulted some of our listed Local Bike Shops for input on this, to put together a short list of weight loss methods - for your bike. Not you...
READ MORE