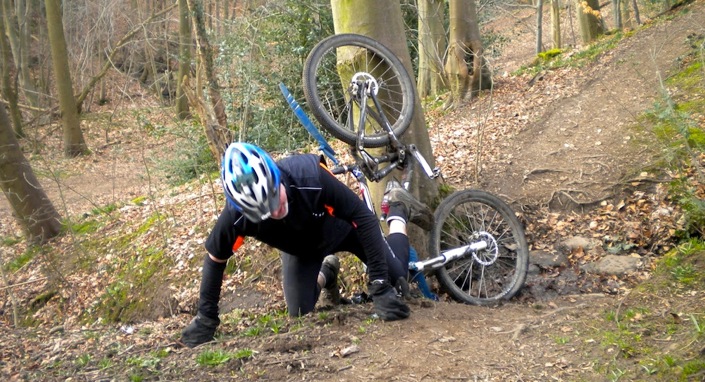 You're not a real mountain biker until you've had a few embarrassing crashes!
Mountain biking is a great way to escape the world when you need a reality check. It's a wonderful way to see the area, be at one with the bush and clear your head. A perfect escape - but this means a lot of MTB riders go riding alone on their local trails. This isn't usually a problem, but if the rider were to have an accident they could end up with greater issues than whether they packed a spare tube and tire levers.
There are a number of major hurdles confronting a mountain bike rider alone in the wilderness, and we've heard them all before. The reality is that these could very well be problems you might have to deal with one day.
MTB trails are well signposted most times, but an ambulance driver might not know where "Dirty Ninja" trailhead is... Things to consider include:

You may be too injured to walk or ride back to civilisation, and you probably won't know any shortcuts.
You might become disorientated in your attempt to return to the trailhead, or get lost taking that shortcut you found.
If you drove to the trailhead, who's to say you're safe to drive home?
People might not know where you are, so where will they start looking if the need arose?
Friends or partners might not know when to start worrying, which could delay intervention and help.
Confronting these topics isn't exactly a pleasant conversation, but it's a very sound idea to think of ways to overcome any of these issues. As was discussed in our previous article "What to do in an accident on the road", common sense usually takes control. But if you're alone, injured and wondering what to do, it's good to have a backup plan to resort to - or at very least, have somebody that knows where you are!

In Your Hands: Accidents while mountain biking are truly the responsibility of the rider. Although I would also argue that this is the case when road cycling, the reality is that there are no crazy car drivers on singletrack overtaking you and then suddenly turning! Ride within your limits, stay safe and keep your eyes open, otherwise you are just another moth circling the flame: one day you will get burnt!
Handy Tips for Staying Safe
---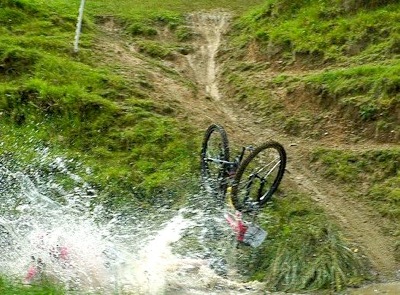 Photo: Andy C / Sportales
Learn the basic orientation of the trails you're riding. Is there a major landmark like a lake, road or building that you can use as a reference?
Make note of major interconnecting roads or trails, they're handy for making a bee-line back to safety.
Make clear decisions on which direction to go - if you're feeling light headed, sit and think for a minute before making an important decision.
Never drive home if you're unwell. Instead, call for medical assistance or get a lift with someone else in the carpark.
It is a good idea to carry an ID tag listing your details, emergency contact and medical info - particularly when cycling alone.
Send a screenshot of your location - most modern smartphones are able to show your location on a map. Either use the share functions or take a screenshot to send it to a friend.
In your SMS/email with a map screenshot, include details such as: "I'm here, riding from 10:00am til 11:30am. Will SMS when I stop."
Don't ride into a river like this guy on the right!
If you happen to come across another rider who is injured, make a quick assessment of the situation. If the rider is conscious, ask them what happened. If they struggle to answer you and appear vague or 'spaced out', it's time to step it up a notch. You'll need to take full control of the situation and make some sound decisions on what to do. You're unable to flag down anybody for help, because you're alone. In the bush. With an injured person. What now?

Emergency ID tag for cyclists
Limit the rider's movements, and ensure they are safe.
Check the time. How much time do you have before it gets dark or cold?
Make a crucial decision based on what you've assessed - Call for help, or take matters into your own hands.
These steps all require you to make judgement calls, so be careful on what you decide to do. If the person seems to have sustained critical injuries, it's best to call for help. You may have limited reception on your phone, so ensure the victim is warm and safe before leaving them. Find a spot with reception, or ride back to the trailhead to get help.

DID YOU KNOW? The emergency telephone number is different in each country. In the USA and Canada it is 911, in Australia it's 000 and in the UK, 999. If you carry a digital mobile phone you are also able to call the international standard emergency number which is 112. This number is only available in some parts of the world and only from digital mobile phones.
If you call emergency services, give them concise directions to your location. They might need to airlift the rider out depending on accessability. This is where it helps to know which way is North, where a major landmark is and where you think you are based on this landmark. This same information will also help you if anything were to happen on your ride.
Always get your priorities right when it comes to your response. Help comes first, so decide what's needed; a walk back to the carpark, or an ambulance. Never play the hero, and try save the day. Call for help, and wait it out if it's safe to do so. At the end of the day, it's very unlikely that the spotlight will shine on you halfway through a ride. But being prepared does make it safer for you, and anybody you may encounter on the trails. Ride safe and be prepared - you'll be ready to handle whatever comes your way, and can focus more on enjoying your ride!