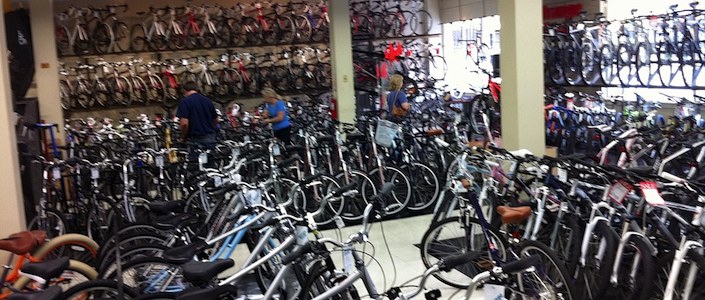 How do traditional brick and mortar bike shops deal with rapidly changing bike technology?
Local bike shops are at the front line of the technology revolution that seems to be sweeping through the bicycle world at the moment, but how do they handle all this new technology?
Electronic gears, electronic suspension, 3 different wheel sizes for mountain bikes, hydro road bike brakes and a plethora of other innovations have emerged during recent years, meaning that both cyclists and bike shops are faced with new opportunities – and new challenges – when it comes to picking and fixing equipment.
This has led us here at BikeRoar to ask ourselves questions such as:
How does the local bike shop handle the changes?
Does new electronic gear require specific diagnostic tools or training to service?
Do local bike shops feel that being at the forefront of the technical revolution is a good place to be?
Or do they feel more like front line cannon fodder?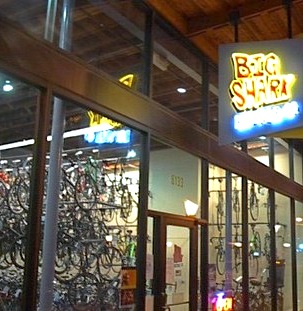 In a quest for answers, we spoke to Mike Weiss of Big Shark Bicycle Co in St. Louis, Missouri about his experiences with new technologies and how they are introduced to the cycling world.
One of the things that Mike told us about was how the new electronic gear groups had been introduced to the market:
"The early introduction of 22 speed Ultegra and SRAM Force and Red made us prematurely reduce the pricing and re-orders on high end bikes for almost the entire 2013 model year.

"The industry is at a weird point in which product supply is obsolete or unavailable at the peak of our season and this is coupled with late summer, fall or winter replacement products. It doesn't make a ton of sense if you intend to sella nicer bike at full price in June, July or August without having to discount - so the synchronization of the release of new technology and the availability of inventory on hand when the dealer needs it seems to be way off."

- Mike Weiss - Big Shark Bicycle Co., St. Louis, Missouri
While the new technology is pushing the boundaries for bikes, Mike Weiss isn't sure that all of the technology is developed because of customers screaming for it.
"I'm excited for new technology and the creation of demand - but we haven't seen consumer demand for some of the re-applications of new technology - disc and hydraulic road bike brakes specifically.

"On the mountain side - it seems that there are numerous drivetrain configurations and the sporadic championing of the 27.5" tire size.

"I guess right now my viewpoint is that we need to spend more time understanding the new products and learning – but I feel like both the consumer and IBD are not really part of the process for what is in development and when it is released. We see some confusion in the market place currently, but this will probably normalize."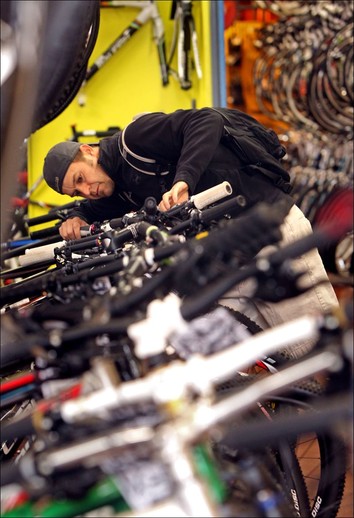 New technology also has an impact on demands on staff in local bike shops:

"Our staff is tasked with educating themselves on these new technologies since there really is not any formal education process that accompanies their launch. The sequence is - order the new technology and figure it out when it arrives… We're fortunate in that we have very bright staff that are curious - but some of our sales staff are more interested in the commuter market, advocacy, etc. and are probably not as fired up as they should be."
Chris Huff-Hanson from The Hub Bike Co-Op added that knowledgeable staff can be a huge bonus for the local bike shop.
"I feel that the constant rush of new bike technology is a huge boon to brick and mortar bike shops, because it creates a need for the experts at your LBS. Customers who aren't fluent in the latest cycling technology often buy product online that doesn't work with their bicycle, and then come to us. We compassionately show then the error of their ways, and gain a new customer. It helps us to not be destroyed by online vendors."

- Chris Huff-Hanson - The Hub Bike Co-Op, Minneapolis, MN

And what about the future? Well, Mike Weiss said that bike producers need to work closer with bike shops if the whole industry is going to flourish.
"The only good news is that a 700c wheel size for MTB isn't that big a leap - and re-assigning existing mountain technology to road bikes is also not necessarily something new… I'm not sure how I'll feel about what seems to be the inevitable disc, thru axle, mountain bike spaced road frames….and how this will impact people with high-end equipment with older standards. We've seen Ultegra 10sp Di2 bikes flood the market when 11 was announced. We think that there has to be a better way to pace these intros so that the dealer can make margin all year long. It's not about being greedy, it's about survival."

Anything to add? Do you work, manage or own a bike shop and have more to say on this matter? Please share your comments with us below: